An introduction into bespoke, handmade framing of photographic and fine art work.
At theprintspace, we believe that bespoke framing solutions should be specific to each body of work to ensure the frame compliments the image. Our fine art framers understand the requirements for conservation picture framing of photographs and fine art work.
Each one of our frames is handmade and made to measure to your artwork, which means you do not have to stick to standard photographic sizes or A-sizes, you can print and frame any size or format you wish.
There are numerous places to buy off the shelf readymade frames, however, these will generally be standard frame styles and only in photographic or A-sizes. Also when the art artwork is fitted in the frame, it will be touching the glass which is not recommended.
Video guide: Introduction to fine art framing
The styles we offer
We offer different framing styles such as Traditional frames, Box frames, Float frames and Tray frames amongst many other options.
Click here to learn more about our bespoke, handmade to order frames.
In our standard frames, if a window mount is not being used, we will place a small fillet in the frame to keep the artwork away from the glass. This is important to ensure the artwork does not stick to the glass if there is any moisture in the air or environment where the framed print is on display. All of our frames will be taped and sealed at the back of the frame.
Finishing options
When choosing a natural wood frame there are many different finishing options that we can apply from wax and shellac to a hand sprayed finish with closed corners. This is where the corner joint is completely invisible.
Glass
There are also several options of glass that can be used to increase the archival properties of the frame, Low reflective Art Glass, Conservation Clear and Museum Glass which offers the ultimate protection.
With the numerous frame options, artwork presentation and glazing options available, there are a number of decisions to be made. We recommend you come in and meet with one of our expert picture framers so that we can ascertain the framing solutions to meet your requirements and budget, ensuring every aspect of the frame design is the best it can be, and supply you with a quote.
Our lead time for framing is 10 working days.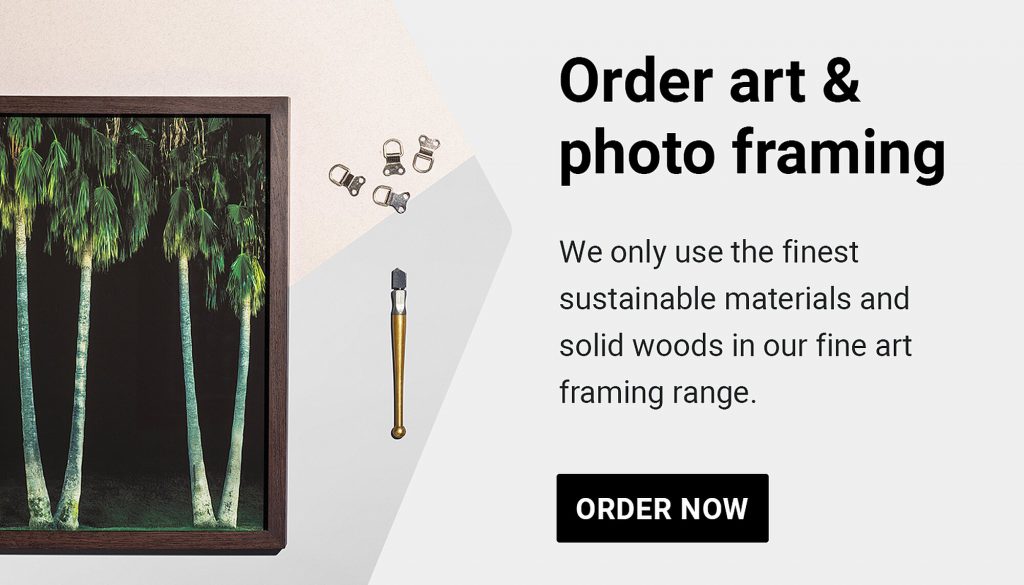 Considering a bespoke frame and need some additional advice?
Please get in touch with our friendly customer service team.
---