An introduction guide to archival and non-archival dry mounting options available at theprintspace.
What is dry mounting?
Dry mounting is a process in which a print is bonded to a mount using an archival adhesive. This is ideal for presenting your artwork to the highest standard.

Photographic mounting and fine art mounting protects and displays your work in a clean minimalist way and is great for exhibitions with impact, allowing viewers to focus on the work.
Video guide: A brief overview of our different mounting options
Archival dry mounting
Archival dry mounting refers to the longevity of finished mounted artwork to ensure it doesn't degrade and will last over a significant duration of time.
However it must be considered that dry mounting is an irreversible process and artwork cannot be removed from the mount board. Therefore it is not advisable for one-off original artworks or highly valuable prints.
The more pro-grade mounting options including: Acrylic Reverse, Aluminium and Dibond are considered completely archival and ensure your prints stability over time.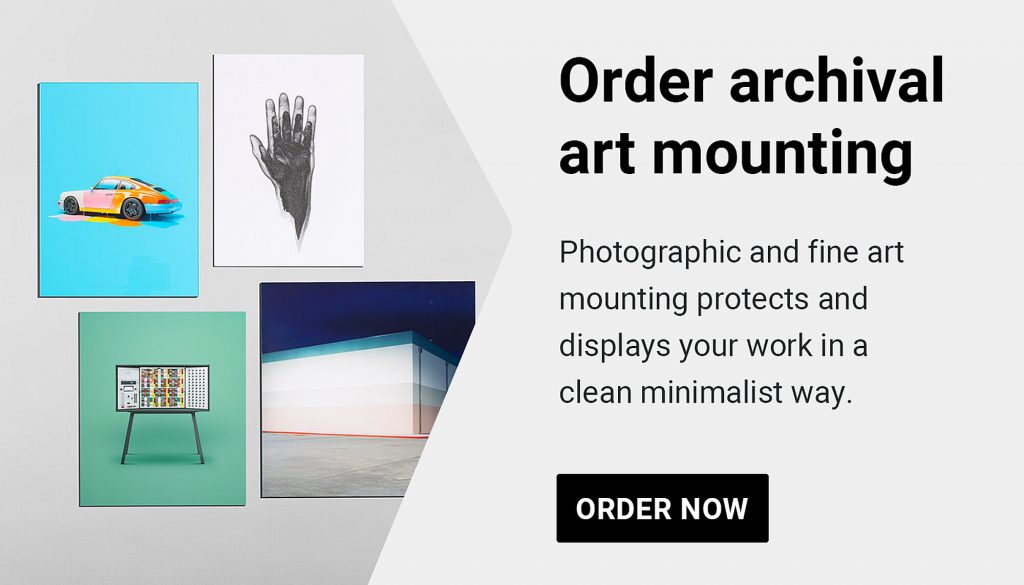 Non-archival dry mounting
More affordable and non archival dry mounting options including: Display Card, Foamex PVC, Foamboard and MDF contain contaminants including acids that cause degradation to the composition of the print over the longer term and therefore not considered archival forms of dry mounting.
The table below gives you an overview of the mounting materials and their technical properties.
Please note that our lead time for mounting is 5 working days, apart from the Acrylic Reverse option which is 10 working days.
Overview of mounting materials and their technical properties
Tip: The paper we recommend to use with dry mounting
When choosing a paper type for dry mounting, we highly recommend one of our C-Type papers for a professional finish with a clean edge.
The durable emulsion coating of a C-Type makes it very robust. In comparison, our range of Giclée papers are more delicate, especially our uncoated 100% cotton-based papers.
---
Still need help?
Get in touch with us and speak to one of our team members for additional advice about the dry mounting services we provide.
---