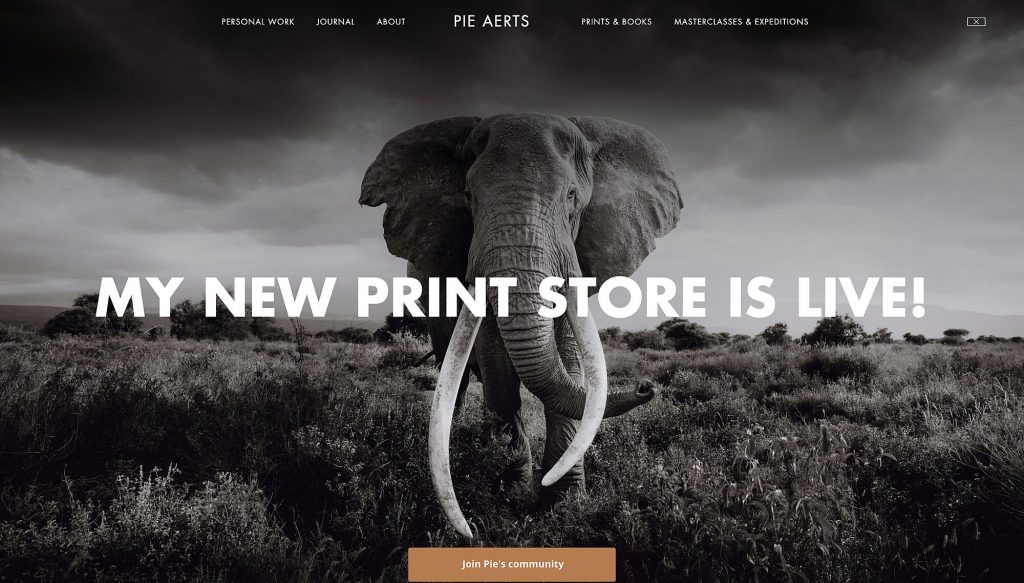 Congratulations, you've set up the perfect online art store! In your journey to take control of your creative career, you have made an important step. However the next step, the marketing, is singularly the most important one. It requires hard work, strategy and focus but the attainable goal is complete creative freedom in your career. Worth the effort, right?
We are here to help you take this step, starting with the store launch marketing. So, why should you listen to us? Because fulfilling online art sales is what we do, and over the past 4 years we've seen a wave of artists transform their creative careers. And it isn't just luck. Those who have achieved success have learnt and applied a clear yet repeatable marketing strategy.
So, stick the kettle on and take some time to carefully read this article. It has been researched using hundreds of marketing tips we've seen work time and again by hundreds of successful artists, many of whom make over $100k in art print sales per year, some well in excess of that.
We take you through the process stage-by-stage and we give you a 14-day plan with example content for each stage. At the end, we've supplied a checklist so you can work through the action points methodically and tick them off as you go.
---
Launch with a permanent collection, then follow with a series of timed 'drops'
Art galleries have permanent collections and revolving exhibitions. The permanent collection is what draws new audiences. Revolving exhibitions are what keeps it fresh and interesting. It's what keeps people coming back.
Take the TATE; 70% is permanent display. Greatest hits by Warhol, Hurst, Hockney. First time visitors come for these, but would these keep you coming back? This is where TATE's revolving exhibitions come in. Centred around themes, projects, artists, eras, they give people a reason to return.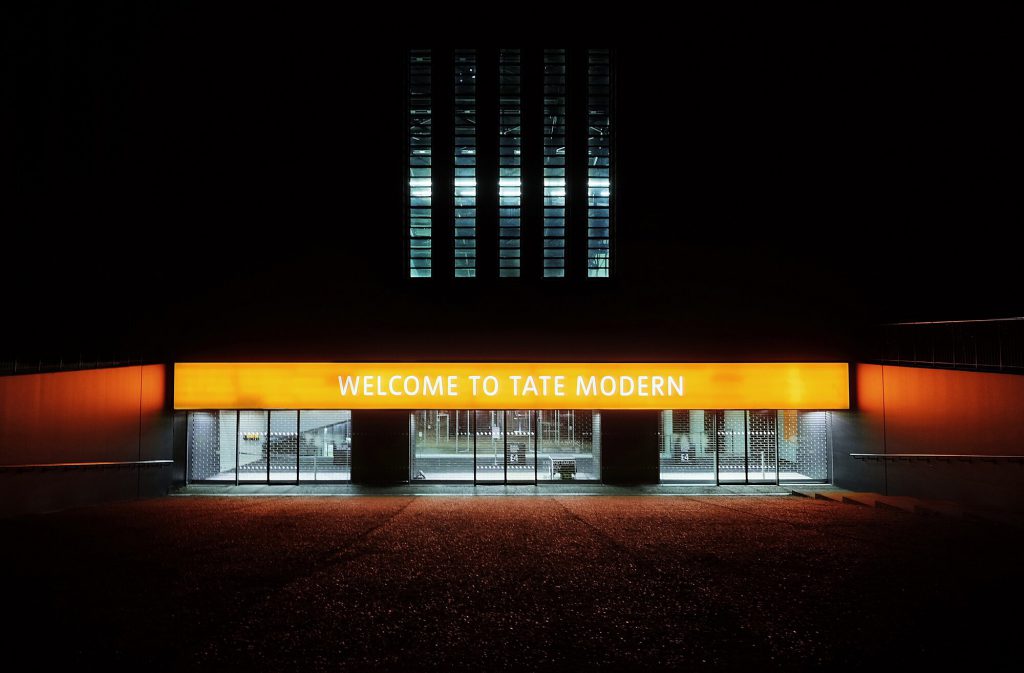 We have seen the artists with the greatest success in their sales adopting this approach in their print sales and the general marketing of their work. They have their permanent collection, the greatest hits as it were. Then they drop new projects or prints periodically. Just like fine art galleries, these projects or print drops are not simply contrived for the sake of selling prints, they are bodies or pieces of work centred around themes that they are exploring or communicating in their work. Also, when viewed as whole, these print or project drops show the progression in the artist's thinking around their practice. What we are saying is that these drops should have their own focussed marketing campaigns, and their own print sales push.
If you adopt the strategy of starting with a permanent collection then the benefits are:
Your permanent collection establishes a visual style and brand identity in your store. This gives new audiences an accessible route to buy.
Your existing audience has never been given the opportunity to buy. This means there is pent-up demand. Like your first visit to the TATE, it's the hits they want to see!
You give yourself a product range that acts as a year-round source of income.
If you then progress onto doing a series of project or print drops the benefits are:
It's a great way to give your visibility as an artist a concerted push, and to tie that into print sales.
It means most of your marketing work comes in concentrated bursts, enabling you to focus on making new work outside of these times
It is a good way to organise your work and enable it to be contextualised
---
Why would someone buy my art online?
There are 4 buy-side hooks: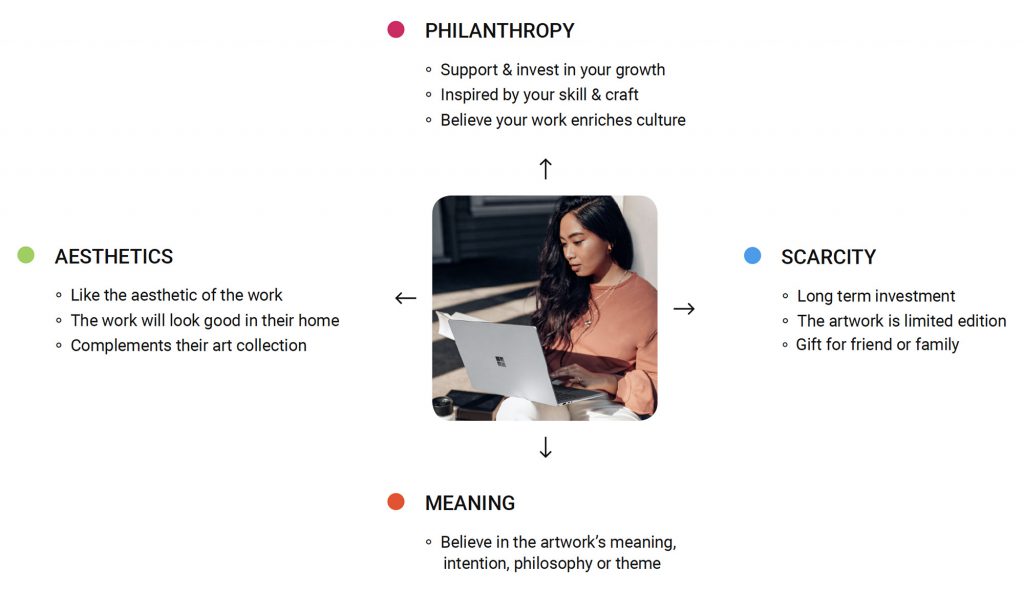 The question then is not why do people buy, but how do you create content that connects with these buying hooks.
---
Marketing is communication
It's a simple fact of life that we are all busy and have a million bits of information flying at us on a daily basis. If you want your art to be heard then you have to work to make that happen.
For every 100 successful artists, 1 was just 'discovered', the other 99 executed a careful, strategic and detailed marketing plan to make that happen.
Marketing can be broken down into these constituent parts:

Sounds simple, right? Well, it is so long as you make sure that you follow the right way of doing it. There is a formula.
As acclaimed astro-photographer and art-marketing guru Ian lauer told us in this podcast, people need to see the work 25-30 times before they buy. This is your marketing challenge, and in the next three sections we'll show you how to achieve it.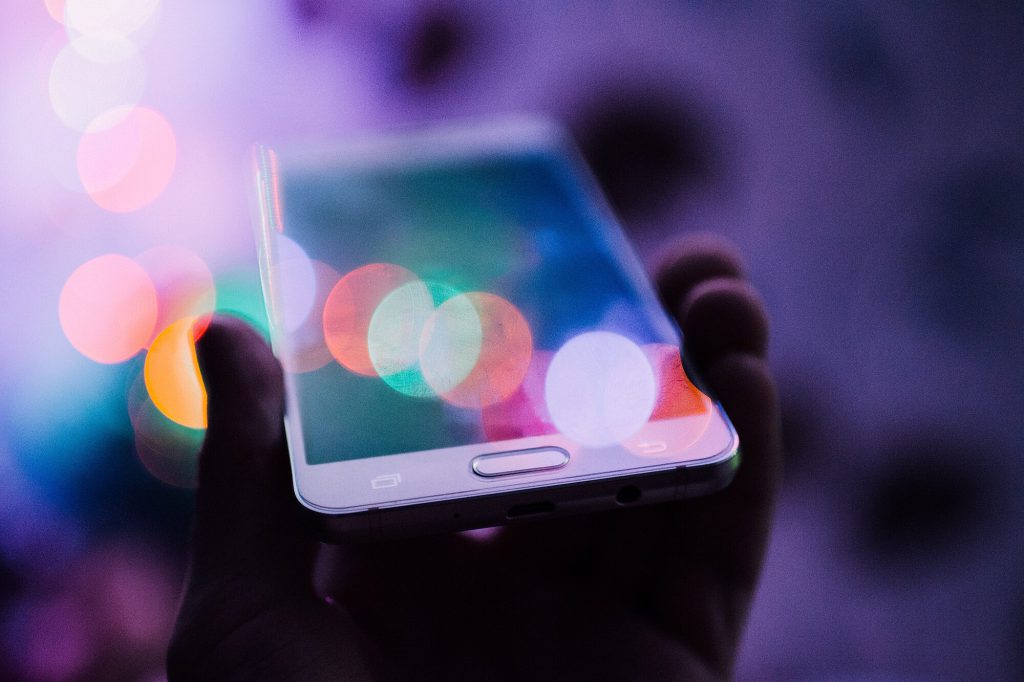 ---
Marketing 101: Adopting campaign thinking
Any marketing expert worth their salt will tell you that in order to get results, you need to work in campaigns. A campaign is just about concentrating your communication into a fixed period of time, to ensure you hit that target of getting your work seen 25-30 times.
There are loads of types of digital marketing, but we're going to focus on the three most important ones; social media, email and search engine marketing. A combination of these used over the 14 day timeline we set out in this article will allow you to adopt campaign tactics to launch your print sales.
Social media marketing
Social media is your primary marketing method. It gives everyone a level playing field for communicating directly with their audience.
Email marketing
Email is the perfect channel for e-commerce sales. Expert, Chase Dimond says this is because it's conversion focussed. It is also cheaper, and more in your control.
Search engine optimisation (SEO)
Optimising your website for search engines is a marketing method that brings results in the long-term. This is a big subject, so for now just do the basics which we explain here.
---
Marketing 101: Your 14 day launch plan
Ok so let's get into the plan. You are going to launch your print sales over 14 days. This won't take all your time each day, but you will want to set aside 3-5 hours a day for those 14 days to really focus on making it happen. You can set up everything in advance using a social media scheduler such as Later and Mailchimp for your emails, then sit back, relax and wait for the sales to roll in 🤞
What is important is that you spend the time planning and executing the communication of your motivations as an artist, your message, details about the artworks and the prints. Don't spend time packing prints and doing customer service. That's where we come in, with global shipping and branded packaging options we've got your logistics covered.
We have laid out this 14 day plan in chronological order leading up to, and after the print sale launch, so that your conversation with your buyers follows a logical arc. Throughout this arc, your content should speak to the 4 buying hooks listed earlier in this article. Remember, you may already have a lot of the content we think you need. If that is the case, brilliant! Your task will be to repurpose this for each channel. Here is how your 14 day story arc looks: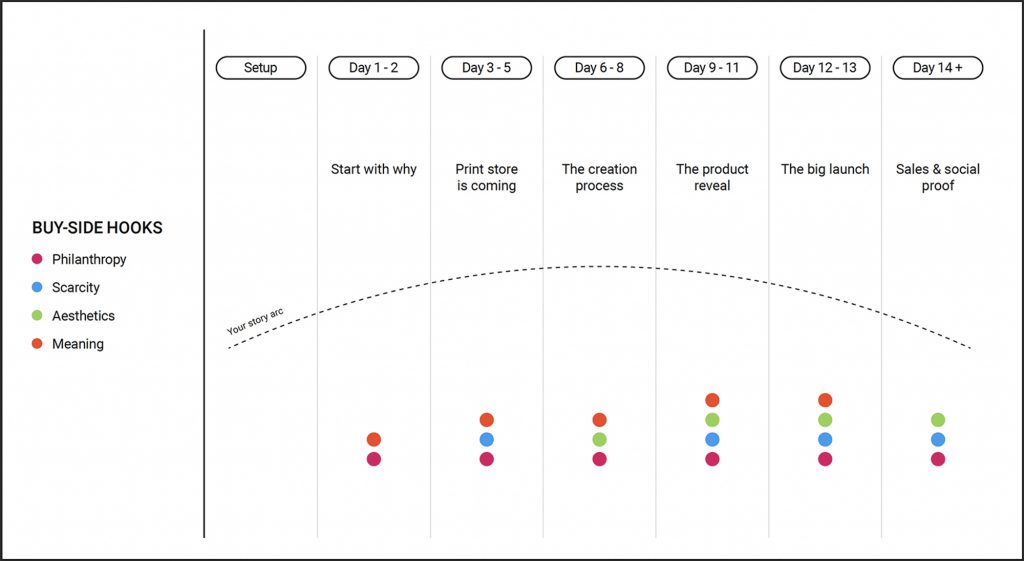 Setup
Below are the key tasks you need to complete. In the accompanying checklist we expand on this:
---
Days 1 – 2: Start with Why
Why do you do what you do? Where do you do it? What are your motivations or philosophies? How does this all inform your art? Setting this out will make people follow and invest in you long term. Here are some great examples of this:
Your 'Why'
In this video, Benjamin Hardman gives us a brilliant insight into his 'why' by telling us about his history and how he became fascinated with the landscape in Iceland, the place he now lives and creates work in.
Your 'Who'
There is no mistaking the 'who' in this fantastic Instagram Reel from Victoria Rose Park. Victoria has put her fun, charismatic personality front-and-centre which forms a connection with her followers on a deeper, more personal level. Her personality can also be seen in her artwork, which links really well with her social media content and will resonate with her buyers when making the buying choice.
Your 'Where'
An artist's studio or even the street if you are a photographer, plays a key part in the creative process. Show people your surroundings, where you make work and how that informs the artworks you are selling to build deeper connections over time.
This set of images by Joachim Lambrechts give a clear sense of the creative space, the work that goes into making the pieces and the creativity of the artist himself. They portray a clear sense of personality and style.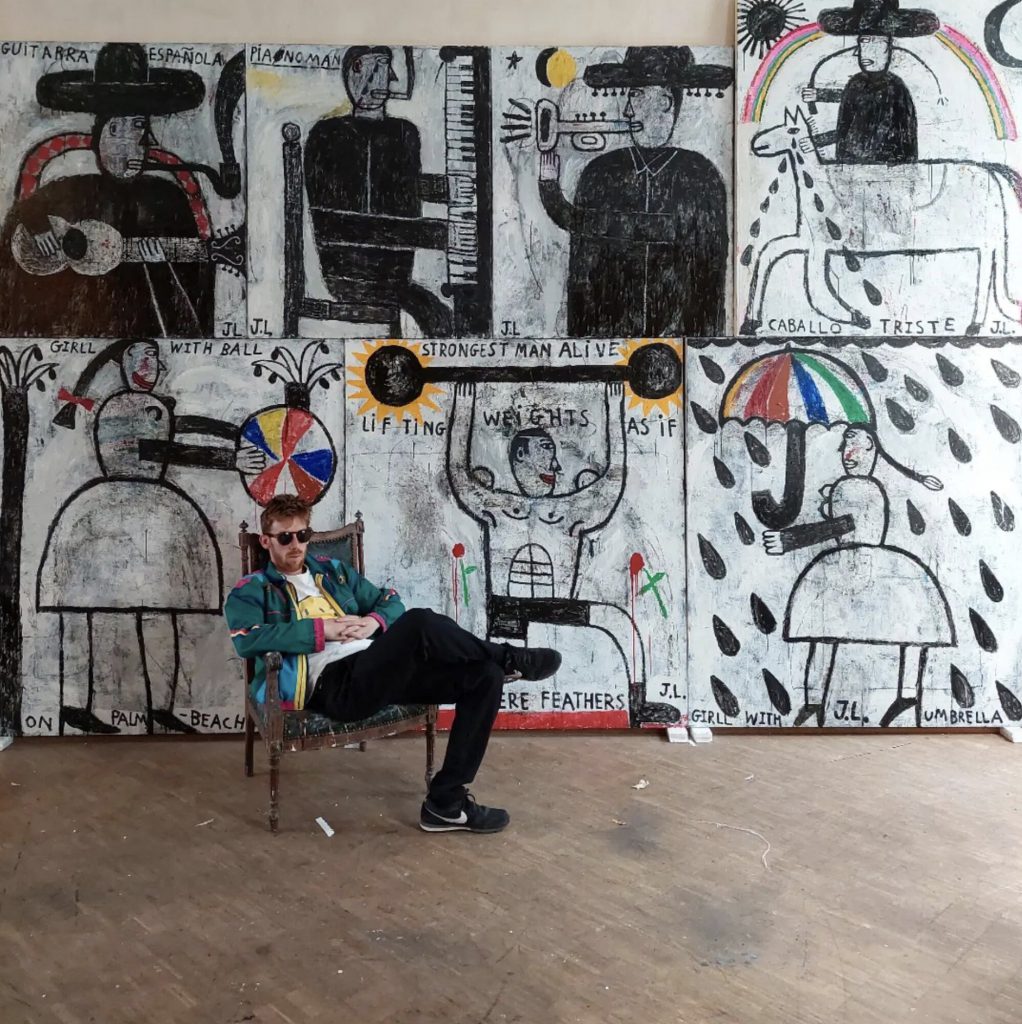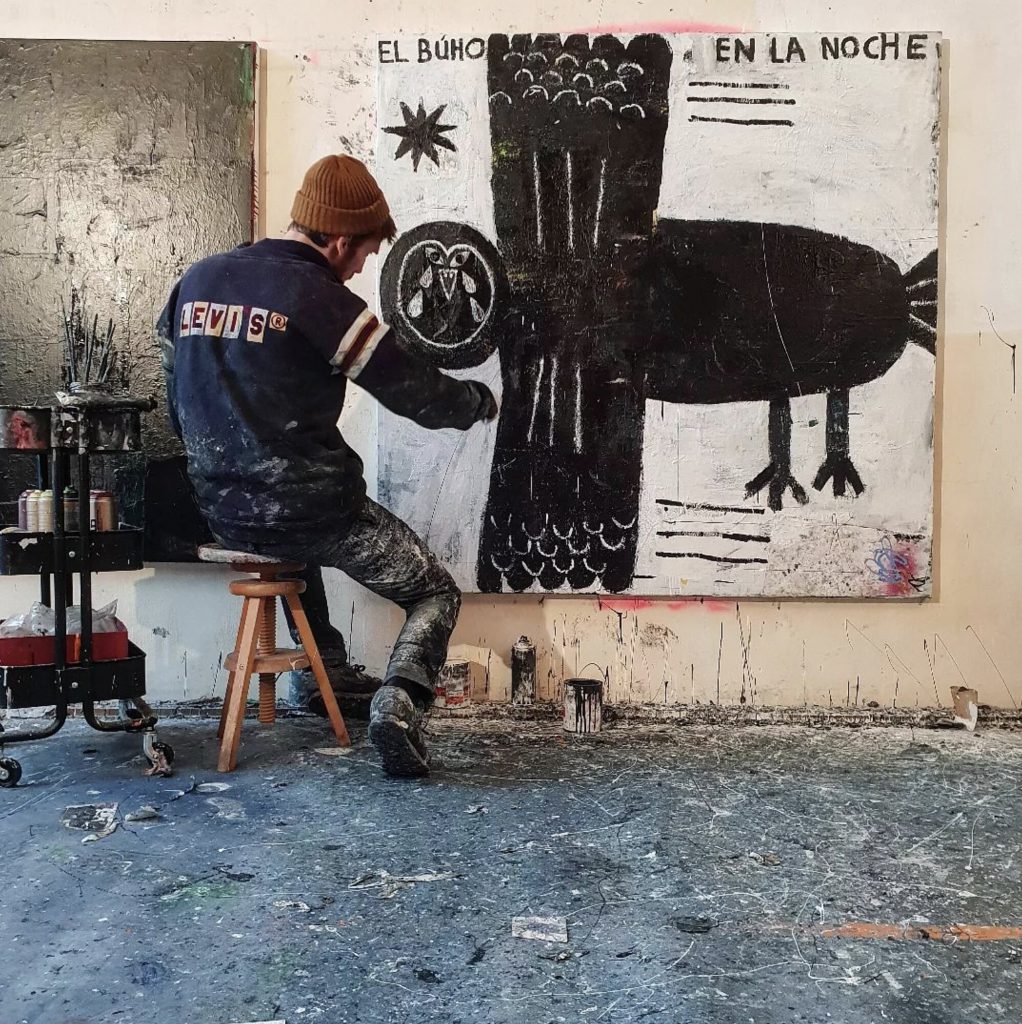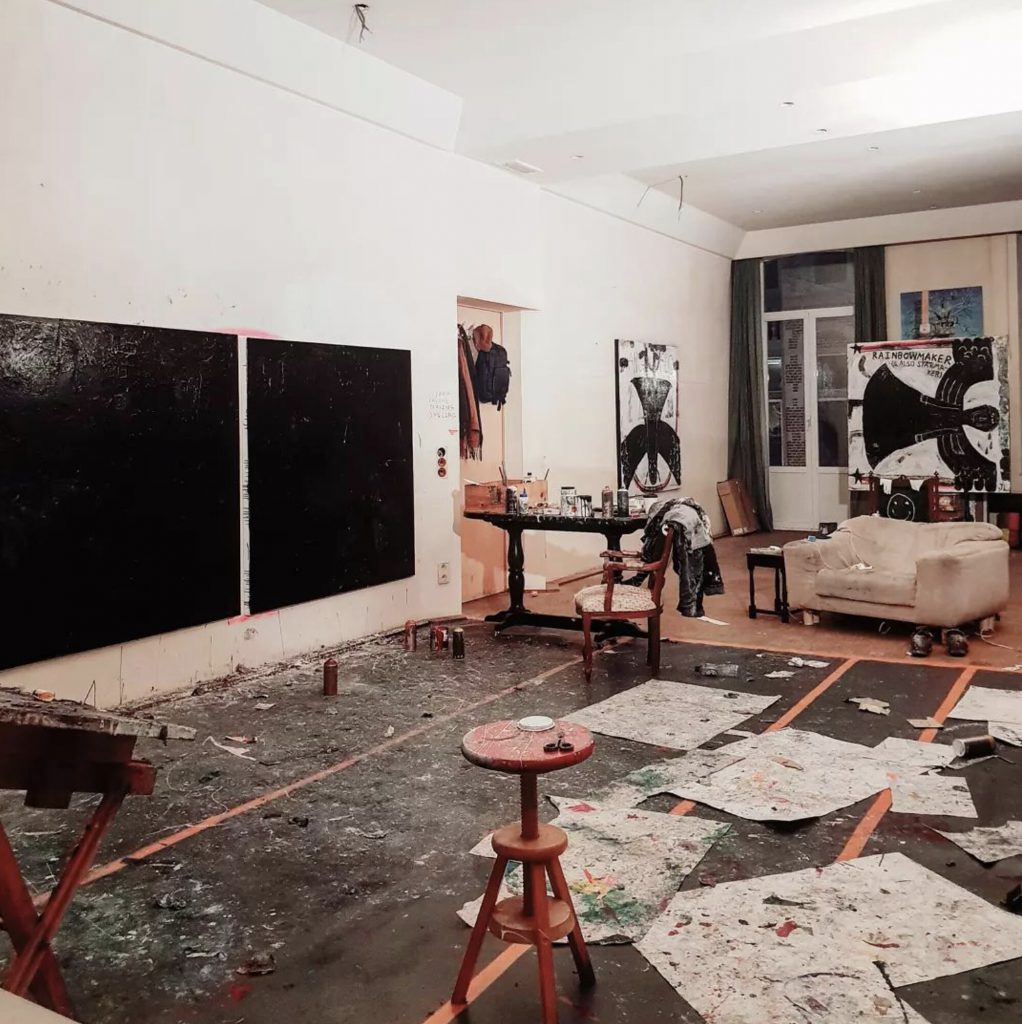 ---
Days 3 – 5: Print store is coming
Begin launch countdown
Start communicating the countdown and launch of your upcoming print store. This should build anticipation and help drive fomo within your followers. The CTA should be clear throughout to sign up for advanced access. Make sure you give specific times and dates about the launch.
In this set of posts, Ian Lauer has communicated his upcoming sale every day, 9 days in advance of the launch. His choice of emotive language and varied images avoids the content being repetitive and over the course of the posts he provides all details such as price, shipping, product range, and back story. With this constant reminder Ian is making sure that, combined with his other video and email content, his buyers are given the 25-30 opportunities to see his work ahead of being able to buy.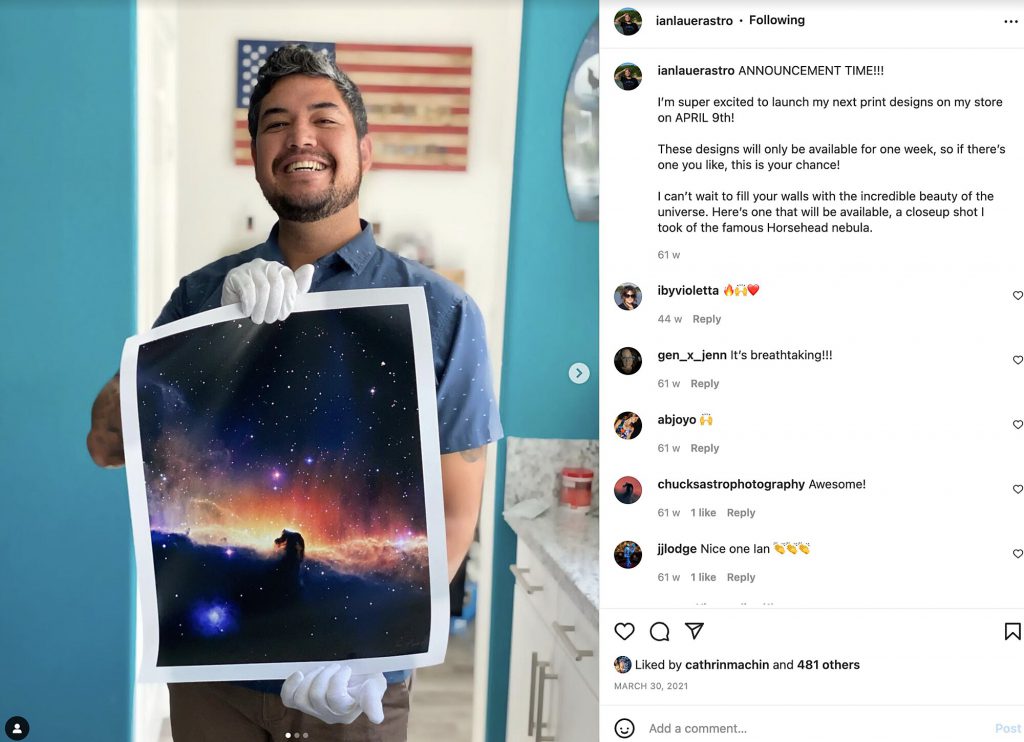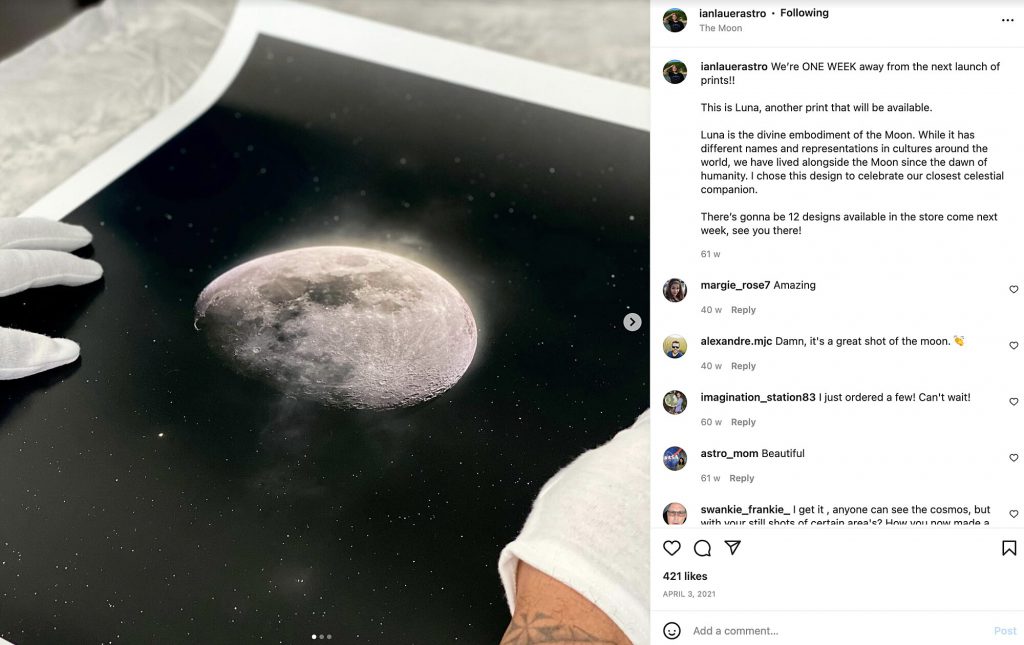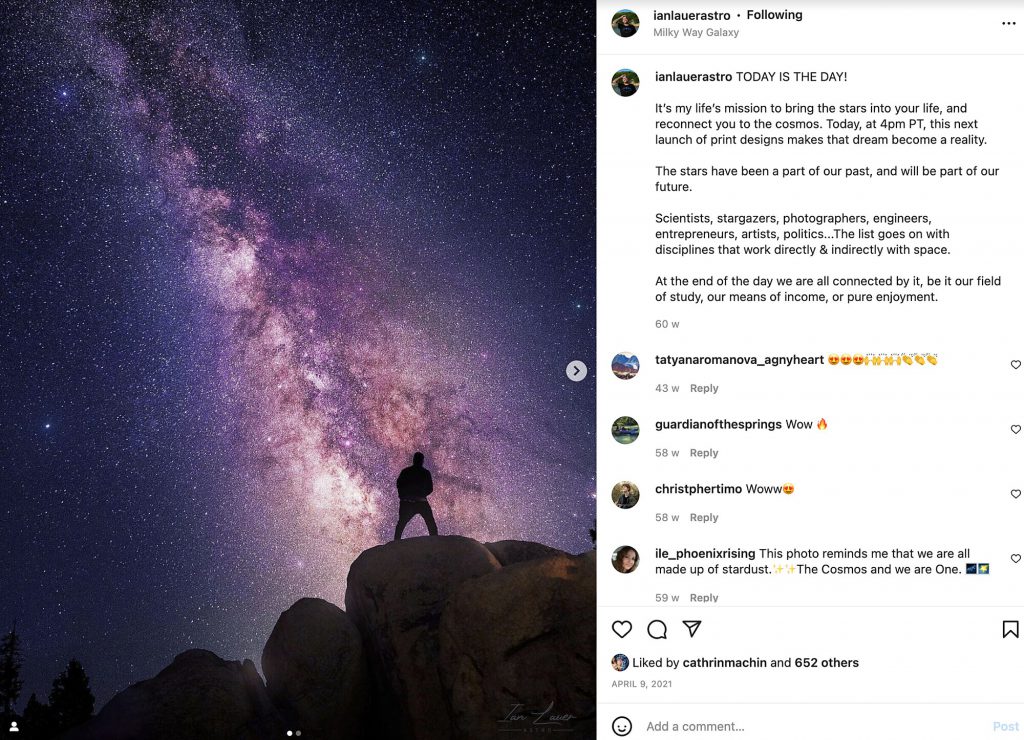 Capture sales leads
Your countdown content should always be capturing sales leads so that when the launch is announced you can remind those people immediately with a link to the store. This is a proven way to convert customers. Here are 3 great examples of how you can do this:
Communicate that advanced access will go to those who sign up to your mailing list (email examples to follow later). We love this example from Pie Aerts because of his use of language, phrasing the mailing list as an 'exclusive community' (as opposed to a cold marketing list). He's also made really clear the USPs making no mistake of the benefits. This is a great call to action.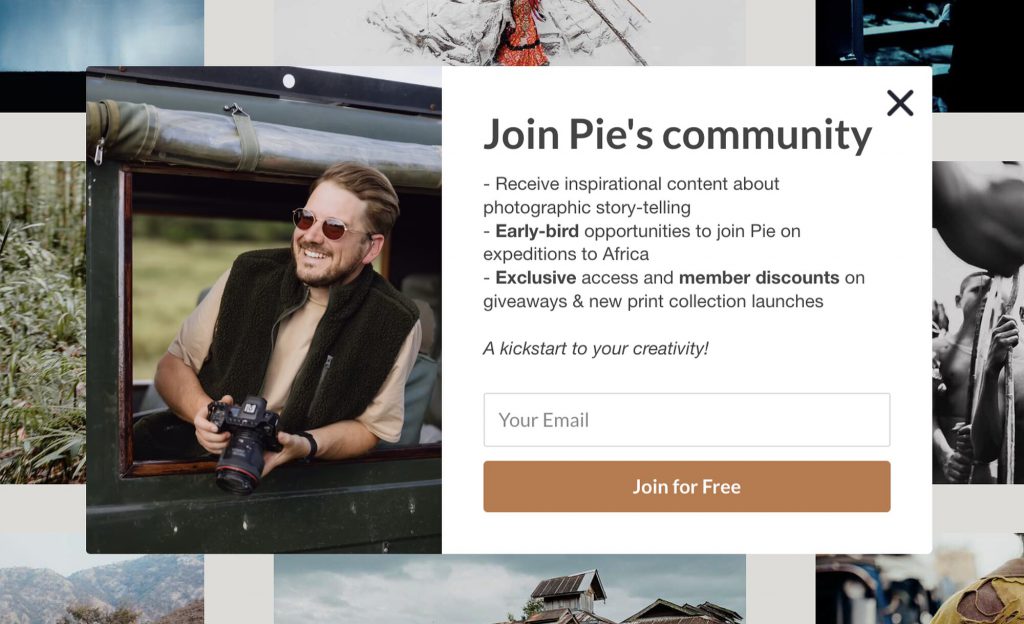 Social commerce is growing fast, very fast! Facebook, Instagram and TikTok already have some great tools in place to help you capture leads and have them auto notified when you launch a product. For example, checkout Luke Stackpoole's use of Instagram's event reminder feature: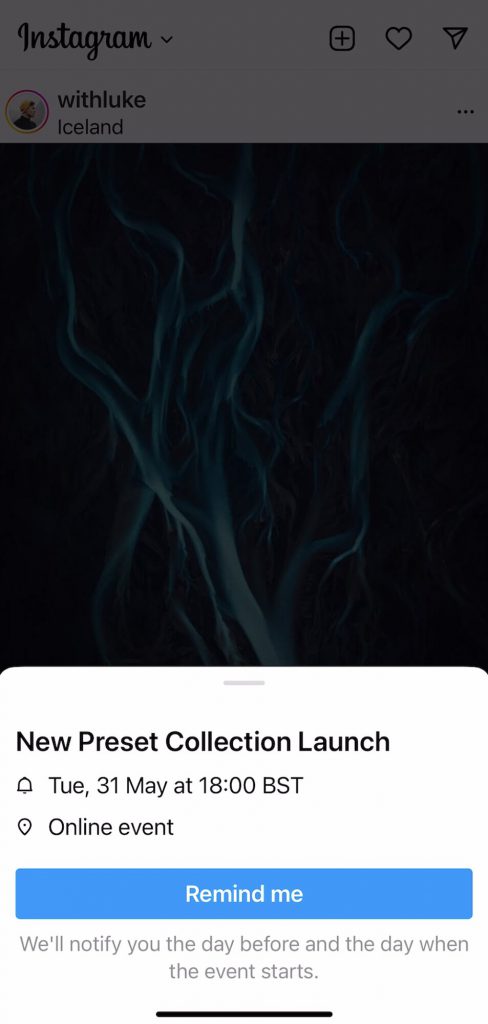 If you preview your products on your website ahead of the date they are available to buy, then a great way to encourage sales leads is with a countdown timer and a notify button. This gives the impression of an anticipated and in demand product and will lead to a good sign up rate for the launch email. Shopify and other ecommerce platforms have some great apps and plugins for this feature. It may not be a print store…but we saw New Balance doing this well ahead of a hyped product release: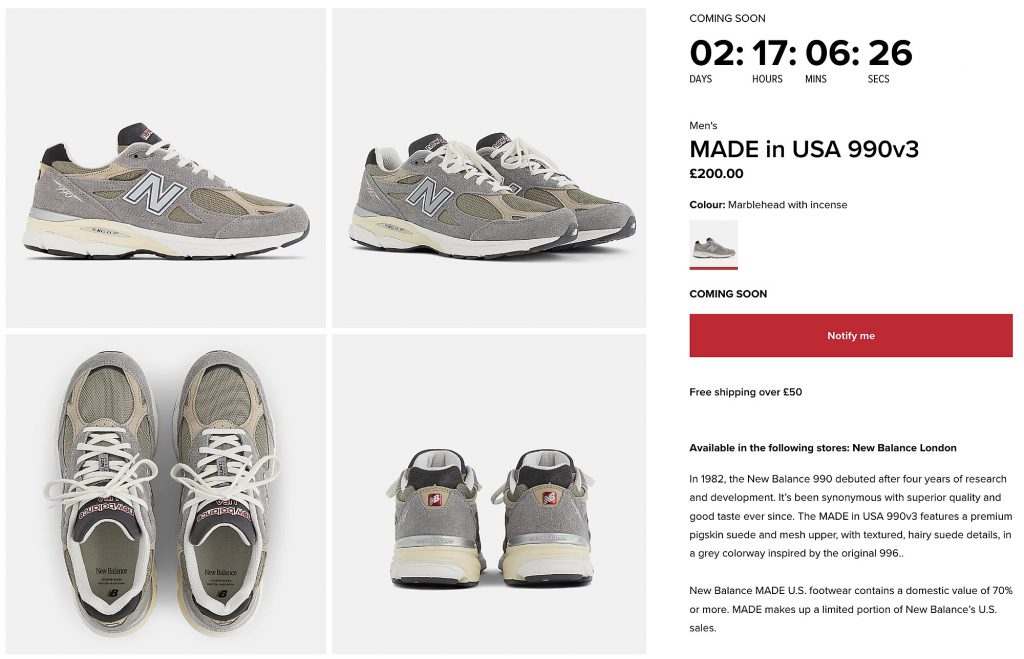 ---
Days 6 – 8: The creation process
Talk about your creative approach
Share insight into how you make your work. This should have a focus on the creative environment and process. A good setting for this is your studio or work space.
This video by Christian Vieler is a brilliant example of how a larger story can be condensed into a shorter narrative. The edit is fun and uptempo which matches his subject. You see the process, studio and artist which connects the viewer to the journey of creation.
Show the process of creation
Showing people how you make your work will show off your skill and craft, which will ultimately give them more confidence in buying.
The brush work from Diane Hill here is just stunning. This communicates the artist's uniqueness; aesthetic vision combined with the skill. This conveys quality and lays the groundwork in terms of making the viewer understand what they are getting when the buying time comes.
Take your audience behind the scenes
Giving your audience a behind the scenes look at your journey in and around creating your work is a proven way to connect with your following on a more personal and relatable level. This gives them the opportunity to get to know you better, but also give more context to how the artwork was made, which can improve conversion rates.
This is a strong example of a video diary. Itchban's use of Google maps in the edit gives the viewer a sense of location. The voiceover and visuals are edited into a succinct narrative which makes the chronology of the shoot very clear. Overall this is a really engaging piece of content.
---
Days 9 – 11: The product reveal
Show the print range
Ahead of the store launch you should be communicating what artworks are available as prints as this will build anticipation and demand. Give details of price, editions, shipping times and costs. If your products are live on your site with a countdown to launch then your posts and videos should have clear links to these.
This Instagram Reel from Liv Lee is great for a few reasons. In terms of the edit, the music & pace of the cuts that follow the initial 'reveal' is really engaging. As the viewer you clearly get a sense you are viewing the print range for the first time. The accompanying caption adds value with print details and free shipping offer.
Show the scale of the prints
This helps potential customers visualise the products as tangible artworks. Providing a better sense of scale helps convert customers as it informs them how the art may look on their wall and with their interior decor style.
We love this set of posts from Cat Machin holding the various sizes of prints she is offering for sale. Each post gives a really clear sense of scale, but most importantly, they show Cat's face and the happiness at showing the prints which creates a great personal connection with her buyers.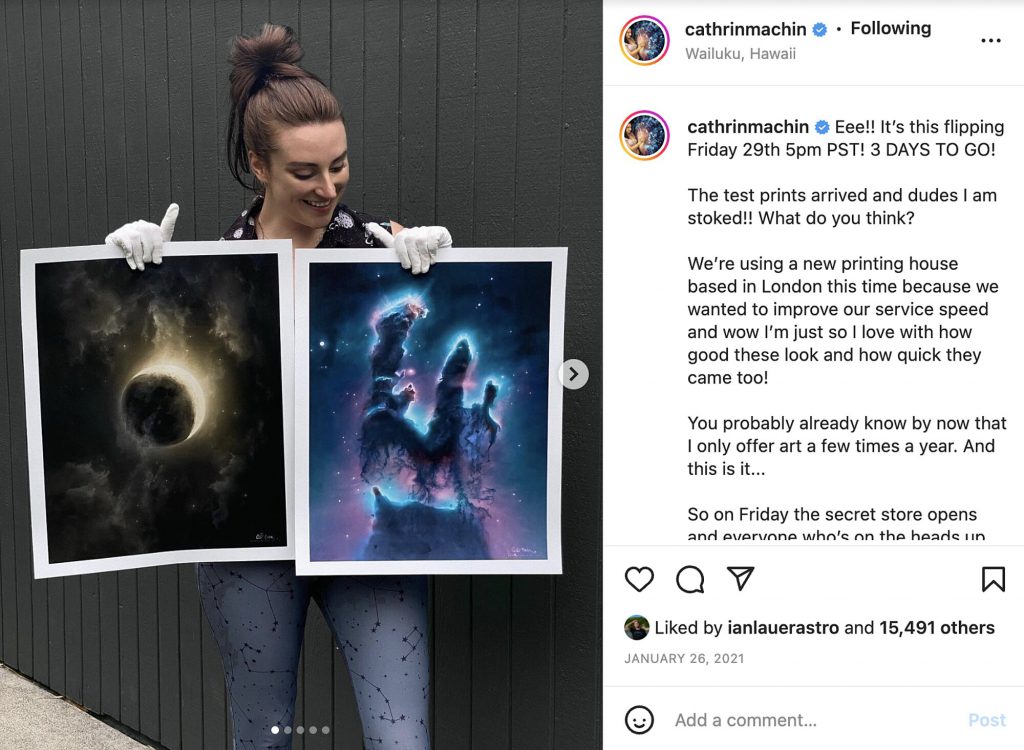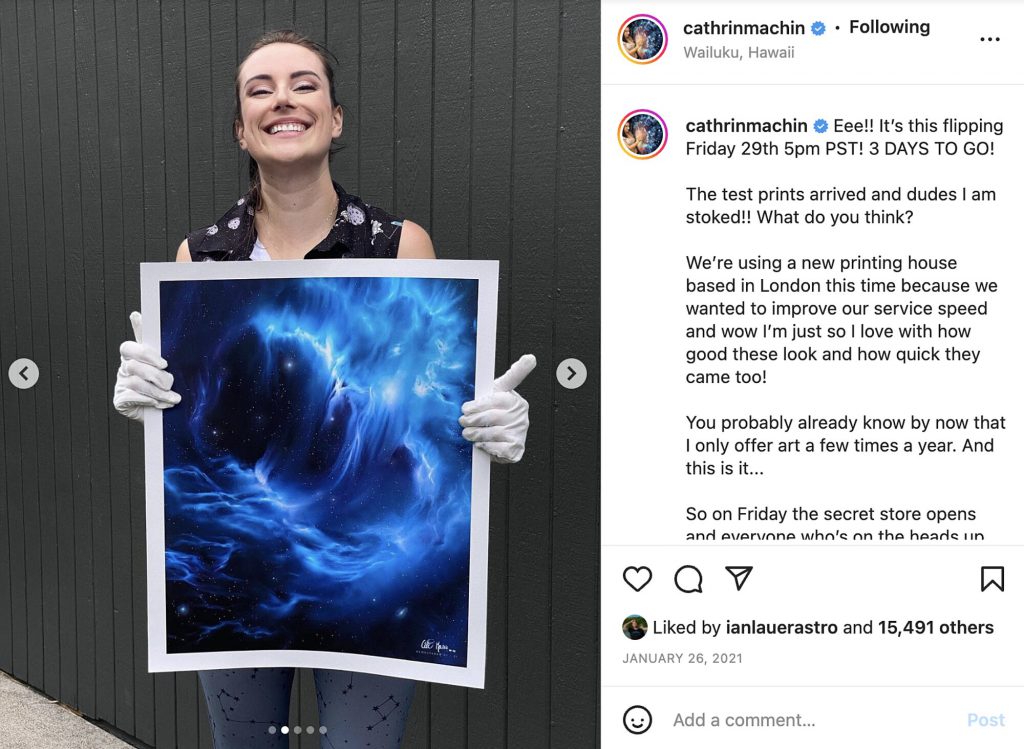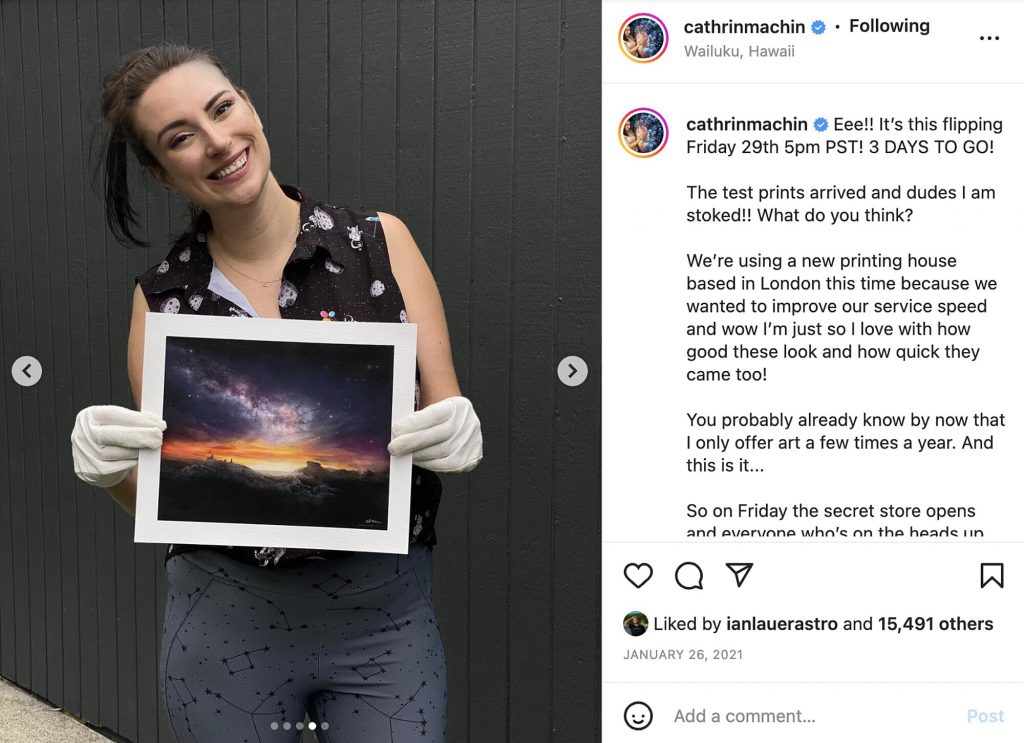 Packaging and branding details
This is all about product quality and detail. A barrier to buying online is often the lack of customer service you get compared with an in-store experience. Showing your attention to detail here is the value-add that will help convert those customers who may be on the fence.
This TikTok from Elif Yilmazturk is well edited with a strong focus on the fine details and finishing touches that have gone into the process. Above all it shows her buyers a strong sense that the artist cares about their order which will give them confidence in their purchase.
---
Days 12 – 13: The big launch
Launch email to mailing list
Similar to your announcements on social media but with more direct calls to action, this email should see good conversion rates considering this list is populated with people that have expressed interest.
We like the email by George Townley because it's visual (there are 4 more images in the email than shown). He's created urgency by talking about the availability time and given an extra call to action by communicating the non-profit donation. Topped off with a big 'purchase' button.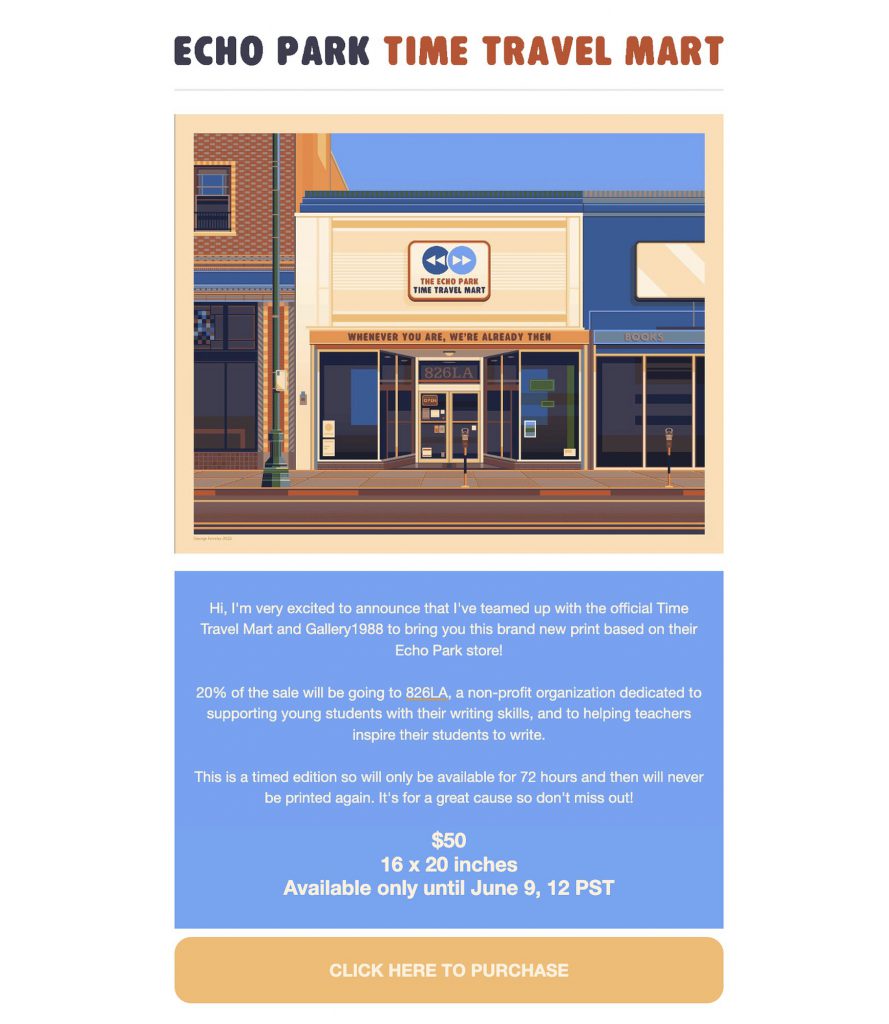 Make it clear on your site
Make it clear as day that your website has a store and that the sale is launched. This should include a homepage takeover with a clear call to action to view the collection.
This full take over of Pie Aerts website homepage makes it clear to organic traffic, plus visitors that have been directed to the page have clear instructions where to click to buy.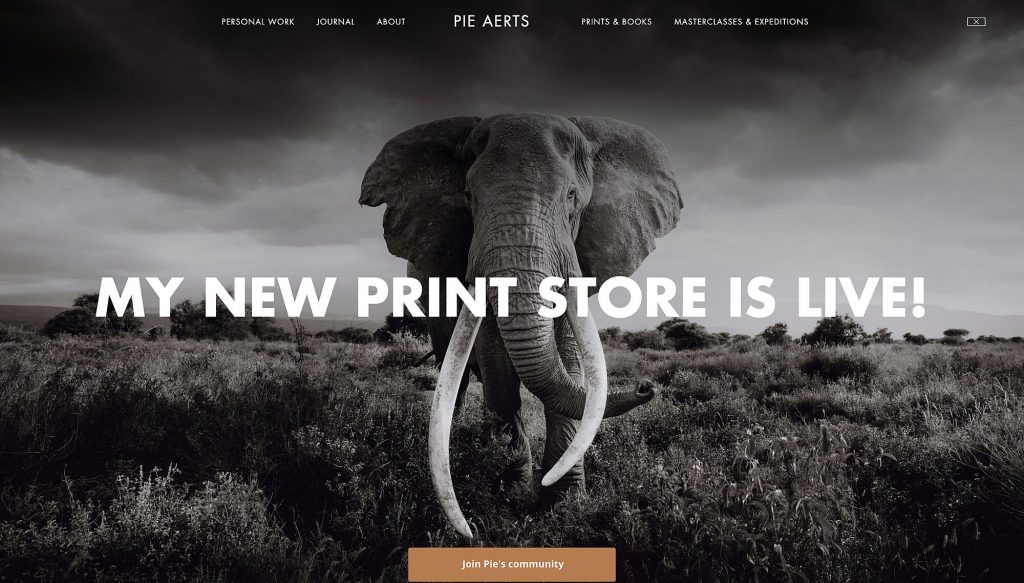 Announce on your social media
It may sound obvious, but once your print sale has launched and you have communicated early access to your mailing list make sure you make the sale clear across all of your social media channels.
This is a fantastic post from Sander Patelski which really captures his creative visual style. It also shows his audience the range of artworks in a single show, which gives a sense of theme. It teases the individual works they may be interested in purchasing whilst giving key details in the caption.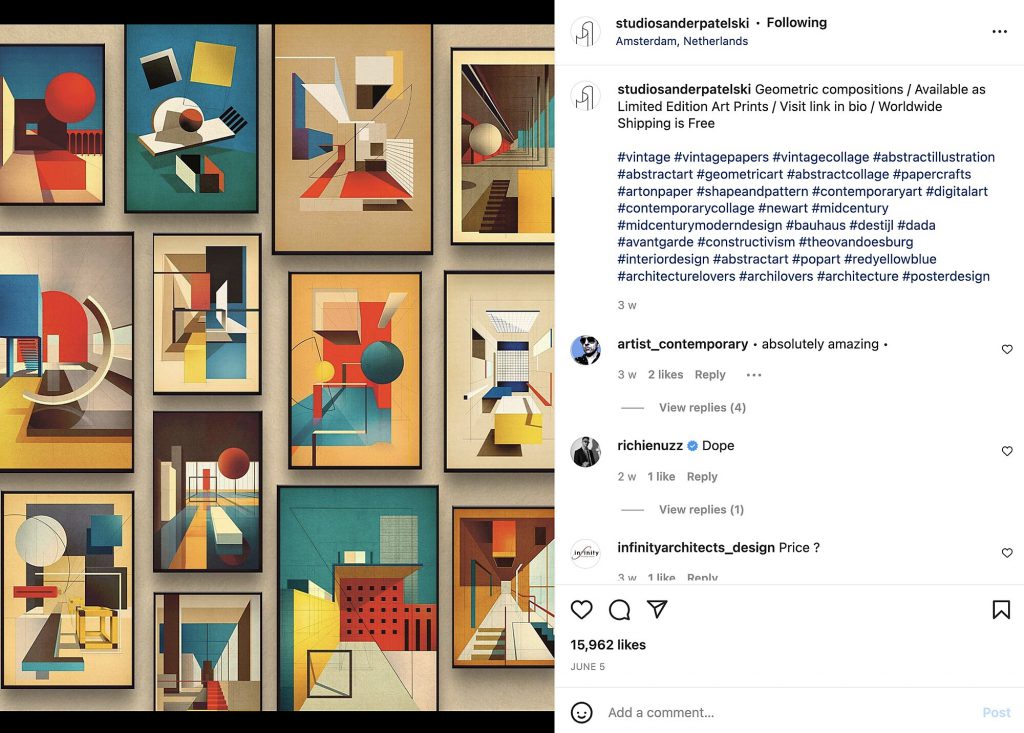 ---
Days 14 – Ongoing: Sales & social proof
Talk about your sales
As your prints begin to sell, make sure this is communicated. This is another way to talk about the print store. It also shows viewers that your work is in demand.
Below are two great examples of this by Sander Patelski. He has shared the posts he has been tagged in, one of a very happy customer receiving the print on their birthday, thereby communicating that the print would be a great gift idea. The second of the prints on the wall, which gives prospective buyers a great idea of scale and how it may look in their home.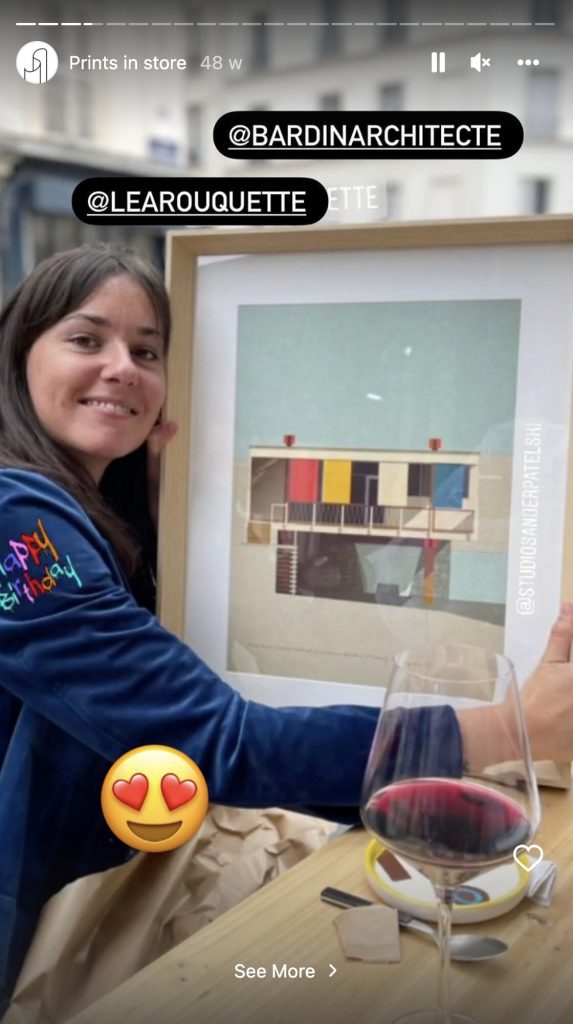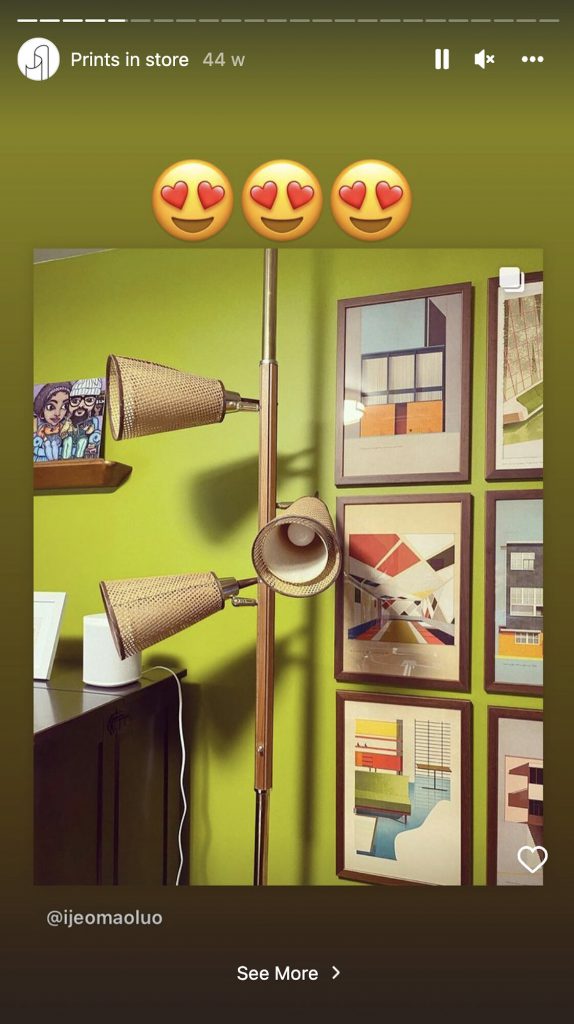 Marketing 101: You cannot improve without measurement
Like anything in life, achieving marketing excellence is a case of making incremental improvements. And to do that, you need to measure success at every point, otherwise you will not be able to see the improvements and to understand what is, and isn't, working for you.
OK, so what metrics should you be tracking and how do you use them to improve? Here is what we recommend as a starting point:
| | | | |
| --- | --- | --- | --- |
| | Volume | Conversion rate | Ideal conversion rate |
| Reach | Number of views in channels | n/a | n/a |
| Traffic | Number of store visits | % of views that turn into clicks | 20% (email), 5% (Social), 3% Search |
| Sales | Number of sales | % of visits that turn into sales | 2.5% |
| Collectors | Number of collectors | % of repeat buyers | 30% |
A good sales conversion rate is 2.5% of your traffic. This would mean your channel engagement is genuine, i.e. people who follow you or sign up to your email list because they love your content and artwork. So for every 1,000 visits from the right type of followers, engaging for the right reasons, you should be able to achieve £2.5k of sales. And, over time, this should lead to repeat sales, if the quality of the product and customer service is good. (hint: that's where we come in!)

This shows two things. The first is that your sales might seem slow at first, depending on the engagement you already have, but it soon multiplies up to achieve the career and creative freedom you want. The second is that chasing followers just for the sake of numbers will not lead to the result you want. You need to seek genuine followers who love what you do, and you do that by putting out the type of content we have set out above.
That's a wrap
That may seem like a lot of information to work through, and yes, it will take some commitment on your part. But do this now and you will find art sales success. The important thing is to just get started and learn what works best for you along the way! Now, use this checklist to action these tasks. Good luck!