Executive summary
We recommend you read this article in full for our advice on how to choose the best template for your online art store. However, if you are looking for some fast advice here you go:
| | | | |
| --- | --- | --- | --- |
| Platform | Best for | Template recommendation 1 | Template recommendation 2 |
| Shopify | Most things! It's our go-to platform. Easy to setup and good templates. Best -in-class e-commerce features. | Baseline ($280) | Studio (Free) |
| Squarespace | Good for starting out, some decent templates. | Not recommended for galleries | |
| WordPress/ WooCommerce | The best choice of templates. Flexibility of design and modifications. Not the easiest to setup but there are lots of web developers out there who can help. | ART ($69) | Arte ($69) |
---
Getting started
This article will take you through some of the best template design options for galleries, that is, sites that showcase and sell the work of multiple artists.
If you are an individual artist it is possible that you could use some of these templates, but please take a look at our companion article for the best website templates for artists to sell art online.
Galleries differ from individual artists in that they tend to need different pages or collections for each artist they represent, and then subcategories for the artist's different projects. This means that the architecture for gallery sites is different.
Artist site architecture
Gallery site architecture
The templates that we have found on Shopify and Squarespace seem to have a single level of collections architecture, meaning that you could group artworks by artist, exhibition or project, but not group by artists and then group by exhibitions or projects. We would be interested to hear from anyone who has found one that does allow for this. In any case this might not be an issue for some galleries, who would naturally arrange their works sequentially into drops, exhibitions, projects and wouldn't need that second level of architecture. If you do need that functionality, then we recommend WordPress and WooCommerce as this gives you the flexibility to develop whatever architecture you need.
Before we get into the recommendations it is really important to note that when looking at these templates, you have to see beyond the colours and fonts. You are looking at the way the products and pages are grouped, the available types of page in the template and the structure of the site. Colours, fonts and button styles can, of course, easily be changed to match yours. Lastly, aspect ratios of images can be changed too, but again, you need to think if a changed aspect ratio of an image would fit the page structure.
---
Recommended art gallery templates for Shopify
Shopify works well as a complete all-in-one site, or as the store section of a larger site on a subdomain, like store.yoursiteURL.com
We recommend Shopify above any other platform, especially for businesses (as opposed to individual artists) because its e-commerce features and easy checkout options are second-to-none.
Option 1: Baseline
We like the Baseline Theme, although we appreciate it is a very bold design. This template literally has everything you need for a complete all-in-one gallery website, and with some stripping down (which is easy to do), it could also be the store section of a larger site. It costs $280, but for that you get the complete package.
The homepage has many great elements to select from, including a hero list of artists or this cool auto-playing, eye catching video section.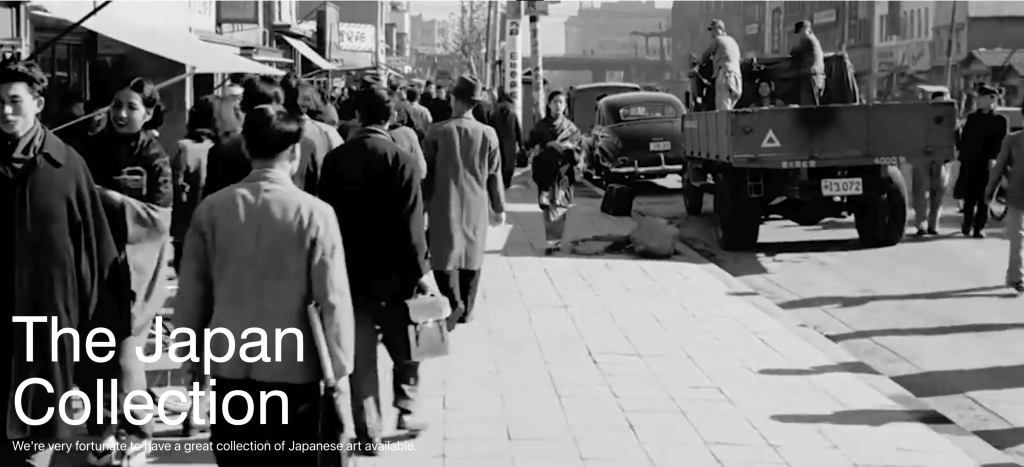 You can also have separate collection pages for artists.

This template also has a good way of dealing with mixed aspect ratio images, plus great design aesthetics for the image containers.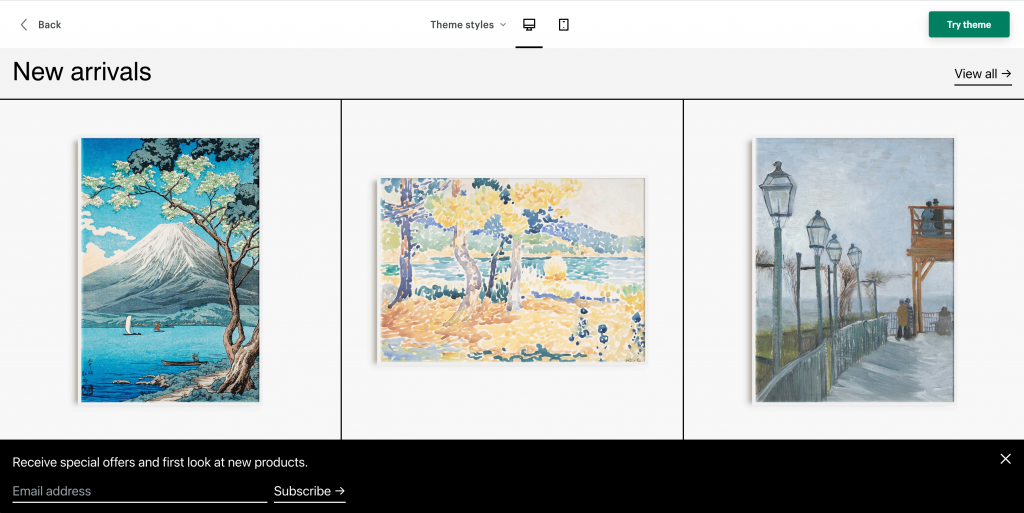 Check out this great editorial section for providing context to the works

The CTAs for building your newsletter are really clear. This is vital as emails are a really strong channel for e-commerce conversions, and are also essential to start building deep, long-term collector relationships.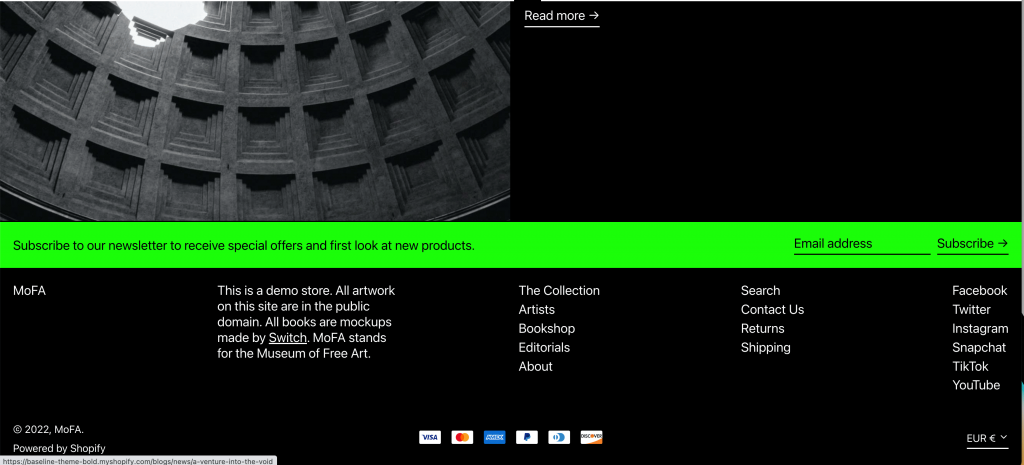 In terms of the design, you could easily make some changes to adapt it to your style by changing colours, fonts etc. especially with the help of a web designer. Right now it uses a very bold, in your face style, but that could be softened quite easily by removing some of the stronger elements and making some of the lines thinner, changing to a less stark font and softening the colour scheme.
Option 2: Blockshop
We also love Blockshop as a template, which is again something that could feature as your entire site. Check out how one of our clients has customised this template with amazing effect to create a fantastic all-in-one site and store, This is Rude.
Rude are clearly great designers with a really strong visual brand, but this really shows how, if you have a design eye, or you hire a designer to help you adapt a template, then you can really make a template your own, whilst avoiding the huge expense of building something from the ground up. Blockshop has so many great elements to make your perfect site. For example:
The navigation is flexible, so you could arrange you artworks in different ways, by artist, by exhibition, by the date of print drop, by project etc.

There are lots of flexible options for homepage sections, so you can show projects or collections.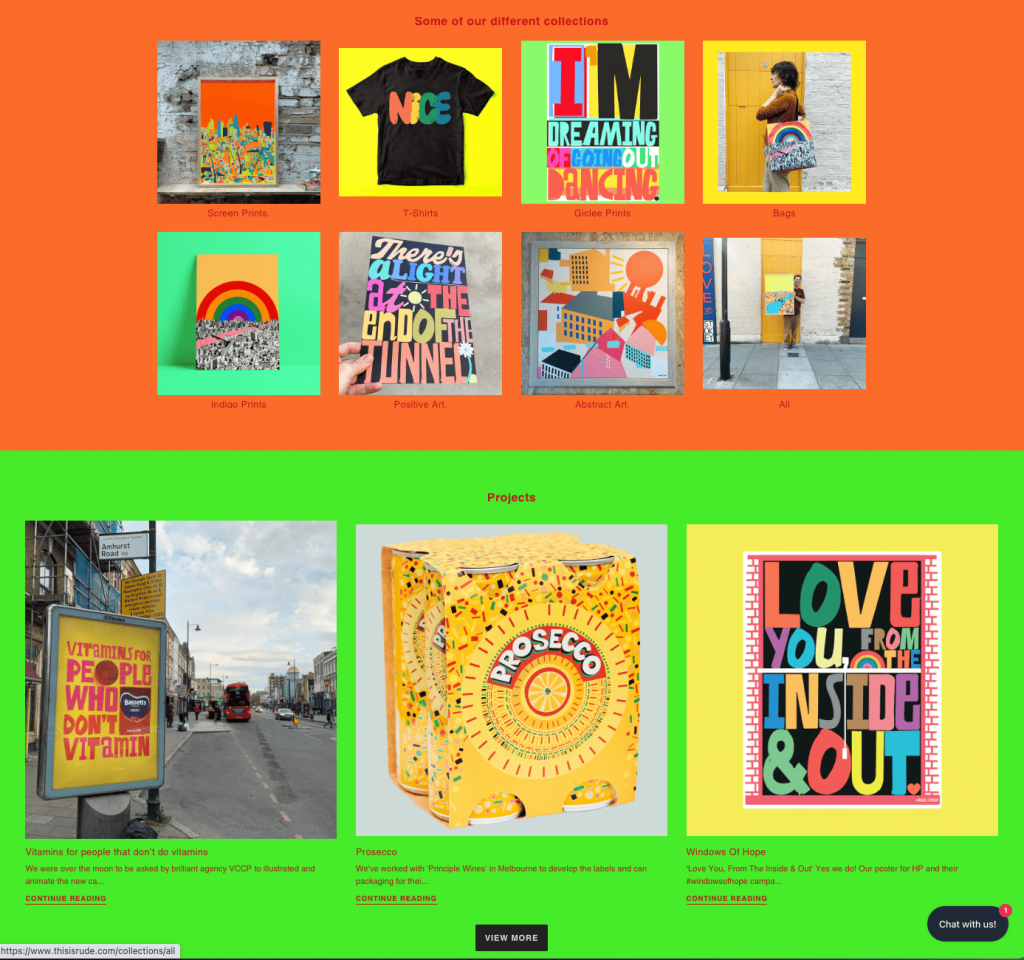 It has a great editorial section where you can write about some of your projects and contextualise your work.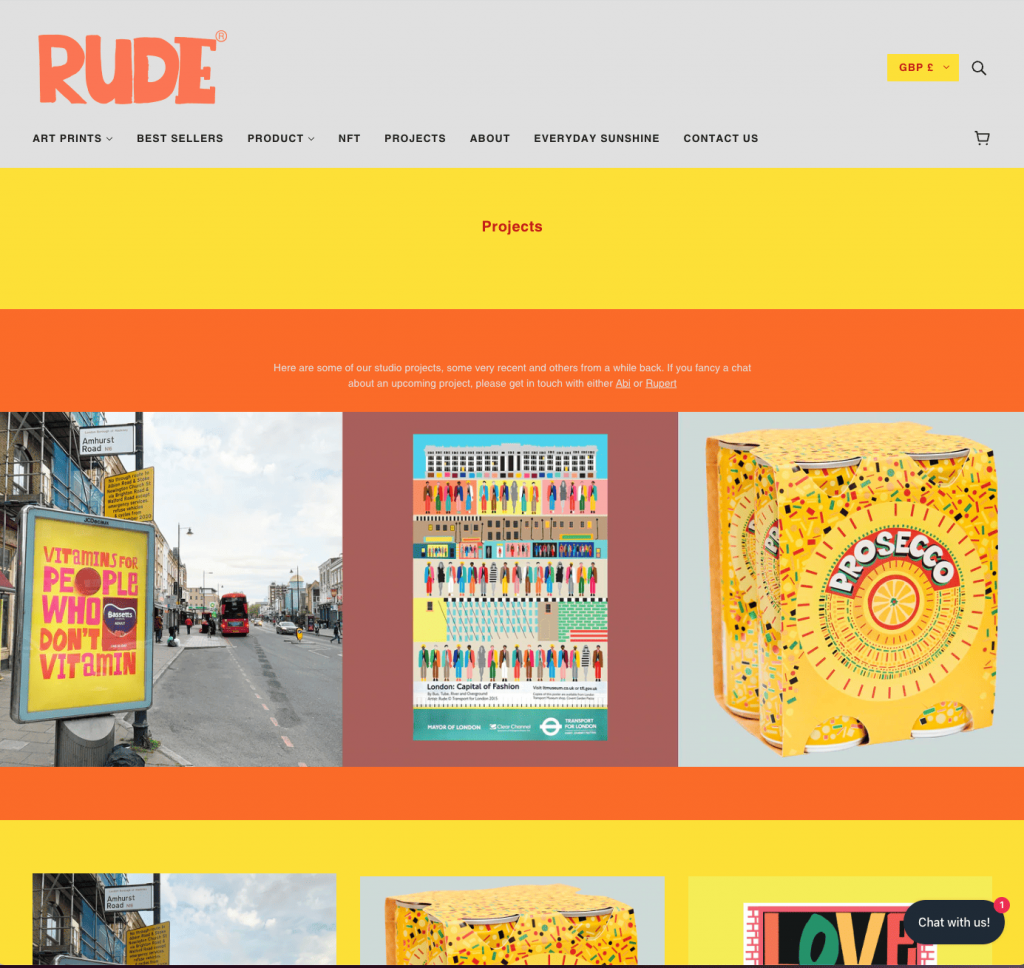 Option 3: Studio
If you are looking for alternatives then try the more decorative Studio template, which also has the benefit of being free! This template could serve very well as a store that sits alongside a companion website (on a subdomain) or it could function as a standalone site. Here are features from Studio:
The homepage has a soft, cleaner feel, with a nice slideshow of works
The organisational options are varied, with the ability to arrange artworks by artist or by type of work, or any other type of classification you might want.

The images are the heroes!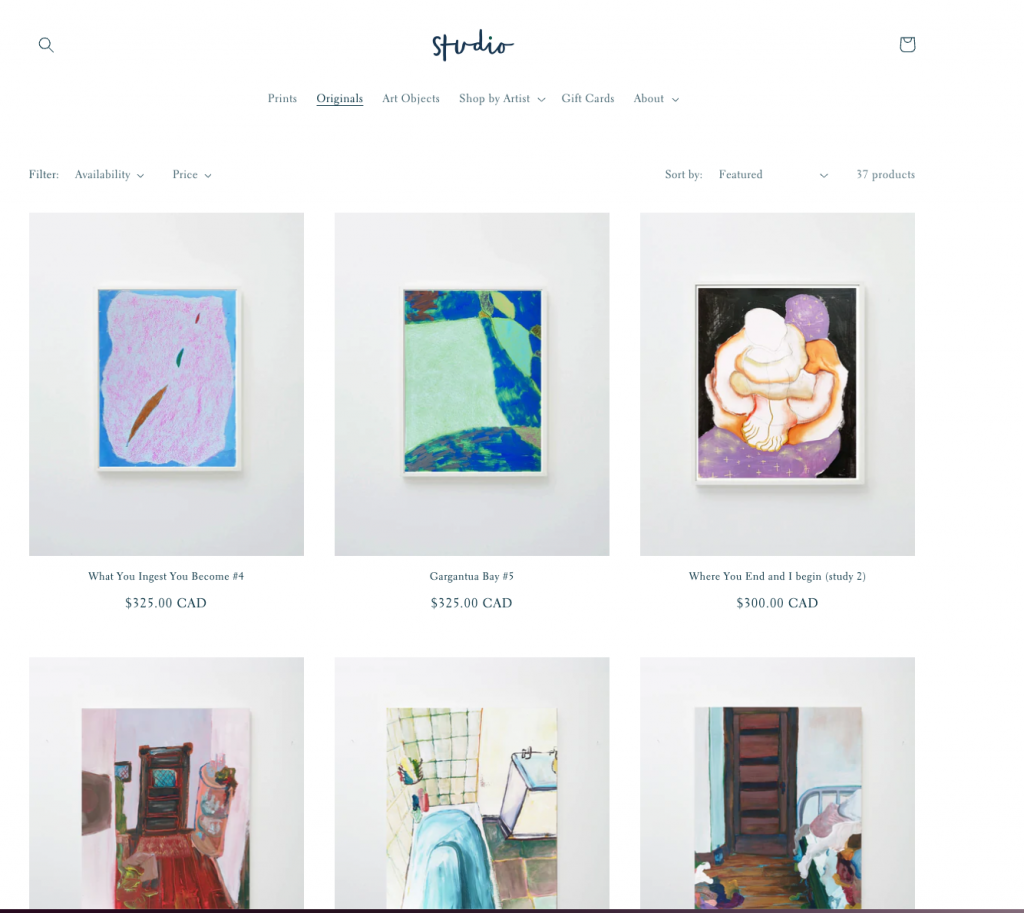 Plus, really good editorial elements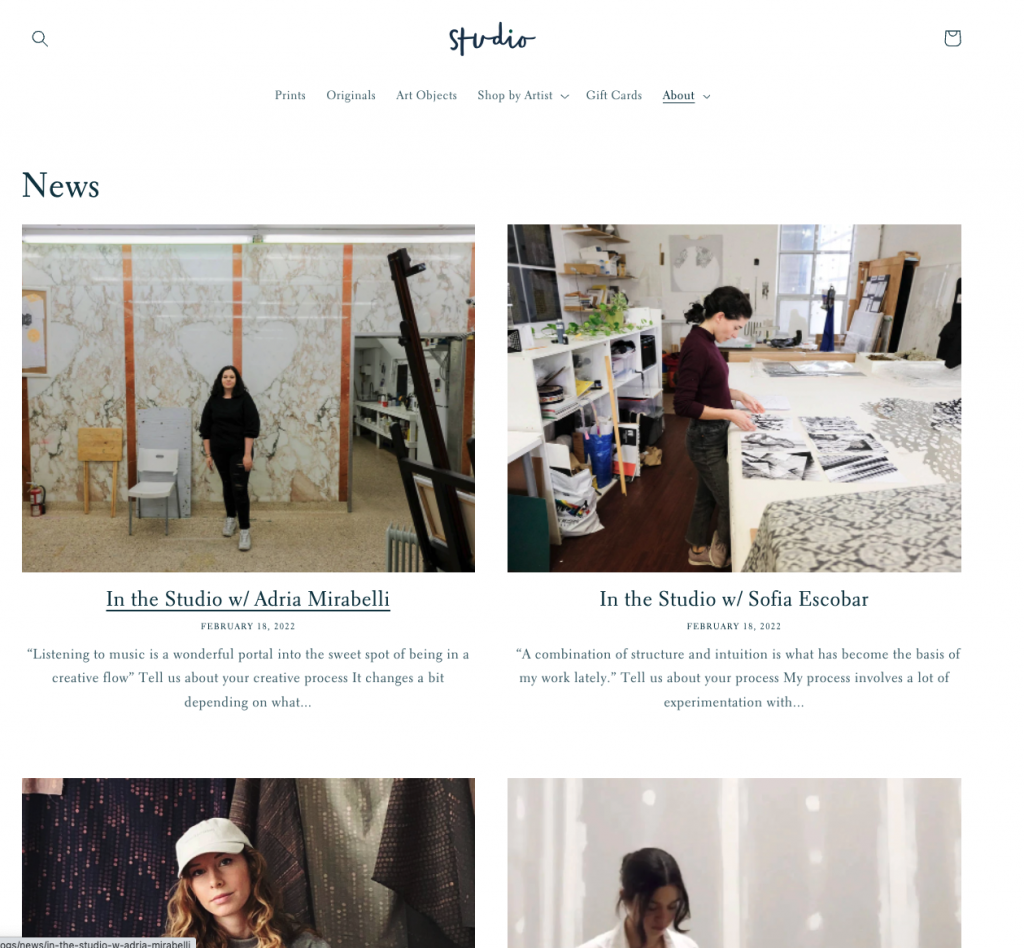 Option 4: Icon
Lastly, we love the Icon theme for galleries on Shopify. It has an e-commerce focused style with nice big images directly on the homepage.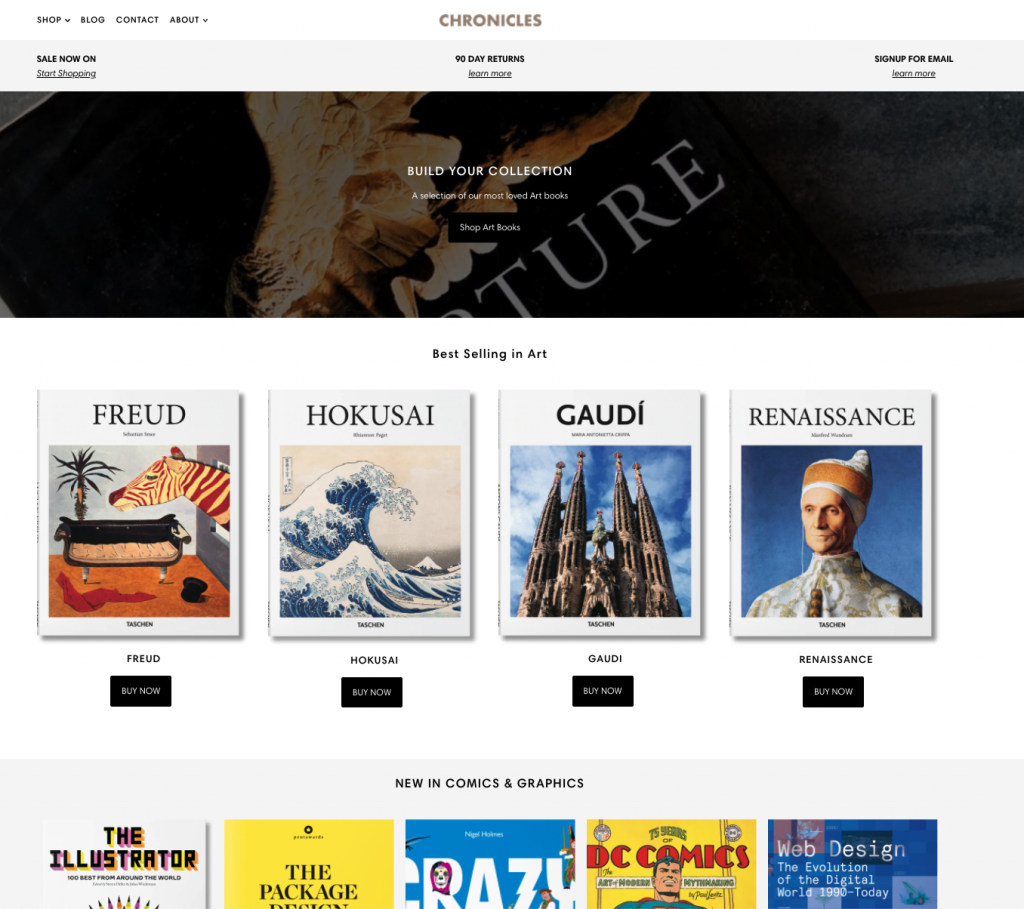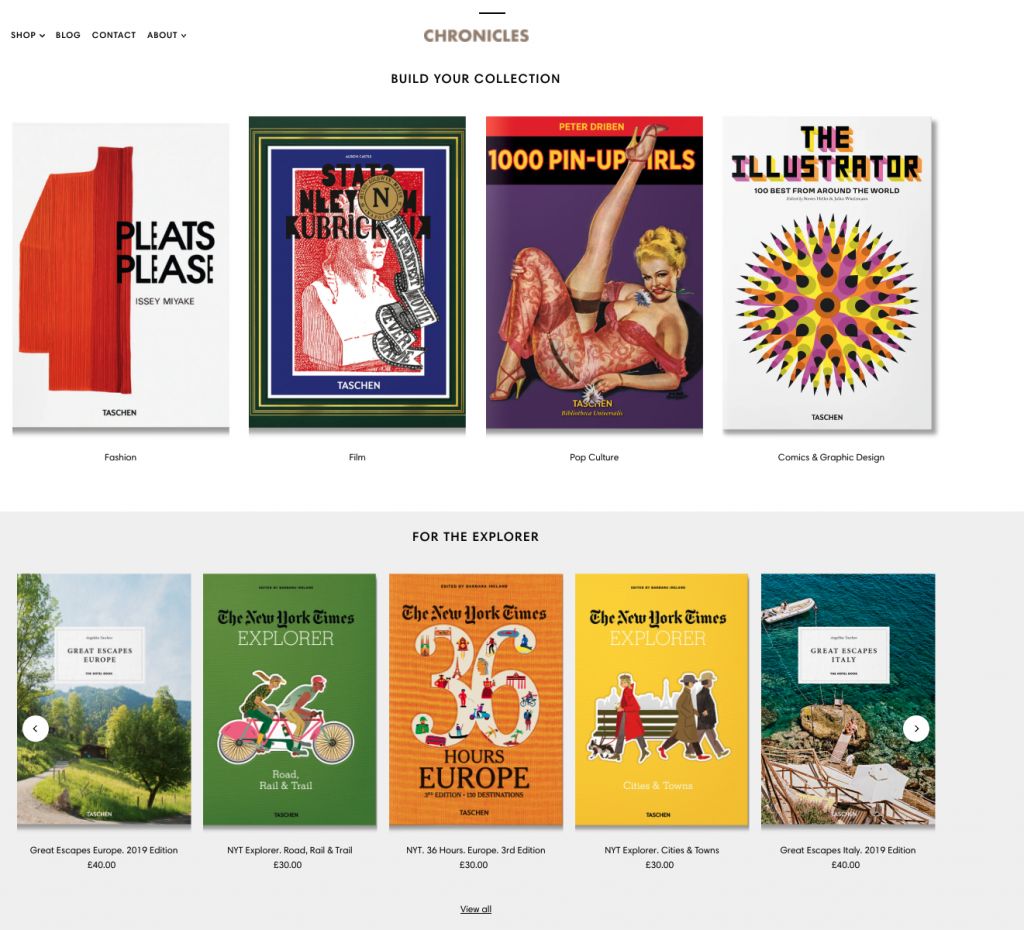 We also loved the menu structure with images as a nice way to encourage people to browse more.

---
Recommended art gallery templates for Squarespace
We do not recommend Squarespace for galleries. It lacks the more complex architecture options required for a complete all-in-one site that has large groups of product lines with subcategories of those products. If you already have a site and you are looking for a store to sit on a subdomain, then we would always recommend Shopify or WordPress. If you have a limited product range, without the need to arrange it in different ways with categories and subcategories, then Squarespace can work for you. For this reason, we think Squarespace is better suited to an individual artist. To see a list of recommendations for the individual artist, read our article about that.
Option 1: Skyloop
If you do go down the Squarespace route with your gallery, you could try Skyloop. It has a nice design feel and more importantly, it has a side menu on the store page for easy browsing of the different categories, which could be the different artists, print drops or exhibitions. The preview site has been set up as a children's clothing store, but you can understand the menu structure from this screenshot: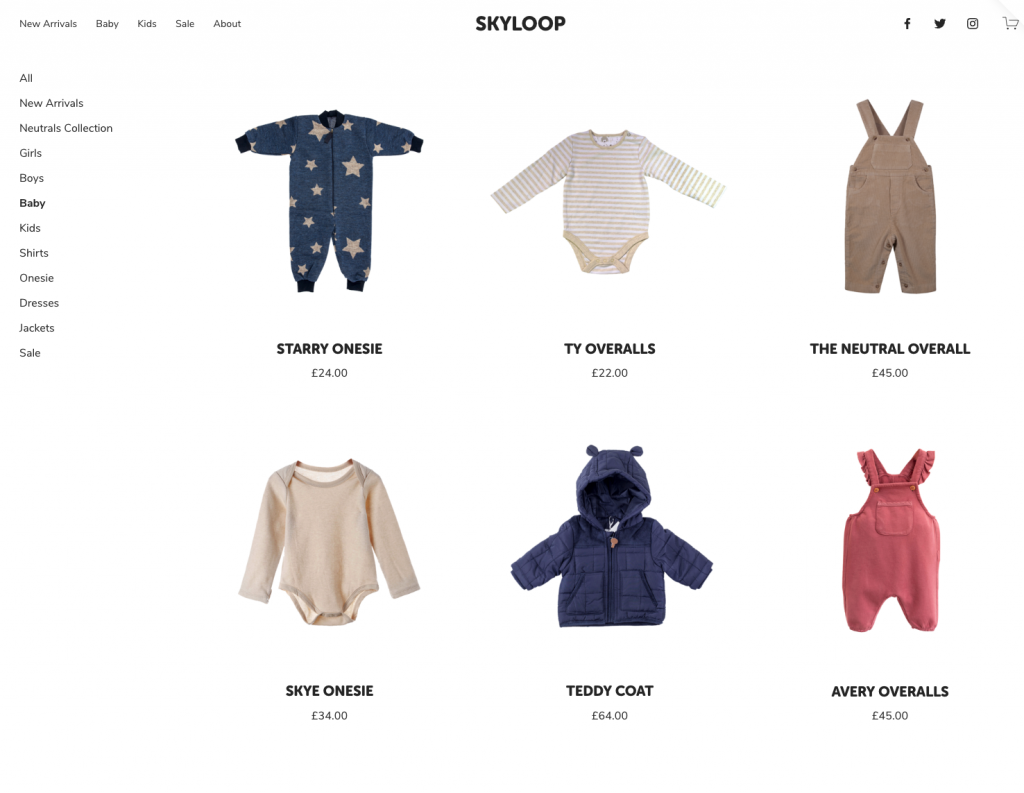 This side menu is useful because as your list of projects, exhibitions or print drops grows over time, it would be able to accommodate that growth by extending down the page. If the list grows too long over time this could get a bit long and unwieldy. Also, the editorial content options are just using the out of the box Squarespace options for this functionality.
Option 2: Alameda
Alameda is another option to consider. Again, it has a clean design, but seems more limited on the menu options as the menu stretches across the top of the page.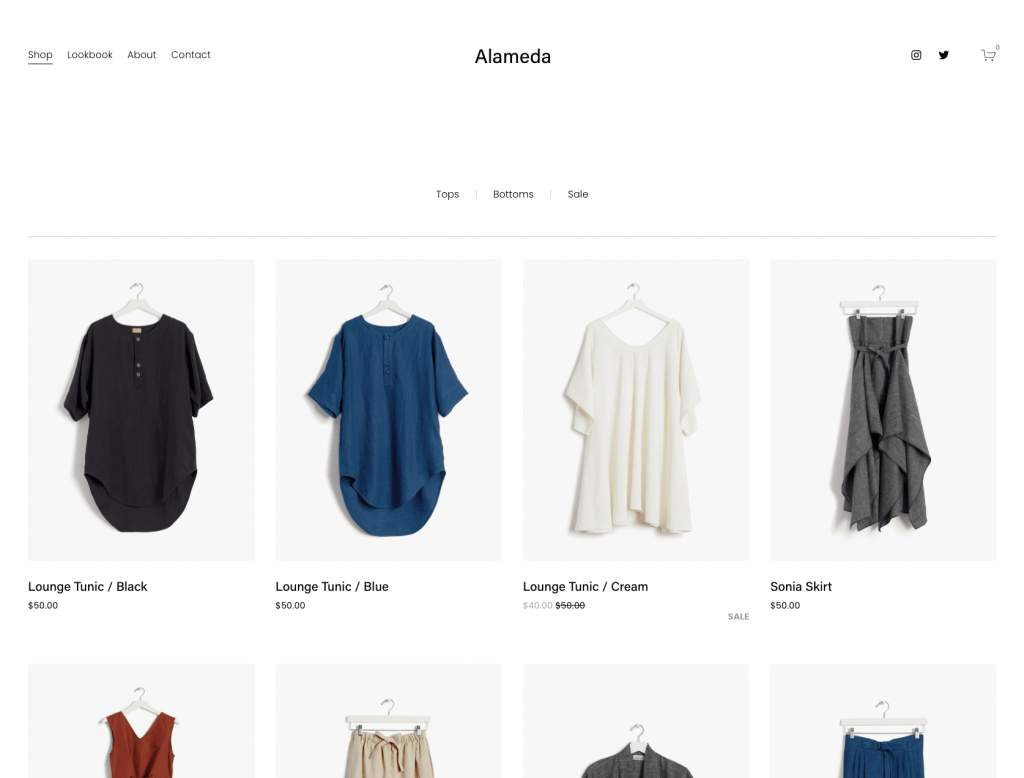 Note: A lot of Squarespace templates use uniform grids for the image containers which have same aspect ratios. The Alameda template above is an example of this. Photographers may struggle with this, because they shoot in landscape and portrait and often use different aspect ratios. These templates will auto-fit the images to the standard aspect ratio image container by cropping. It is easy to alter the way the image appears inside a container, that is, to still display in their original aspect ratios. We explain how to do this in our other article: The best website templates for artists to sell art online.
---
Recommended art gallery templates for WooCommerce/ WordPress
When you choose WordPress, you use WooCommerce for the e-commerce functionality. This has your shopping cart, product pages and all the payment and backend features you need to sell and fulfil orders.
Like Shopify and Squarespace, theprintspace also integrates seamlessly with your WooCommerce to automatically handle your fine art print fulfilment, sending framed and unframed prints out in branded packaging with cool limited edition branded certificates!
Choose your WordPress template via WordPress themes, for example, Theme Forest, and then integrate a template for the store using a WooCommerce theme.
Option 1: ART
The first template set we are recommending is a WordPress theme called ART. We simply love this theme pack. It is only $69 and it comes with a huge set of out the box layouts, for either galleries or individual artists. You can group your work by artist, exhibition or however you want. Whatever your needs, this template set will do what you need! There are also viewing rooms, which are super cool ways to contextualise your art. Below is a walk through of this lovely, versatile template:
Option 2: Arte
Another theme we like is Arte. This one costs $69 which is reasonable. This is a clean and minimalist theme and definitely gives prominence to the images. It has some great text options that can surround images and video. This is great for writing supporting contextual material that really engages your potential collectors.
---
Now it's time to act, so what are you waiting for? Successful artists and photographers favour action over procrastination, and the online art boom is not going to wait for you. To act now, read the article below and set aside 3 days to get your site out there!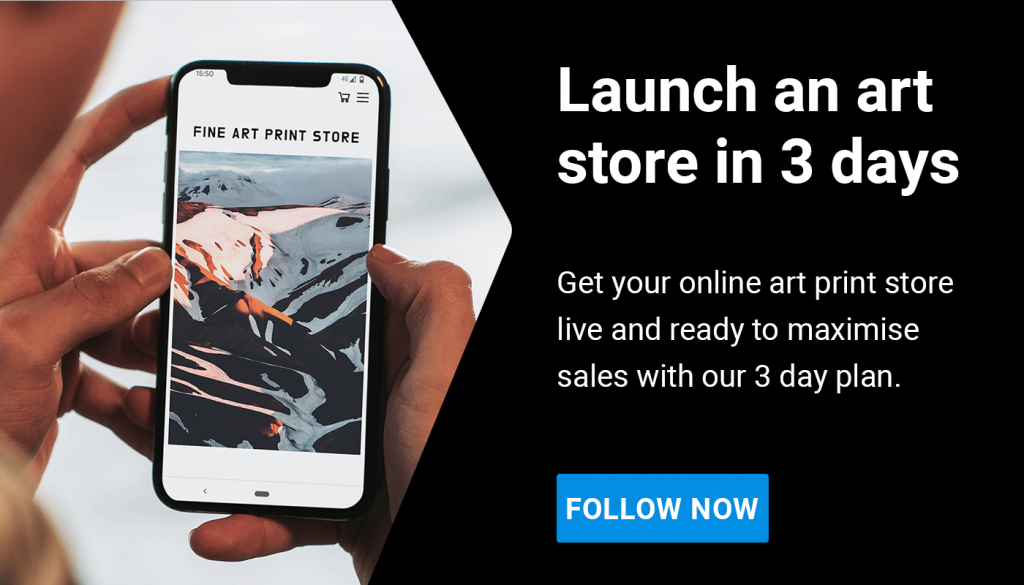 ---