This is a very simple and quick to execute checklist on how to market the launch of your print store.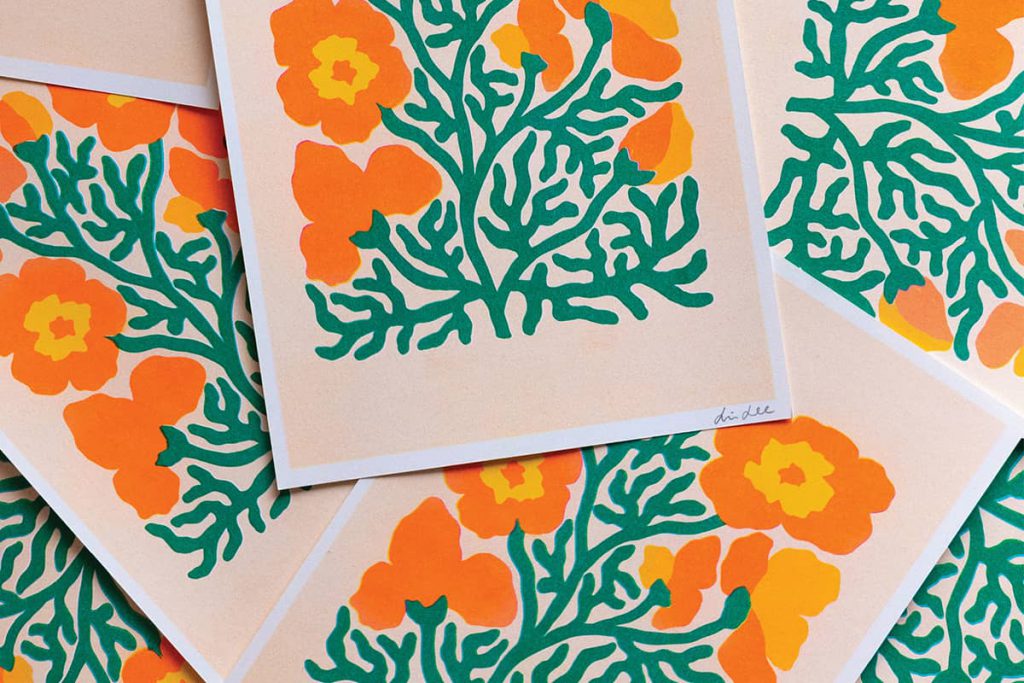 The driving goal for most artists is to achieve creative career freedom. By this we mean making a living solely from your art. Well good news, if you have an online following, no matter the size, then the single best way you can achieve career freedom is selling art prints online.
That's where we come in. Our art print dropshipping service gives you a way to sell gallery quality prints & frames with branded packaging and global shipping. We take care of the logistics for you, freeing your time up to concentrate on marketing your print sales.
If you have already set up your online art store, congratulations, you are one-step closer to achieving your goal. If you haven't, check out this in-depth guide we put together to help you.
---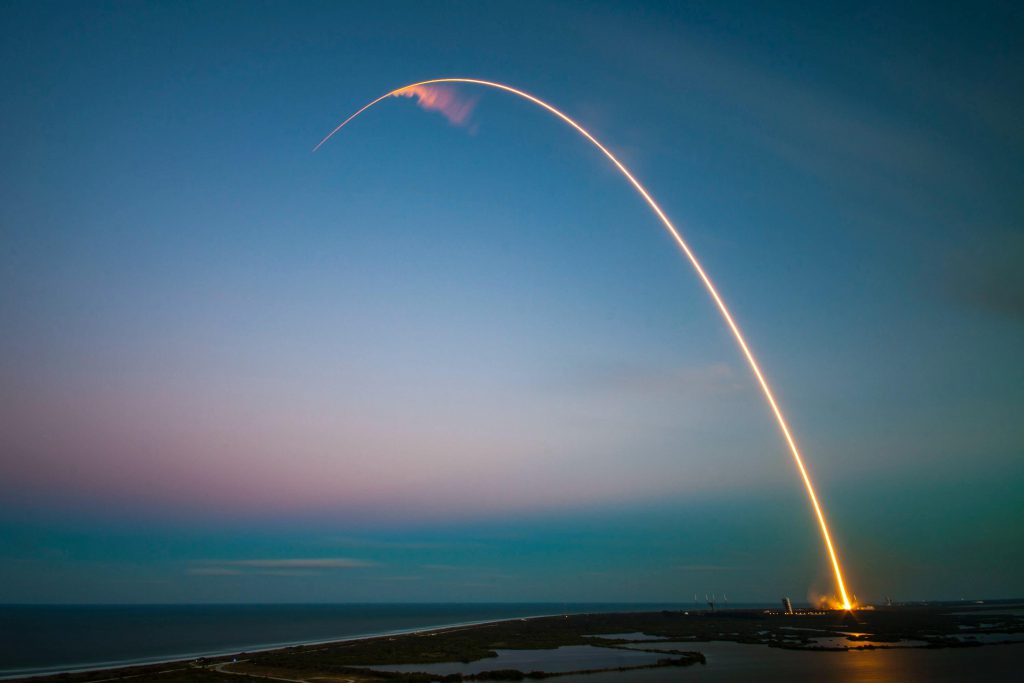 Your store launch
The next step in your journey is launching your store. To give you the best chance of making your launch a success we have put together this 7-day launch plan. This is centred around 6 cornerstone pieces of marketing content, researched from hundreds of successful artists we have seen sell high volumes of art prints online time and again.
By following this plan you will create a chronological conversation with your audience leading up to and in the days after the launch. Each piece of content communicates your print sales in a different context, which over the course of the 7 days builds trust in the quality of your work, the print products and the buying experience. All of this is aimed at driving as much converting traffic to your print store as possible.
This isn't going to take all your time each day. However, to give yourself the best chance of success you will need to dedicate 1-2 hours a day to focus on making this happen. The important thing to remember is that good performing content always has personality, originality and self-expression, so lean into this process and have fun making it your own!
---
Your communication tools
The 6 content examples that follow communicate your message using different marketing methods, which combined with the 7-day fixed period of time concentrates your marketing into a campaign. This is a number 1 tactic used by digital marketers. Here's how this looks: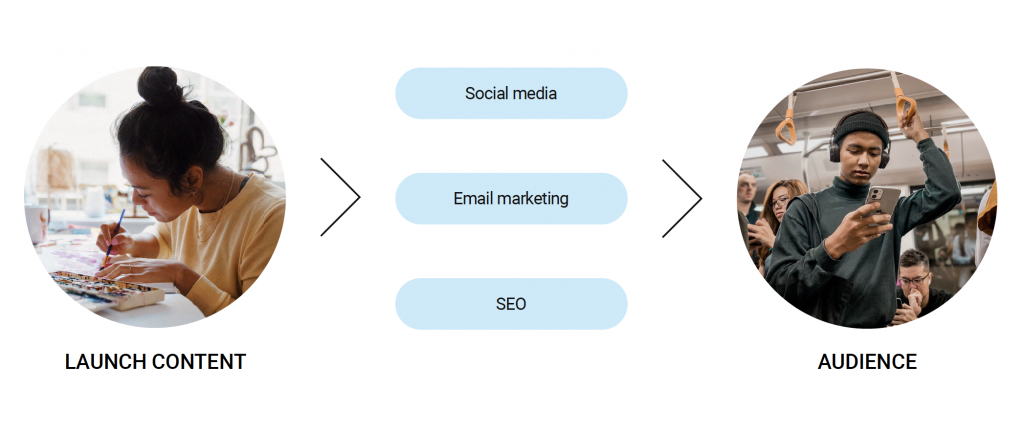 ---
Your 7-day launch plan
Ok, let's jump into the 7-day plan. Here is how your story arc looks: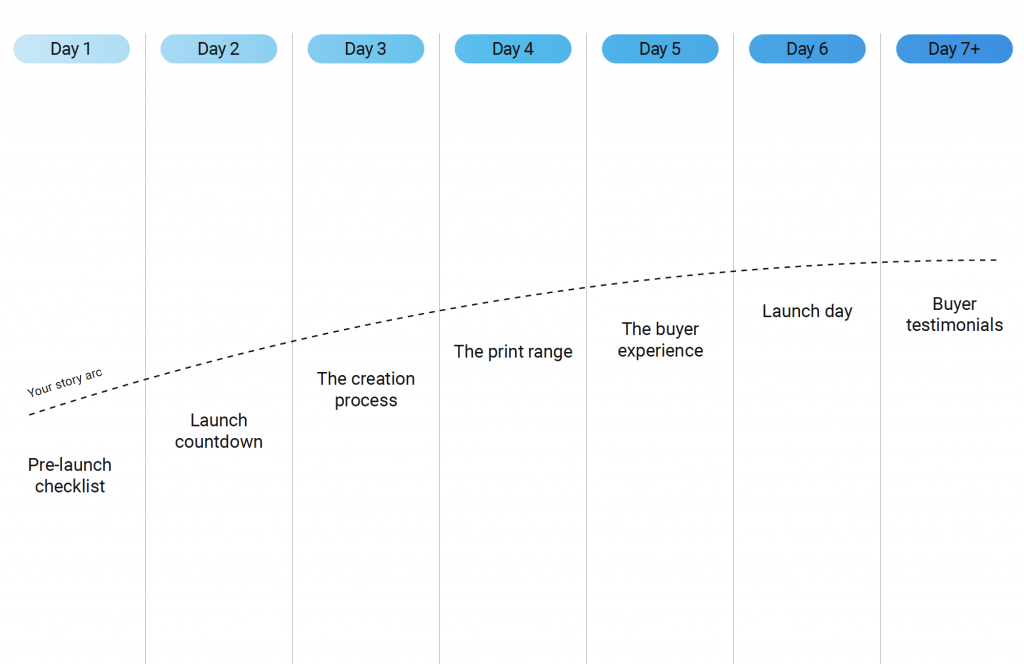 What follows is a breakdown of each day in this plan, what you need to do and the content examples of other artists who have done this with great success. Keep in mind that there is a good chance you may have some of this content already. If so, great! What you can do is look at how you can repurpose that content to work with this launch narrative.
Day 1: Pre-launch checklist
Add your social platforms as website sales channels. I.e for Shopify do this
Update your social media bios with your shop URL & launch details
Set up abandoned cart emails on your website. I.e for Shopify do this
State your art sales are carbon neutral on your website. Use this
State your returns policy on your website. Use this
Set up an email marketing service. Try Mailchimp
Create your email mailing list. Use this
Create in-situ product images that show print scale. Use this
Do your basic website SEO. Use this
Day 2: Launch countdown
Announce the upcoming launch of your print store. In this content you need to make clear the launch date and time plus sale details such as free shipping and that your print sales are carbon neutral (if you use us for your fulfilment). You should also include a call to action (CTA) to sign up to your mailing list. This gives your audience context to your upcoming content and begins the momentum of building interest and anticipation of the print sale.
A great example of how to do this is Ian Lauer's set of Instagram posts. By doing 1 post a day, 9 days in advance of the launch, Ian cleverly builds momentum in a way that contributes towards the '25-30′ times buyers need to see your work. Note how Ian keeps the visuals varied to keep the content from being too repetitive and leads with the key launch dates.
Day 3: The creation process
Show your audience specifically how you make your work such as technique, time taken, your studio & materials. This content will highlight your skill giving your audience more confidence in buying. It also gives buyers a back-story to tell their friends when discussing their purchase.
Time is a key part of Oum's process. Her to-camera presentation technique is engaging and creates a tangible connection to her experience. By teasing the incomplete work, the viewer is encouraged to follow her progress.
Diane Hill's video communicates her uniqueness; aesthetic vision combined with skill. This conveys quality and lays the groundwork in terms of making her audience understand what they are getting when the buying time comes.
Day 4: The print range
Show the full range of prints you will be selling. This content gives your audience an opportunity to 'window shop' the range which builds anticipation ahead of your launch. This content needs to communicate specifics like print size, limited edition details, paper choice, price, free shipping & carbon neutrality. This is another opportunity to encourage sign ups to your mailing list.
This example by Liv Lee is a great example of how you can do this through video. The transitions between slides are well paced, which teases the products really well. Her choice of music is uptempo which matches the edit. Great 'teaser' style content.
This post from Pie Aerts is strong because it shows the scale of the print. This increases conversion as it makes it easier for your audience to picture the print in their house. Note Pie's accompanying captions full of key sale details & CTAs.
Day 5: The buyer experience
Show your audience how their print will arrive via an 'unboxing' video. A big e-commerce barrier to purchase is the unknown. This content removes that barrier whilst simultaneously building buyer trust. It acts as an opportunity to highlight quality details such as the branded packaging, paper texture, custom inserts & limited edition certificates.
We like Elisabeth's mime-like approach because it get's her in front of the camera, creating human connection with the accessibility of the captions. The video is clean, well paced with a clear CTA to buy prints at the end. It's clear what you can expect if you buy.
Takeaways from Chiara Tribulato's video is her use of narrative. From unpacking, certificate of authenticity details, through to framing, it creates a very tangible experience for the viewer making it easy to picture the work in their house.
Day 6: Launch day
Send a direct email to your mailing list announcing the store is launched. Email is the marketing method with the highest conversion rates. This is your most direct opportunity to tell those people who have signed up to your mailing list, who by definition have shown interest in your work, that they have an opportunity to support & engage in your career.
We like this email marketing example by George Townley firstly because it's very visual. Your audience may need a reminder of who you are when the email hits the inbox, and a visual trigger is an emotional way to do this. Secondly, George's use of simple and direct language makes it clear he sent this email, which will create a connection with the reader. Lastly, George has clear CTAs throughout the copy with an unmissable button to buy.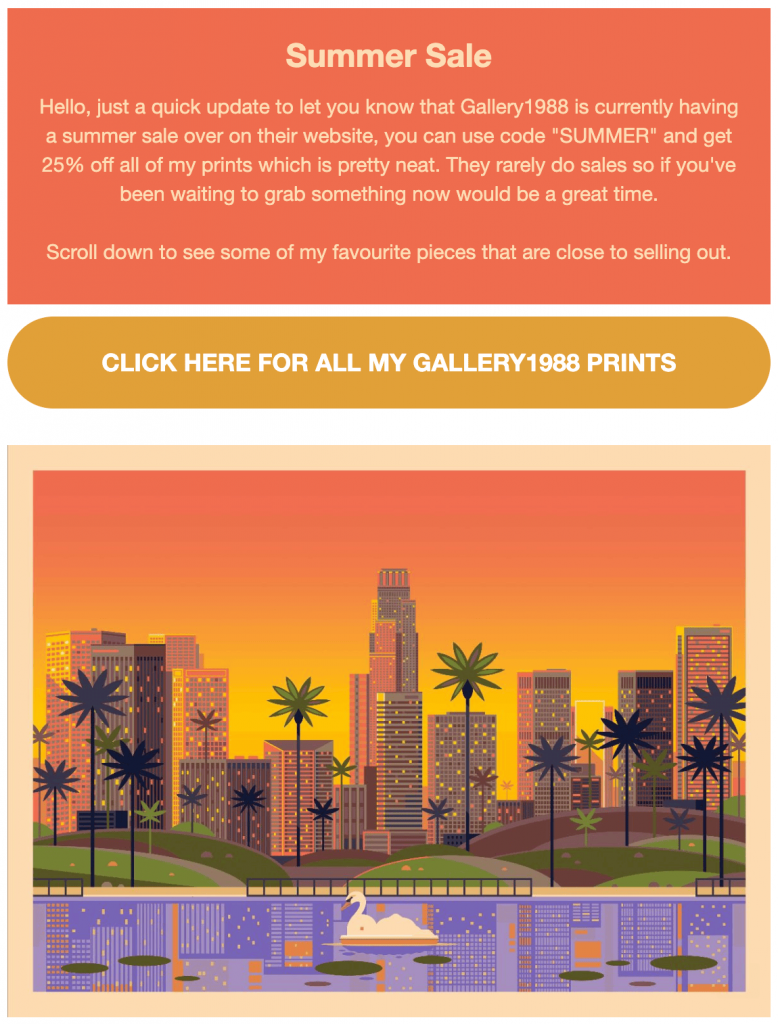 Announce across all of your channels that the print store is live and prints are available to purchase now. Don't make your audience search, include a link to the store with every piece of content. Repeat your key messages such as free shipping, carbon neutrality as well as product details such as price, paper, editions & size.
This is a simple but effective video technique from Thomas Jordan that uses the mobile view of his store as a visual aid. Combined with the descriptive text, the visuals of the store reinforce this is a shop and prints can be purchased at the click of a button. This has been nicely styled with backdrop colours that match his brand identity.
Another example from Thomas, this time an Instagram Story saved as a Highlight so this can be accessed by any viewer on his profile. Simple mobile screen grab of the full print range with a link to buy.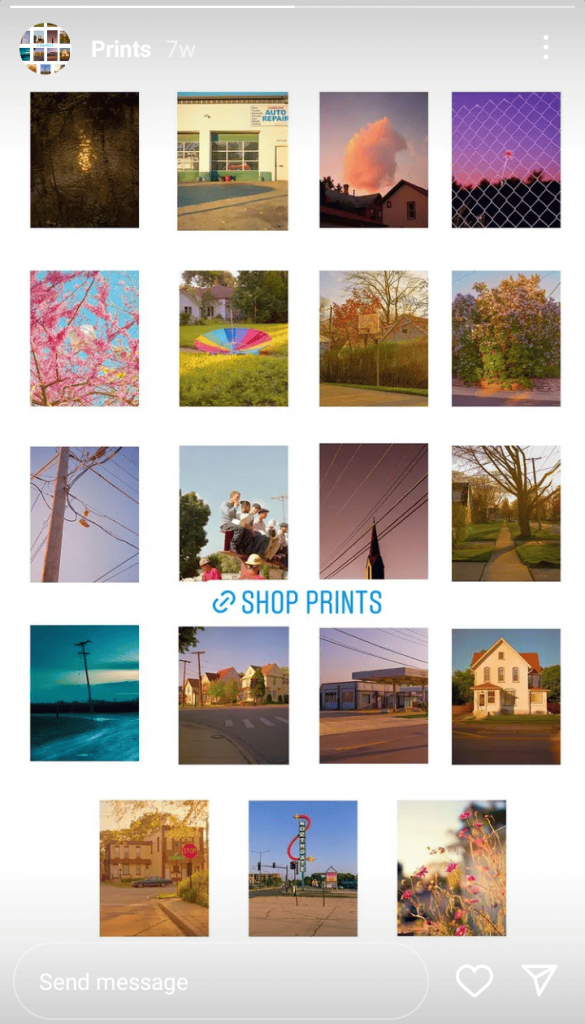 Day 7+: Buyer testimonials
Show your happy customers by resharing all social posts and content that you are tagged in. This could be unboxing videos, posts of buyers holding their print or of the print on their walls. What this content does is communicate to your audience that your work is in-demand which will encourage those who have not yet purchased to do so, or risk missing this opportunity. It's also a great way to build trust in you as a seller as this content acts as a less explicit form of testimonial or customer reviews.
A good and easy to execute example of this can be seen by Victoria Park & Diane Hill who share Instagram stories they are tagged in, then add them to a Highlight Reel. This gives future potential buyers a place to find these valuable testimonials and get a glimpse at how these artworks look in the buyers home.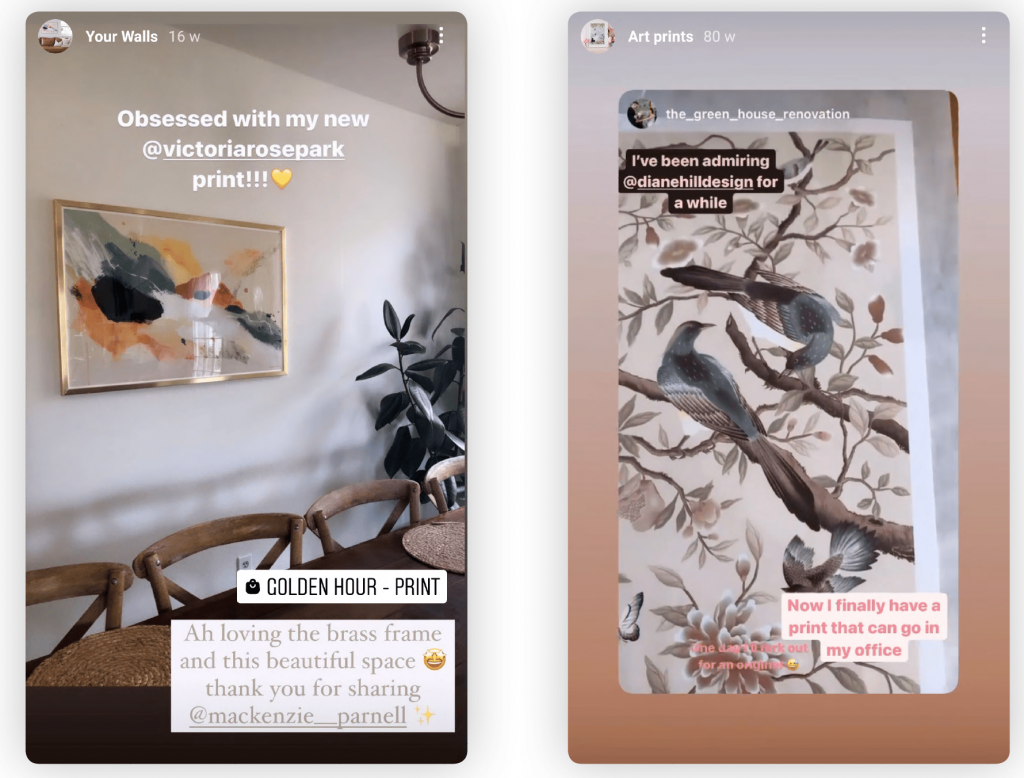 ---
Your long-term art sales strategy
Congratulations! In completing this 7-day launch plan you will have given yourself the best possible chance at early art sales success. Take a moment to appreciate what you have done as this is a big step towards achieving your goal of creative career freedom.
However, in order to sustain this success you'll need to put into action a long-term art sales strategy. Yep, you guessed it…that's level 2 in our series on how to market your online print sales. Why not get a head start on this whilst your art sales have momentum? Follow the link: Level 2: 101 Guide to print store marketing
---