How the payment and order fulfilment processes for Shopify sales that are fulfilled with creativehub work.
---
Getting started
To get started first login to your creativehub account or sign up below.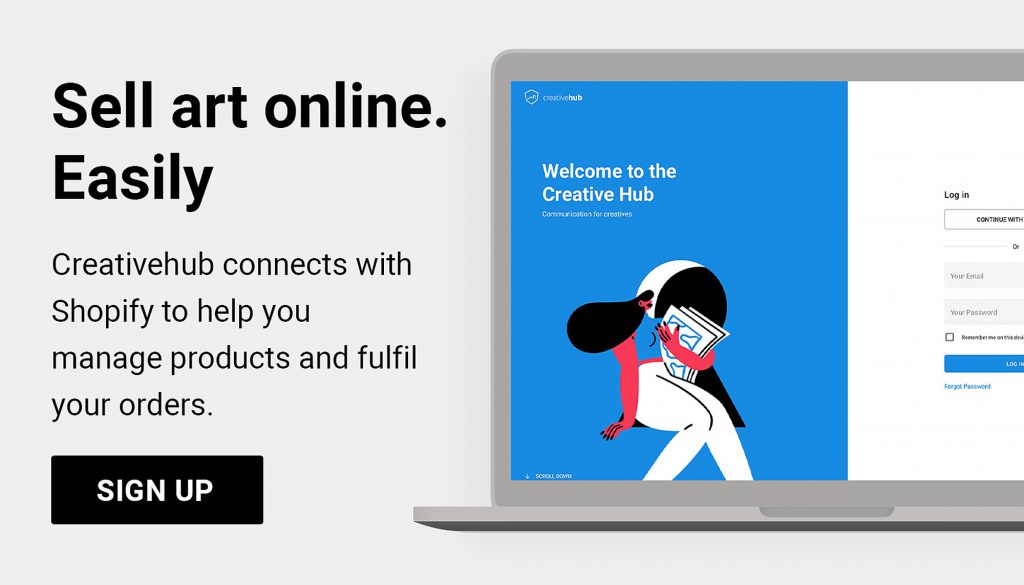 When selling your art using the creativehub Shopify app, there are some differences when it comes to receiving payments from your customers and paying creativehub for the print fulfilment costs.
There are essentially two separate transactions that happen:
---
Transaction 1: Customer & Seller
The first transaction that happens is between the customer and the seller only, and this takes place in Shopify.
The customer pays the seller the retail cost of the product as well as the seller-specified shipping cost.
This is then paid into the seller's Shopify account and deposited into the seller's nominated bank (you set up in Shopify's main settings).
Creativehub does not play any role in this part of the process.
---
Transaction 2: Seller & creativehub
When a creativehub product sells in Shopify, the creativehub Shopify app will automatically detect this through the unique SKU code.
The order is then sent back to creativehub's production management system for fulfilment at our print lab.
When your order arrives in our production system, we will debit you for the production costs. The production costs are the flat-rate shipping fee of £7 (+VAT) as well as the cost of the print. You can see this number when customising your print sales settings in creativehub. These costs are not the same as your Shopify retail costs, which will be higher due to the fact that they include the profits of the sale.
Orders you have made on any given day are imported after midnight. For example, if you made a sale on the 14th June, the order will be received into our production system after 00:00am on the 15th June.
If you made 50 sales on the 14th June, the same process would take place. This happens so we can group all of your sales in a given day together into one invoice and charge you once per day.
If you have not added a payment card for the fulfilment costs, you will receive an email to let you know that a payment card is required.
Click here to find out how to add your payment card in creativehub.
---
Order fulfilment
Once we have received payment for the fulfilment costs, your order will be received by our production management system. We always aim have orders printed and despatched within 48 hours.
You will then receive another email once the order has been shipped from our studio, with tracking information. This will allow you to marked the order as 'fulfilled' in your Shopify account and notify your customer that their order is on its way.
---
Hassle-free and commission-free
creativehub and Shopify both deliver a 100% hassle-free, commission-free, automated service: you choose what to sell and we handle fulfilment from printing to customer service.
Take a look at some of our exceptional customer reviews!
---