Our step by step guide on how to order online if you are new to theprintspace, from uploading your files, to what printing, mounting and framing options are available.
Step 1: Where to order on our website
First go to our website.
On every page, on the top right, you will find an 'Order' button. Click on this.
Step 2: Upload your images
As you are new to theprintspace you have two options:


Click 'Let's get started' to begin your order journey without an account.
Click 'log in / signup' and create an account where your images are stored for quick re-ordering in future and much more.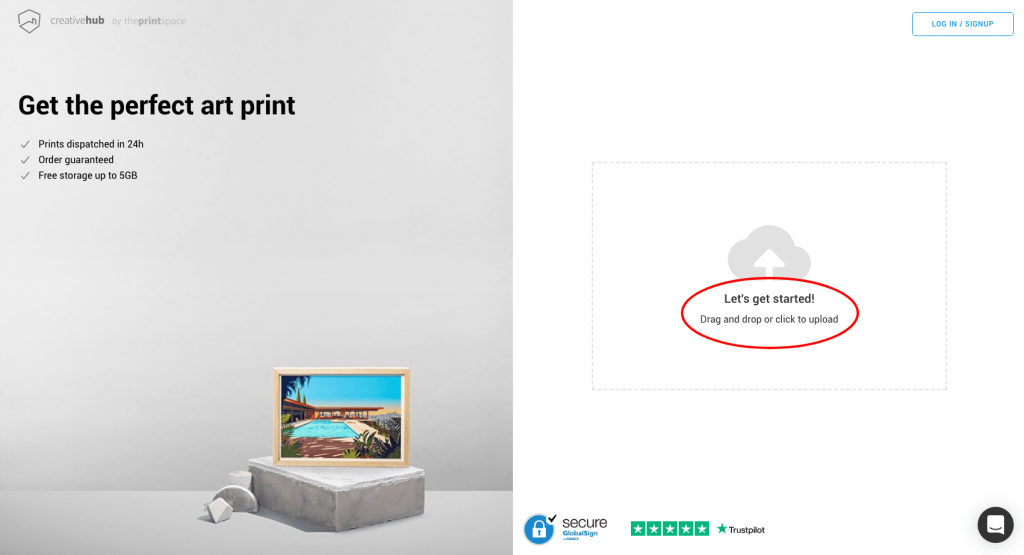 If you click on 'Let's get started' you can instantly upload the files you wish to print, either drag and drop or click and select the files you wish to upload.
Tip: Make sure your files are prepared for print
Read this in-depth guide about file preparation, if you want to make sure your images are ready for printing.
Step 3: Choosing your options
Once your images are uploaded, thumbnails are generated and all our service options are made available.
Now you can select print size, print type and mounting and framing options, and as you do the price change accordingly.
Use the drop down functionality on 'Print Size' to adjust the print size and add borders.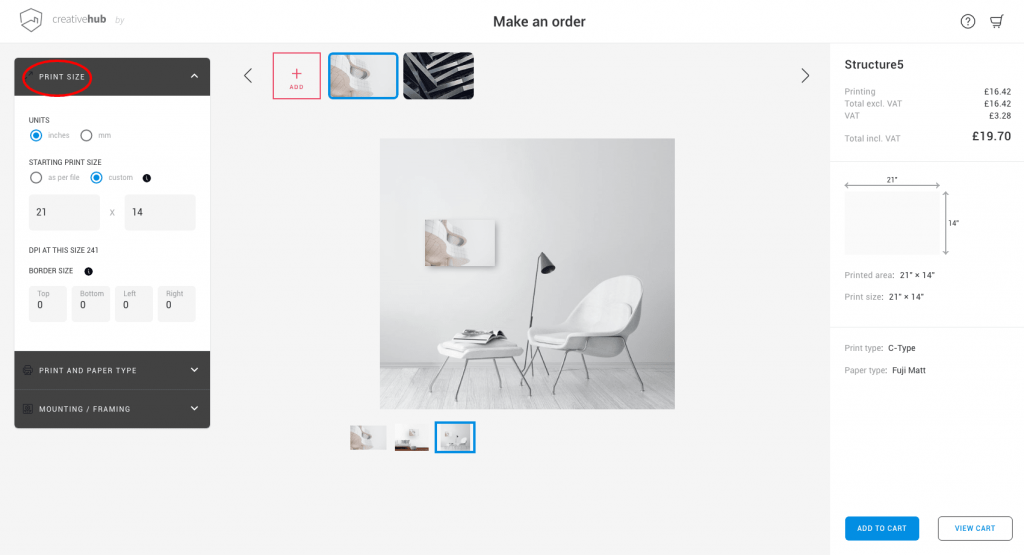 Step 4: Paper types
Make sure you select a paper type. If no paper type is selected the default paper will be Fuji Matt.
Click on 'print and paper type' to choose from 11 different paper types.
We have 4 different C-type papers to choose from, including:

Matt
Gloss
Fuji Pearl
Fuji Flex

As well as 7 types of Giclée, including:

Epson Semi gloss
Hahnemuhle Bamboo
Canson Baryta
Hahnemuhle Pearl
Hahnemuhle Photorag
Hahnemuhle German Etching
Ilford Cotton Textured
Click here to learn more about the difference between C-Type and Giclée. If you want to get a first-hand look at the different textures and paper finishes, you can order a sample from our website.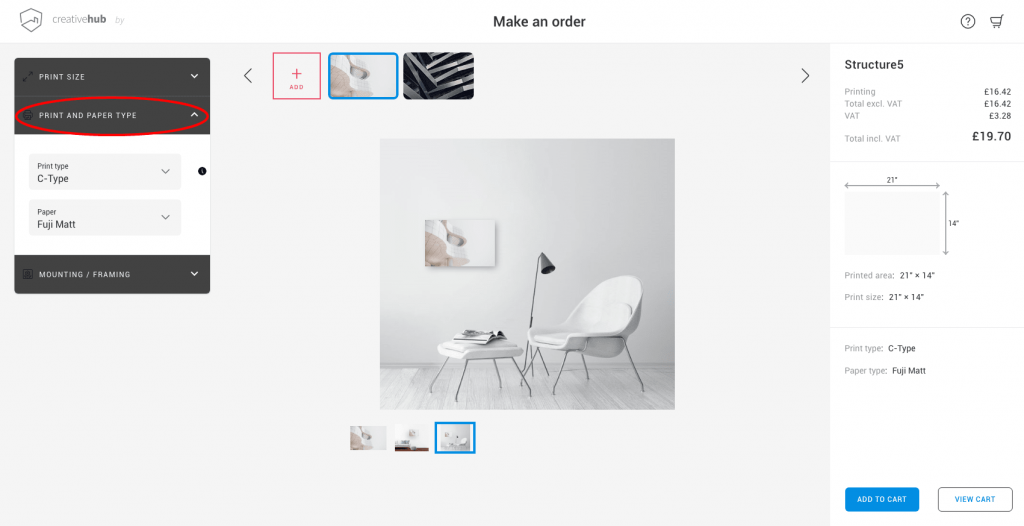 Step 5: Mounting and Framing
Under the 'Mounting/Framing' section you can select from several mounting options.
If you choose to select a handmade gallery quality frame, you will see the frame appear around the image, making it easier to choose a frame that compliments your image.
Please note that turnaround time for mounting orders is 5 working days, unless you order Acrylic Reverse mounting which is 10 working days.
Framing turnaround time is 10 working days.
In the example below we opt for a Giclée Hahnemuhle Photo Rag paper to be mounted on Aluminium with a metal subframe at the back.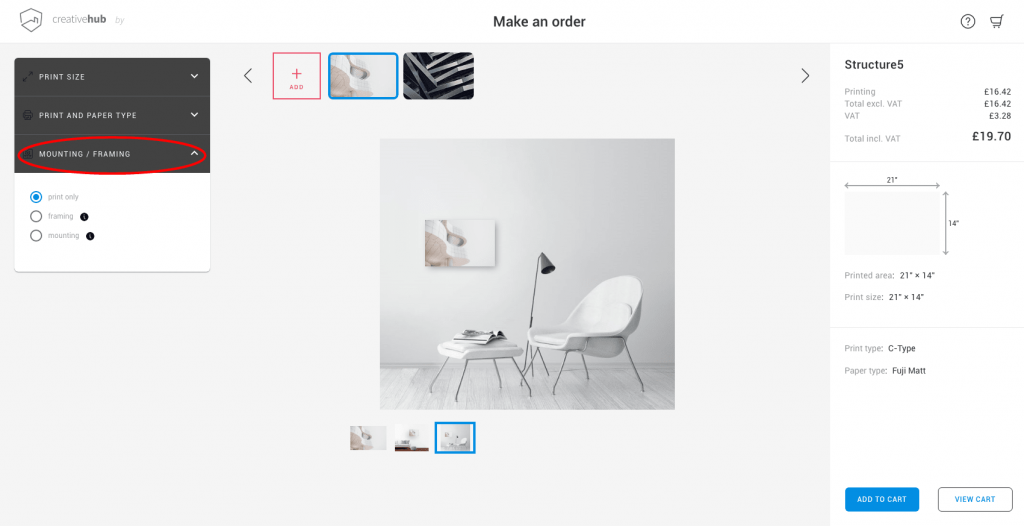 Step 6: Add to cart
When you are happy with the order and are ready to proceed, click on 'Add to cart'.
One item will appear in your shopping cart. By clicking on 'Next image' you can set the same or different settings for each one of your images.
When you are ready to purchase, click on the 'View cart' button.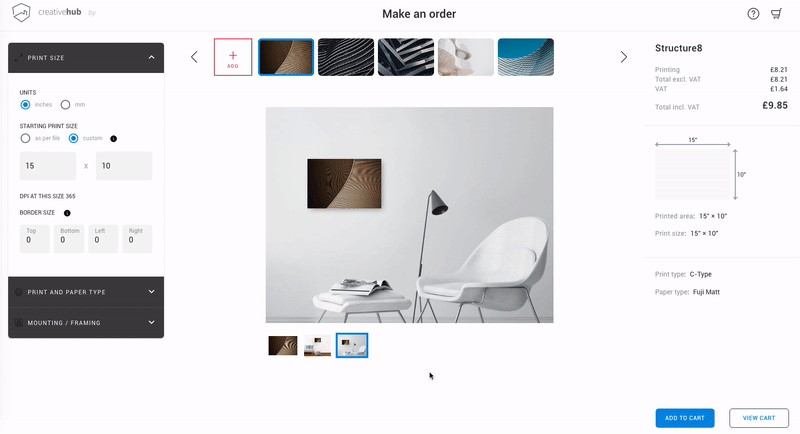 Step 7: Creating an account
A summary of your order will appear on screen. Click the + and – icons to adjust quantities or remove items from your cart.
When you are happy, click 'continue'.
If you already have an account, you should log in now.
If you don't, you can create one. The benefits of creating an account are that we store your images for easy re-ordering. When you come back to the site, all you need to do is log in to your creativehub account.
Once logged in to your existing or new account, you can add your address and payment details. We accept all major credit and debit cards.
Step 8: Add/edit a shipping address, payment and delivery method
Here you can add or edit a new shipping address under the 'Address' section
Under 'payment method' choose your payment method
Under 'delivery method' you can select your preferred shipping option.

Please note that mounting and framing orders can only be delivered by courier. Check this link to find out our delivery times for prints, mounts and frames.
If you have any specific instructions please add them to the message box, e.g "please keep prints flat" or "please leave Giclée prints untrimmed"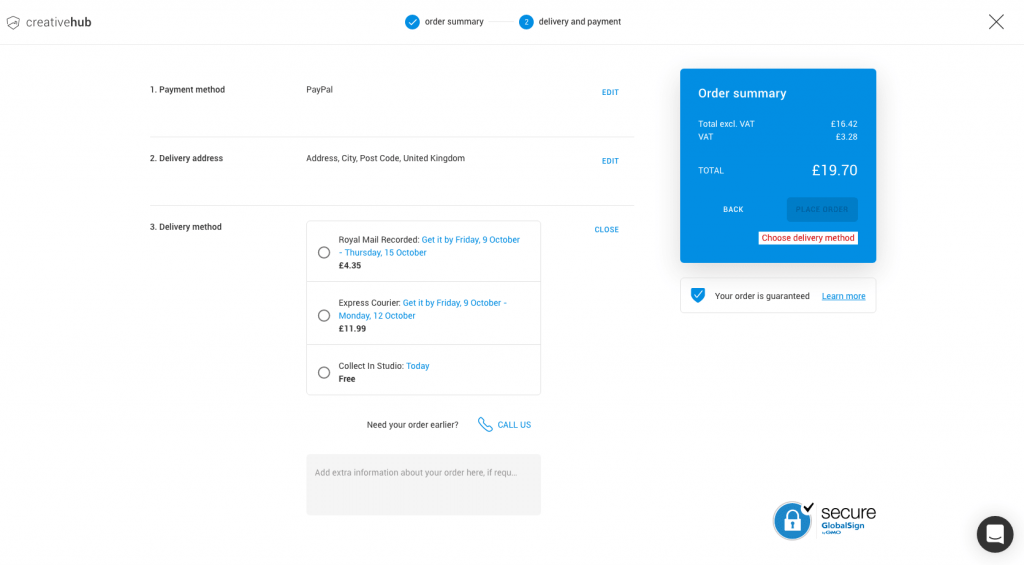 Step 9: Your order and delivery confirmation
Click on 'place order' to make a payment and finalise your order.
As well as the online confirmation you will receive an email.
When your order is ready for collection you will receive an email letting you know.
Alternatively, when it is dispatched you will receive an email with your tracking number.
Still need help?
Get in touch with our team here.
---