C-Type
Photographic Printing
The ultimate professional photographic archival prints; silver based Digital C-types are real photographic prints, created on light sensitive paper using a finely balanced red, green & blue light source.
This creates an analogue style print from a digital file with unparalleled depth, subtlety of tonal variation and shadow detail.
Professional archival photographic papers

4 professional C-Type papers
C-type Kodak Metallic
Kodak Metallic has a rich metallic base. The colours have a reflective, metallic and 3-dimensional feel. High mid-tones & highlights add luminosity & iridescence.
44x787in Max Print Size
111.8cm Max Width
242gsm Weight
Looks best with anti-reflective glass, recommended due to the highly glossy nature of the paper. The metallic luminescence gives the paper a shine and adds a crispness and contrast to the images. A real crowd-pleaser, yet could not be described as a natural look when compared to Fuji Matt.
Paper Type
Fuji Flex

Kodak Metallic

Fuji Matt

Fuji Gloss
Durability
Medium durability

Medium durability

Highest durability

High durability
Finish
High gloss

Gloss

Slight sheen / satin

Gloss
Weight
255 gsm

242 gsm

231 gsm

246 gsm
Whiteness
warm white

slight silver metallic

bright white

bright white
C-types
Used mainly by photographers, although occasionally by other visual artists looking for a unique effect. The papers are coated and the subtlety of detail and tonal graduation results in a print with depth that brings your images to life.
Giclées
The preferred choice of illustrators, fine artists, painters, graphic designers and most other other visual artists. Also regularly used by photographers because of the paper textures and art & crafts feel.
Sample pack
11 A4 Prints
We only print on the finest papers, with top brands names such as Hahnemühle, Kodak & Fuji Film Professional. A sample pack is the best way to see how they look and feel. Only £5 plus VAT!
Do you need a step-by-step guide?
If you are new to using professional photo & art printing services then welcome! It's very simple to start making amazing prints, visit our 'How to Print' page to see a short step by step guide and get our print profiles.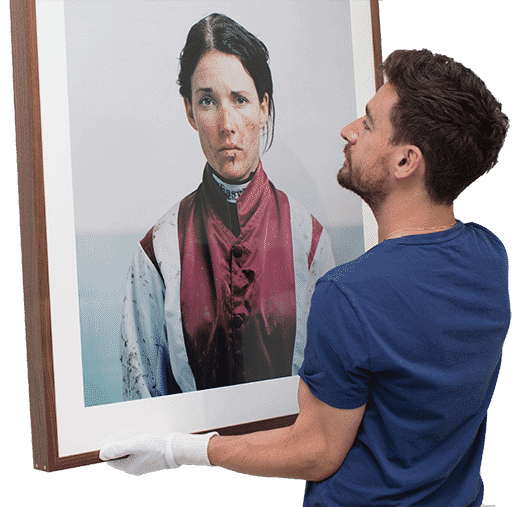 Ready to print?
Order before 1pm for
next day delivery