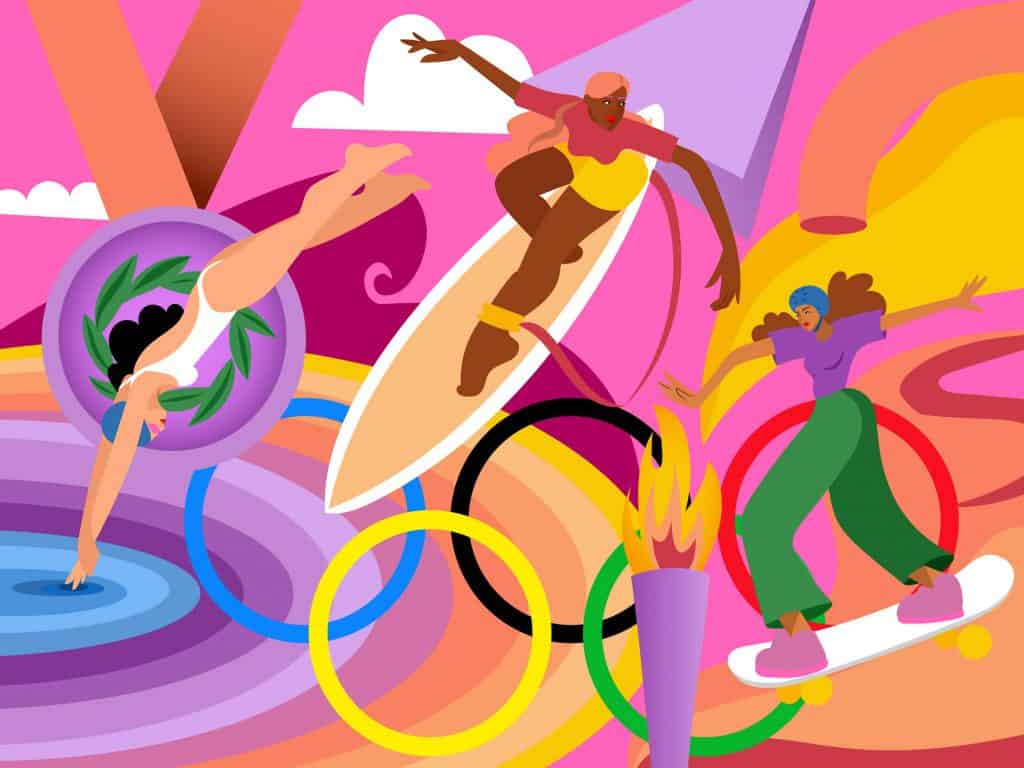 Danii Pollehn is a Hamburg-based freelance illustrator whose work celebrates the natural world and the female form. She creates with a range of media including painting, digital illustration and pattern design, and has a strong client list featuring the likes of Adobe, Coca Cola, Volkswagen, and ASOS.
With Christmas looming, it's a crucial time for selling art and prints online – At theprintspace, we see artists sell the most prints between mid-October to mid-December – so we virtually sat down with Danii to speak to her about her print sales process: how she got her start, what she's learnt so far, and why being true to yourself as an artist is so important.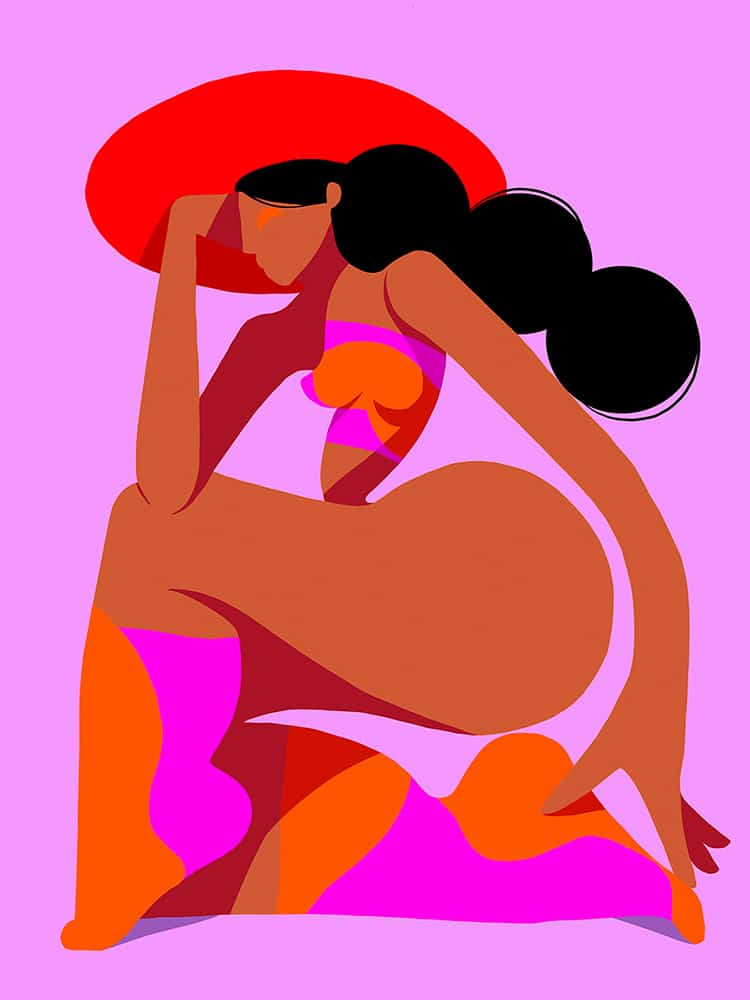 What were your first steps to selling your illustrations online?
I started out with Etsy. It's good as long as you can drive traffic yourself. With Etsy, there's always a good chance that people will buy something else, so it was a good platform to start out with, and it made things easy.
I was afraid to set up a shop myself early on, for example I felt too insecure to deal with legal things like terms of service and refunds. I also thought that people would have more trust in me as a shop because they'd have a platform in the background, and that way I would be more established and trustworthy.
To drive traffic, I started off with Instagram. I began to build my audience at the same time as my shop, and to keep it going I made a rule for myself that I would post every day, no matter what. That I would always be around and show up – show up for myself and others on the platform, in the community, to speak to people and actually engage with them.
This was also a huge career launcher; I was in textile design before and decided to become a freelance illustrator. With Instagram, so many opportunities arose and it helped to make the transition happen quickly.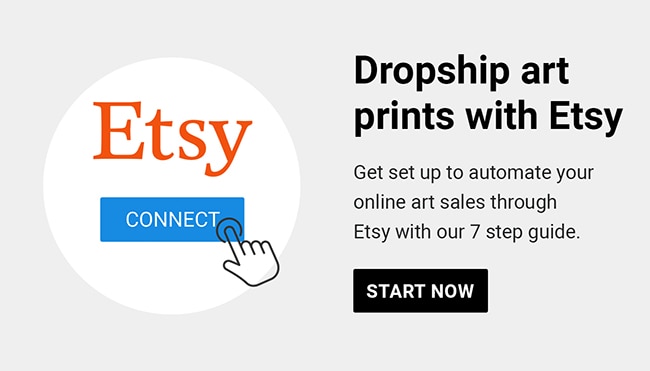 What other social media platforms do you use to promote your print sales?
I discovered that Pinterest is also a good platform. You have to be a bit patient with Pinterest because it can take up to 6 months to get going, but the more effort you put in, the better the outcome.
Instagram and Pinterest are good for different things. Pinterest consistently drives lots of organic traffic to my homepage and therefore into the shop. It's a stable way of building up a flow of traffic. However, on Instagram and apps like that, you can connect on a more personal level and you can be more direct.
Do you have a strategy for how you approach social media for print sales?
I post a little bit of everything, but for me the most important thing I do is that I actually order prints of my work for myself, and I photograph the real prints as they are. I try not to create digital mockups because people want to see the true quality; how the print really looks, what the paper is like, what the colours are like.
What has also been very rewarding is making videos of the prints, like when I unroll a new print. I can really show the quality of the print this way, and that's what's attractive to a potential buyer.
I also create my mockups when I'm on holiday! I take an A4 and A3 print with me if I go to stay somewhere away from home, and it's great because it's usually a beautiful place. Like gorgeous stone walls in Spain where the light is perfect. Hamburg is lovely, but we only get about 3 days of sunshine a year. Sometimes I even book a place depending on how good it will be to photograph my prints.
It makes a huge difference though because it looks warmer, more interesting and varied, and this all can help to level up your overall branding. Of course it's alright to do mock-ups any way you can – I don't want to sound like an entitled person saying you have to do it this way, but it's so fun to create your own!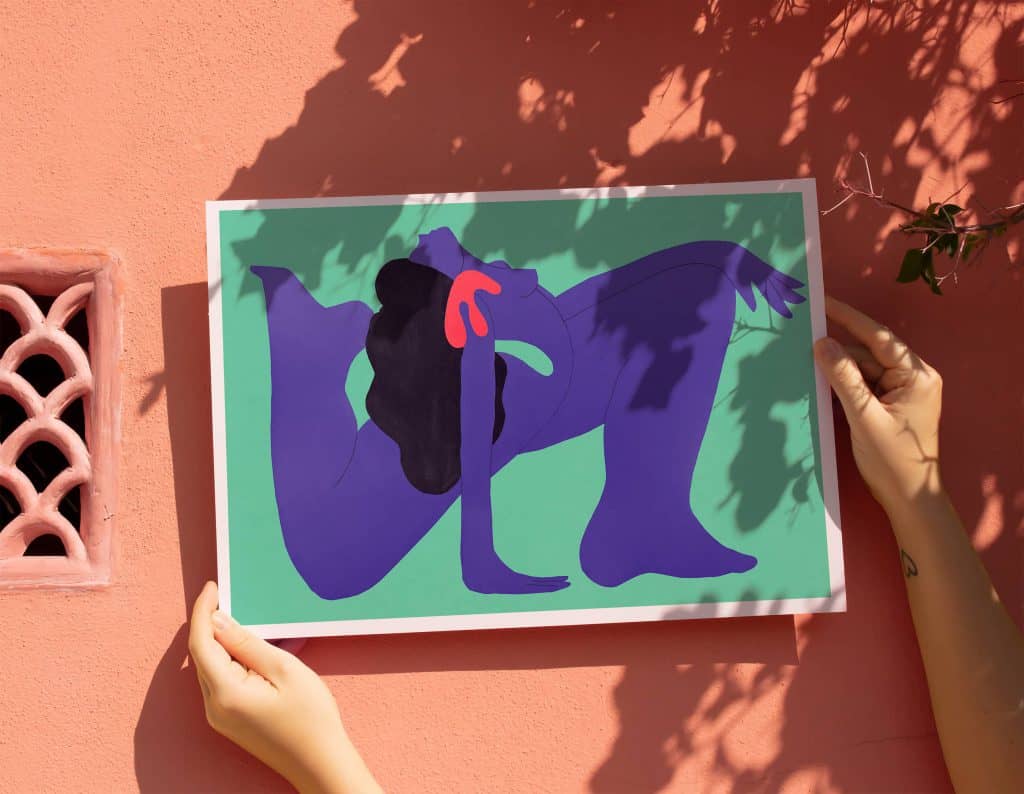 Do you have an aftercare process?
It depends, but there's often a connection through Instagram because people will often post that the print arrived, and I get excited when that happens. It's so interesting to see how and where they put it up and, in most cases, it usually gets placed next to other people's art, and I love to see what other artists my work sits next to.
I'm super grateful for the support and love I get, so I'm always happy to answer all the messages I get, and I also try to answer every comment. Engaging with my audience is incredibly important.
Is there something you wish that you did differently at the start of your journey?
In the beginning, I loved painting plants and I did a LOT of them. If I'm honest, I got most of my followers from that; I kind of hopped on the Instagram train and felt super pressured and continued to paint the same thing over and over again.
I did love them, but after a while it didn't feel authentic to myself anymore and I kind of lost myself in the Instagram game a bit. I was doing the same thing again and again, using the same palettes, using the same story, same everything. I worked myself into a creative block and then the COVID-19 pandemic approached on top of all that.
For me, the purpose of being a freelance illustrator was to be free to do what I love and have my own voice, and this wasn't it, this wasn't why I went through all the struggles that come with being a freelancer.
Sharing every day on social media, it was a big drain on me; it was hard and I lost myself a little bit. I knew I couldn't continue to work like that, it just wasn't worth it. So, I had to find myself again and remember where the spark started to happen.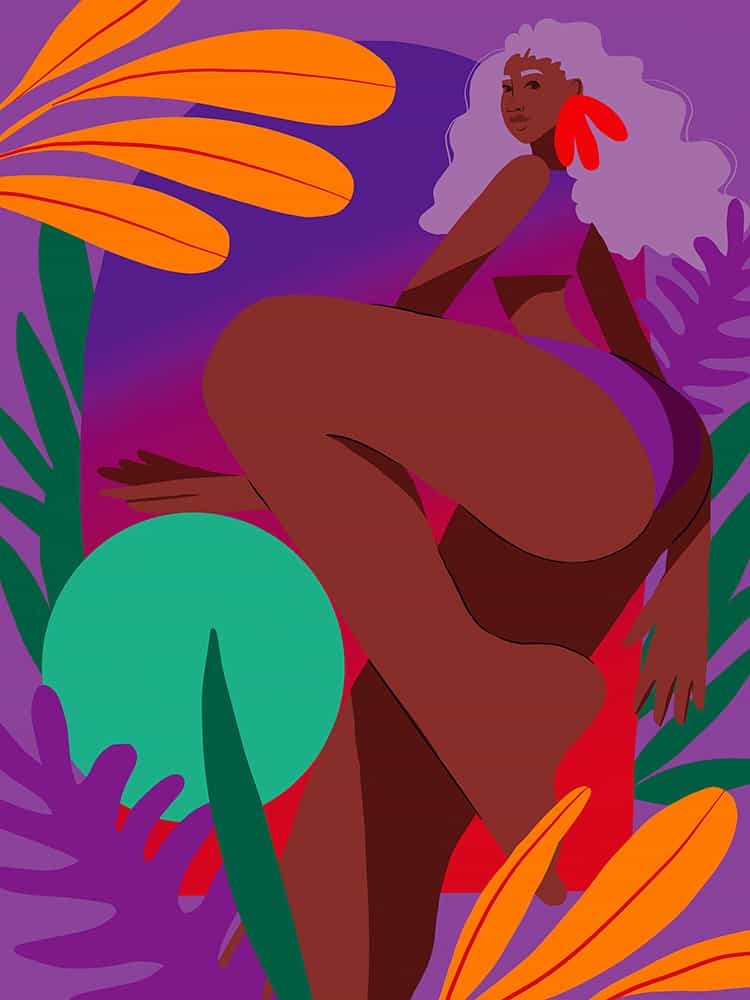 What's next for you?
I want to continue working on my own style and on my own voice. I come from a background of chronic illness, and I also had a brain tumour. I want to work on my voice regarding that, to talk more about never giving up, to go on. Not only the positive side of that though, because most of the time I also felt very lonely when I was sick and excluded from society. When I was at my lowest, I never even thought that I could be a freelance illustrator. I always thought, 'this is not for me. I'm not going to be enough'.
I've not talked about that publicly yet. I feel like it's not really culturally accepted yet here in Germany. If you have a sickness then it's, 'can she really do the job?'. I was afraid that I wouldn't get booked anymore, but I really want to get out of that mindset. I want to give back, because these times are hard, yes, but there's many of us going through the same thing. I want to help other people feel seen, and feel that they can be brave and pursue their own dreams.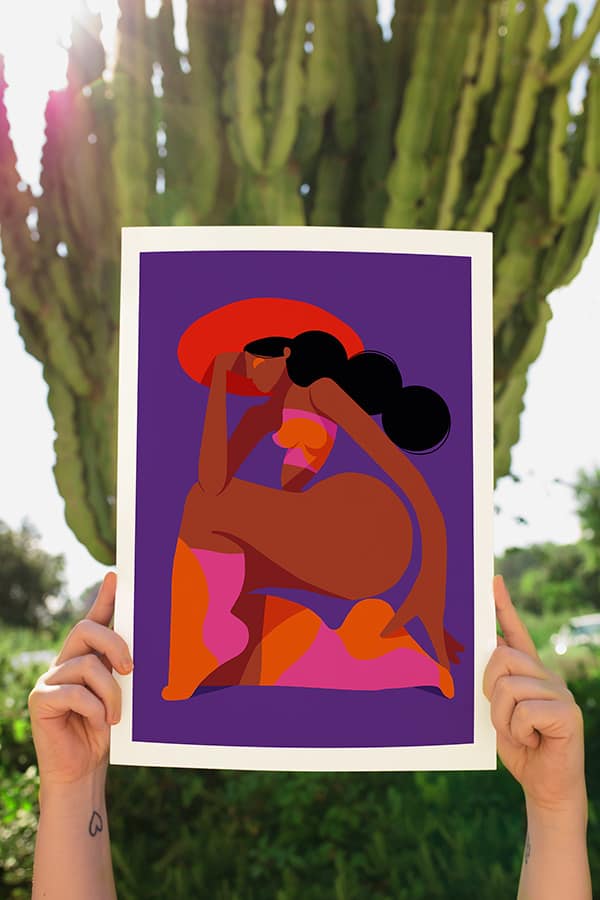 Any final words for artists who want to sell their art online?
In reality, it's a straightforward process. For me, the superpower is having beautiful mock-ups, images and videos that you make yourself. Then it's about finding the right ways to advertise them through your platforms.
There's no miracle or super secret. The key is to stay consistent, believe in yourself and never stop; whatever is happening, just don't stop. I had many moments where I wanted to turn around and stop because I was frustrated and sad. You have to stick to it, and stick to yourself. Stay authentic to yourself and keep on going.