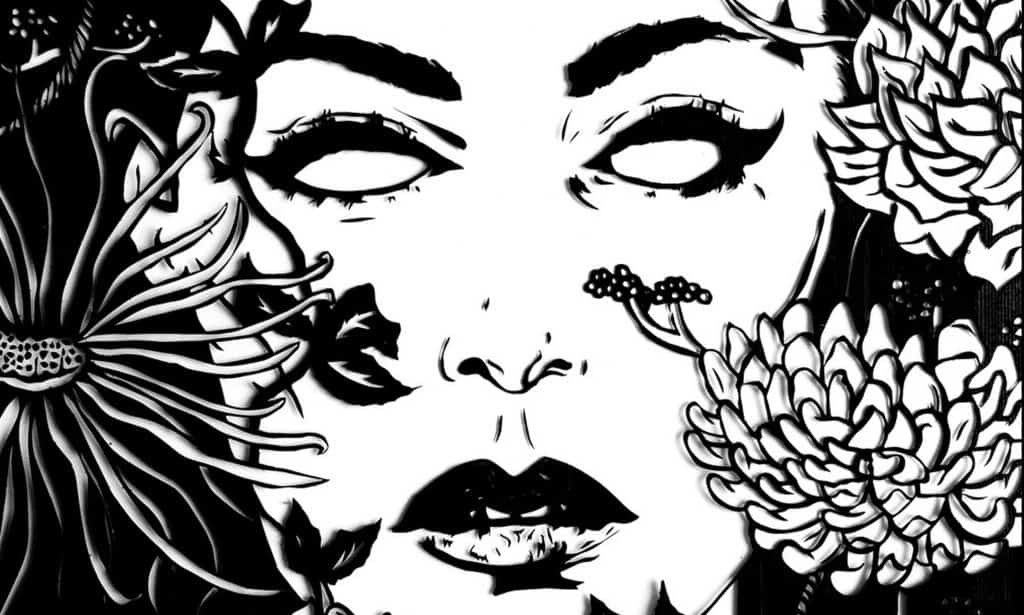 Benjamin Murphy, the Yorkshire born, London based artist opens his latest solo exhibition, Lavish Entropy with Delphian Gallery next week at a West London location. Murphy is known for creating esoteric work using the unusual medium of electrical tape, cutting the black tape and affixing it upon glass, to create detailed and elaborate portraits. The work in this upcoming exhibition was inspired by the classic literature he read as research for his first play, Flowering Desolation which he finished earlier this year. Delphian co-curator Wingshan Smith spoke to Benjamin about the upcoming show, his work and process.

WS – What is your creative process?
BM – I sit on my own at an easel and listen to Slipknot or watch Stacey Dooley documentaries and draw all day until I can't do any more. Lots of days are spent not being able to draw at all and this is incredibly frustrating, but then sometimes I get in the zone and have the time of my life. This show is the result of both of those types of days.

WS – Lavish Entropy is inspired by Literary Modernism and French Naturalism. What draws you to these genres? What clues can we expect to find in the work?
BM – Both genres share some similar themes but ultimately are concerned with different things. French Naturalism is often characterised by a cold and objective view upon characters who are bound by fate to do things which are often against their own best interests. It is also linked to Empiricism which is a fascinating branch of philosophical thought and one that I often find myself troubled by. Modernism is a bit different in that it is more about a breaking with the old in favour of new, and finding unique ways of presenting information. Marcel Proust is linked to both genres, and is a huge influence on my work. I love the opulence of his descriptive style, which I'm sure is why my work has a lot of decorative elements (decorative is not a dirty word), and that his works contain a hidden disaster under seemingly tranquil waters. Much of the work in Lavish Entropy (and indeed my ouvre in general) is at least in part inspired by the characters of Odette, Gilberte, Rachel, and especially, Albertine.

WS – What are you reading at the moment?
BM – I'm currently reading a lot of Russian Literature at the moment. I've just read The Idiot by Fyodor Dostoyevsky and absolutely loved it, it far surpasses Crime & Punishment for me. The two characters of Ippolit and Aglaya are especially compelling and deserved entire novels of their own. I'm now reading Anna Karenina, which I'm not far enough into to determine how I feel about it, but I loved War & Peace so I'm expecting to fall in love with this too.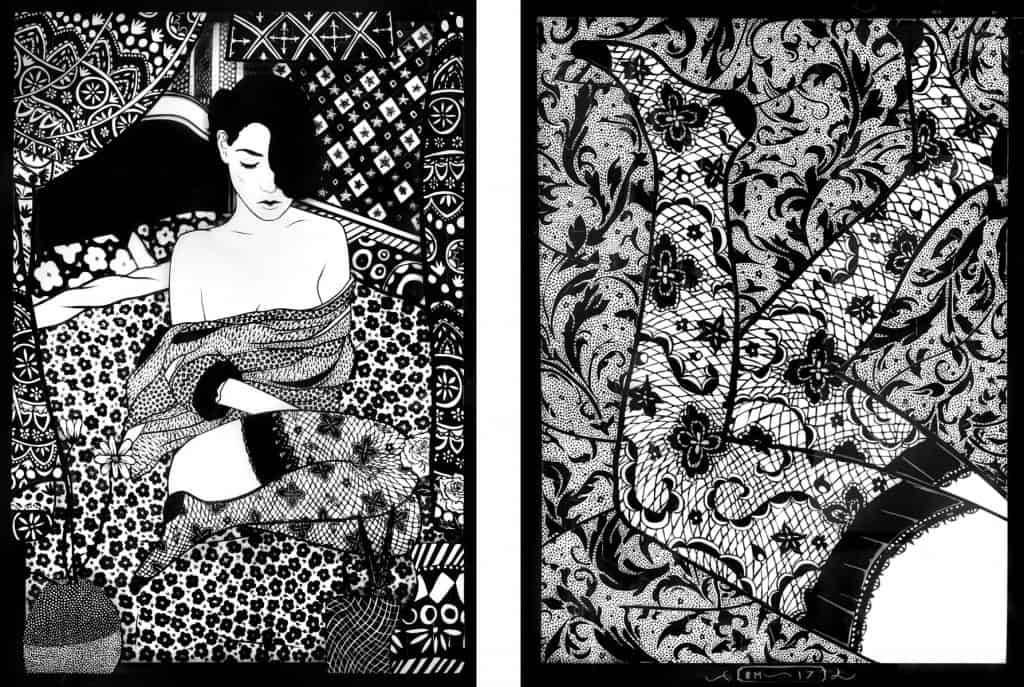 WS – This is also the first time we will see you venturing into other media (ceramics and stitched drawings). Which new medium have you enjoyed the most and why?
BM – I don't really enjoy any of them as much as the tape to be honest, which comes much easier. I'm completely out of my element when it comes to ceramics, so I've completely embraced the naivety and made some really odd objects, but I think they work. The stitch drawings are such a nightmare to do that I've avoided doing any more since the three that I did last year; they are all hand-stitched so you can imagine how horrible that is to do. The thing I'm most excited about in this show is the 3D tape drawings. For these I've drawn the works over three separate layers of glass, and then framed these together within one frame, but with a 1cm gap in between each. This provides a really nice parrelax shift when you move around the work, and heightens the unusual perspective that I often play with within the subject matter.

WS – You have also written a play! Will we see any of the characters or the storyline depicted in this body of work?
BM – Yeah it's a two-act play called Flowering Desolation. I've written it in a strange way, in that I haven't actually written a single word of it myself – not even the title. Every sentence is taken from a separate source of classic literature, which I've then stitched together to form one linear narrative. It's currently being read by a few theatres so I don't really want to say anything about the plot just yet until I hear back, but I'll be releasing it as an ebook on my website soon regardless.

Because the play necessitated the reading of lots of classic novels, and this is also what my artwork is inspired by, some things have filtered in for sure. I often title my works with something that relates to whatever I'm reading at the time, not because the work is necessarily about the novel or it's themes, but because that's what I'm reading, some of the feel of the literature has became distilled in the work. I've had people ask me how certain books have inspired the works that are titled after them, but I'm afraid that is something unknown even to me, it's a much looser connection than that.

WS – Who are the eerie women behind the images you create?
BM – They are no one in particular. I use found images for reference but often alter lots of details (hair, clothing etc.), as well as combining multiple images into one figure. I do this in part to try and cling on to the beautiful naivety of my early work and retain some of the uneasiness. I'm always careful to depict nudity in a non-sexualised way, and the figure is always non-passive. Going about their daily lives, and not on display for the viewer. Because of the way I combine multiple images into one pose, the women aren't really anyone in particular.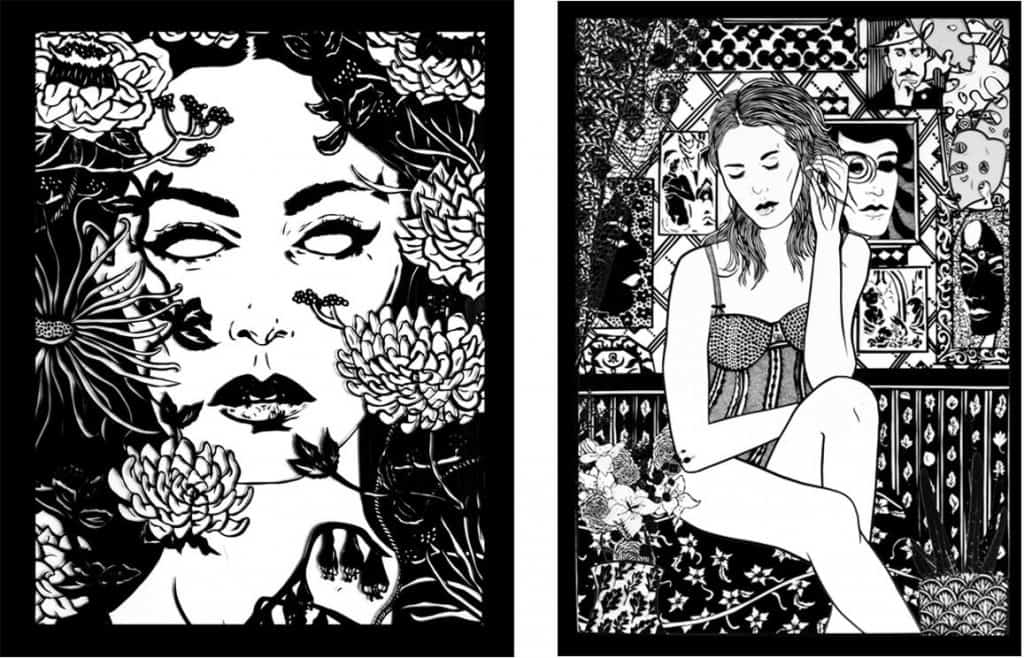 WS – What advice would you give to new artists?
BM – Stick to your guns and don't attempt to follow fashions, as these will always fade. Ultimately, you have to make the work for yourself and no one else, even if that makes you a stubborn narcissist and people are afraid to commission things from you (also avoid commissions at all costs). If you attempt to pander to market demand or do what other people are doing because it sells well, people will notice. As well as this though, seek out criticism at every opportunity, and pay attention to it. You can always choose to ignore it, but often you'll pick things up that will be revolutionary.

Don't become a prick – remember it's just a job like anything else.

WS – Finally, any new projects on the horizon? What are you working on next?
BM – Im showing at The Saatchi Gallery around the same time as Lavish Entropy as part of the Jealous Needs You show, and then at Neurotitan in Berlin soon after that.

As well as this I'm curating and writing always.
The Lavish Entropy private view is on the 10th July | 6 – 9pm  | 67 York Street, London, W1H 1QB 
Drinks are being provided by the excellent Old Blue Last Beer
The exhibition runs until the 14th July.