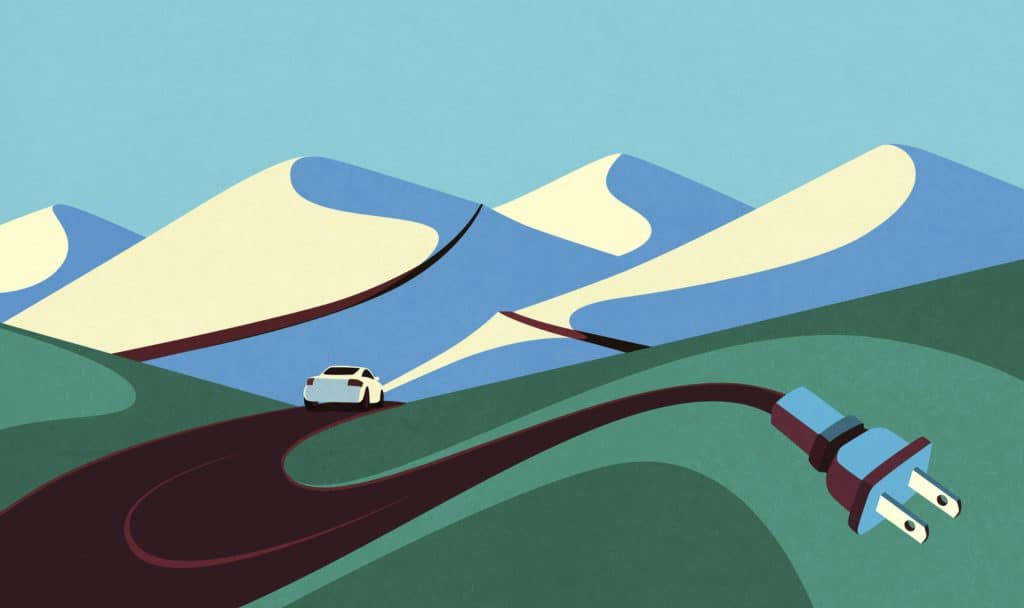 The decision to show your work is an important one because whatever you choose it will cost you either time or money or both and will take you away from your core practice. So before committing you need to think carefully if it will be worth it and what you expect from it in terms of career progression.
Making a book, having an exhibition, putting together a portfolio, building a social following etc. will require far more time than you think it will to get the outcome that you want. The decision should be taken by judging the alternatives you have together. It's a common mistake to look at any opportunity in isolation as it ignores the fact that your time and available funds can only be spent once, so you need to weigh the options against each other. We recommend some very simple techniques described below to help you take the decision with a higher chance of knowing what the likely outcomes will be.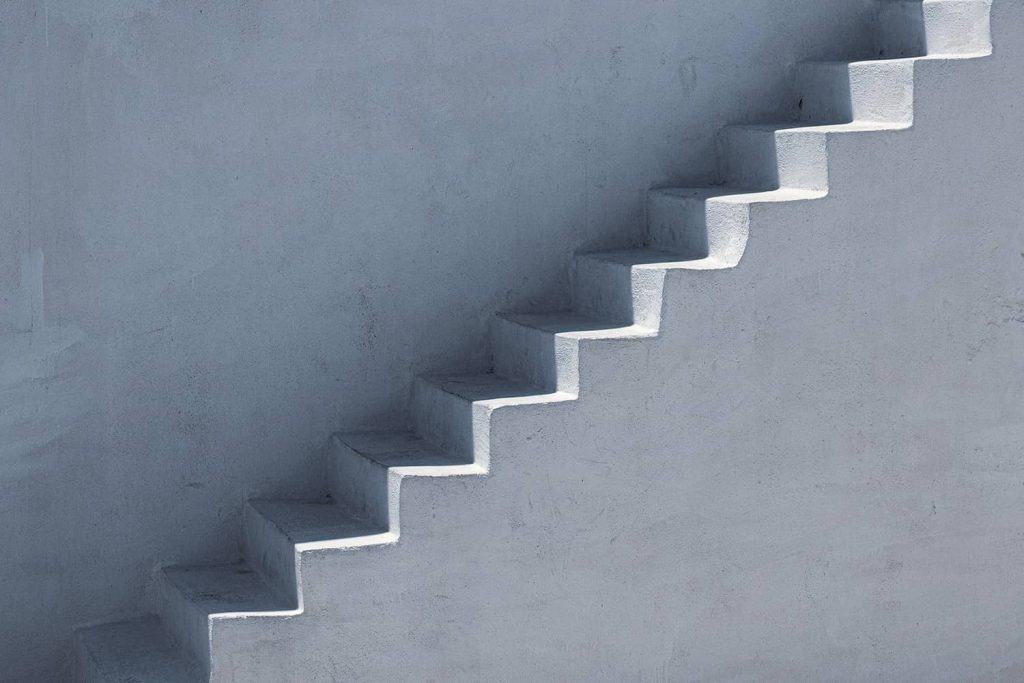 The first approach to use is a technique called 'The Ideas Maze'. This is a method often used in tech startups in Silicon Valley to work out what all the options are, before deciding which one to take. The analogy of the maze is that a lot of the options are very similar but with slight differences that lead to wildly different outcomes, and that the order you do things in matters.
Let's use an example. Say you're an illustrator based in a large city with a vibrant art scene and you have been doing commercial commissions but would like to develop a fine art career. You have made an art project of illustrations in your downtime and have decided it is time to show the work.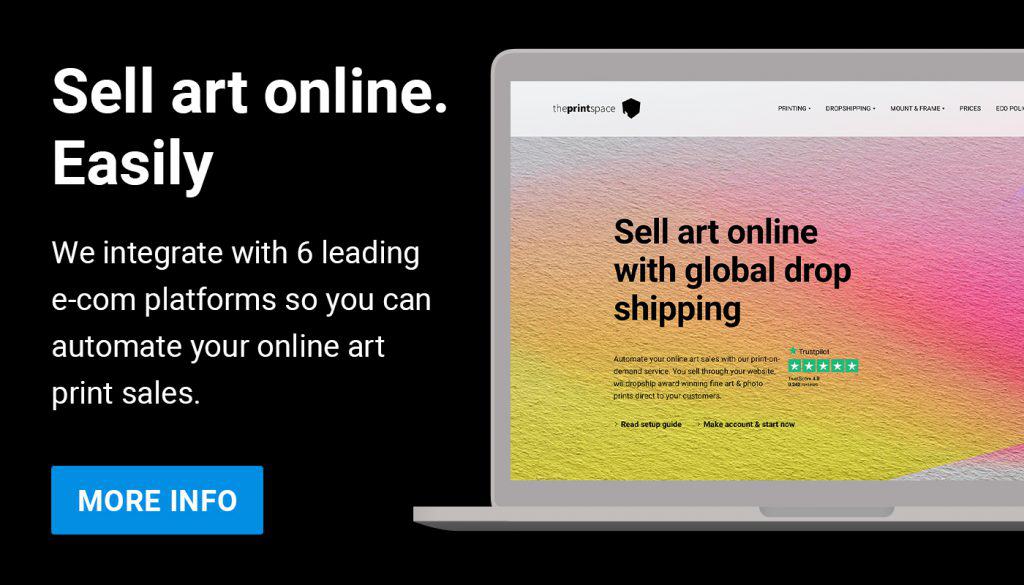 Firstly you would need to define your goals; which let's say are to make a book, have an exhibition and use the boost in your profile and online following to generate private commissions, online art sales or gallery representation or, if lucky, all three. In our hypothetical example, here are some of the options:
(1) Submit work to a group show. If successful then have a solo show, then start working towards a book
(2) Have a self-financed pop-up solo show, then make the book using proceeds from print sales from the show
(3) Use Kick Starter to fund a book, then use the book to help secure gallery representation to have the show
(4) Sell work online, build a following, then if successful use the proceeds from print sales to fund a pop-up show. After that find a publisher for the book
(5) Send out your portfolio via email to fine art galleries to get a solo show
(6) Build a good instagram following then share the link with fine art galleries, obtain gallery representation, have the show then find a publisher for the book
The list goes on with many options to explore but what is important is to evaluate them on the likelihood of success, the cost in time and money and the benefits they will bring. The framework you need to use is as follows: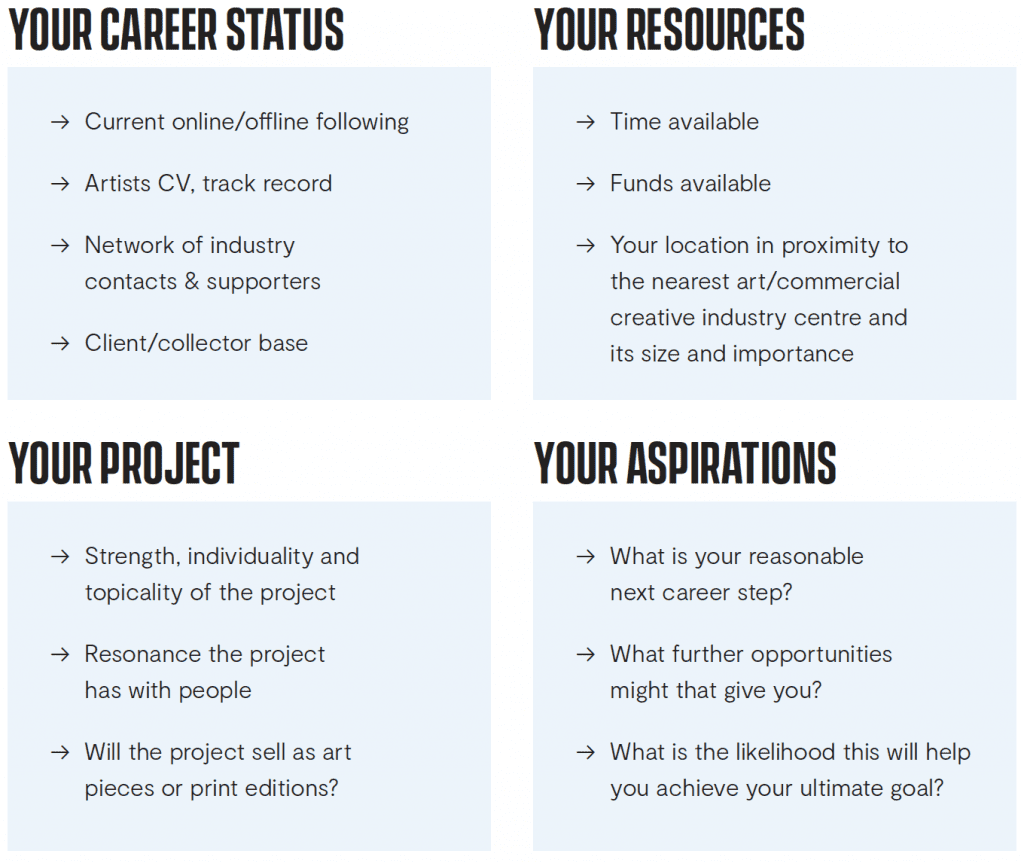 The key to weighing up your options is that your aspirations need to be in balance with resources, the strength of the project and your current career status. We are not saying don't be ambitious, but try to measure the ambition against these factors and define achievable goals, which you could surpass if things go really well.
When weighing up the options it is important to beware of assumptions. One of the biggest issues we have seen with career development/ art business development is when people make assumptions without the experience to know if those assumptions are likely to be true or not. For example, assuming you know what a certain publisher or gallerist looks for in an artist or body of work, or assuming that having a pop-up exhibition in a certain area or participating in a busy art fair will automatically mean high sales. Making assumptions without testing them can mean a wasted opportunity to move your career forward. Thankfully, there are very easy ways to test assumptions: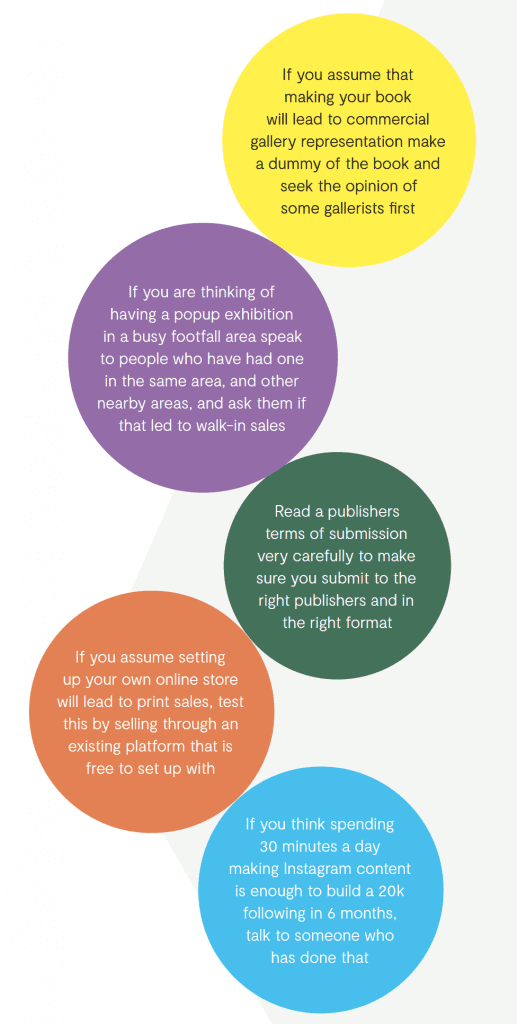 Whilst you don't need to take every opinion or bit of research on board it is important to go through this process. This approach of testing assumptions is again borrowed from Silicon Valley and is called the lean approach, made famous by Eric Riles in his book The Lean Startup and this approach has launched literally hundreds of successful companies. Basically, test your assumptions in the fastest and cheapest way possible before committing to anything.
Lastly, remember to favour action over inaction. The risks to showing your work are the costs in terms of time and money, and the risk of your work being judged unfavourably. Inaction will eliminate this risk but unfortunately at the cost of career progression. As Eric Riles shows in his book, sometimes on the road to success the things that don't go so well are as useful as the things that do, as long as you learn from them. Weigh up the options, seek opinions and evidence, make an informed decision then fully commit.