Pam Glew (B. 1978), is a Brighton based artist best known for her distinctive paintings on fabric. Glew started making artwork on flags and textiles around 2007 as a response to war, notably 'Afghan Girl' later appeared on the front cover of Le Monde Newspaper.
Flags, quilts and brocade are used to explore and question how identity is constructed by the places we inhabit. The use of textiles; washing, dyeing and sewing cloth and images of women are used to highlight the minority of women documented in art history.
What made you decide to get involved in print-swap, and who are some of the artists that you have swapped with so far or are interested in swapping with?
I'm always up for ways in which art and technology can mix and I believe art should be more democratic. I was approached about Print-Swap by a fellow artist, Benjamin Murphy and it seemed like an interesting idea.
What's caught my eye so far are Matt Smalls print of his metal sculpture, Gary Jones photographs of 'Sun n' Sand motel', also Robbie Ewing's 'Kings Cross Rave Ghosts'.

For those that might not know, please can you explain your unusual methods of working?
Previously I used flags and bleach. I would source a flag, dye it black and then use bleach, painting in layers to gradually 'paint' the image. This worked for me for many years, but I have recently put down the bleach as it was becoming increasingly repetitive, and was bad for my health- despite using gloves and mask as protective gear. As I am becoming more environmentally aware, I'm reluctantly realising that bleach is not great for the planet.
So this year I have made an effort to use paints, and dyes and mediums instead which means that when I make a mark, it is immediately apparent, and it's also not gonna kill me.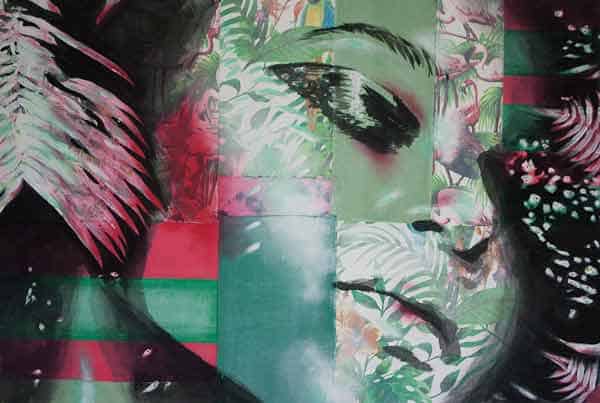 All of your 'canvasses' have had lives of their own before you paint on them. How much of this history do you know when you create the works, and how does that in turn influence how the work turns out?
The collage background are a result of collecting vintage textiles over a number of years. Some are national flags, like stars and stripes which I have deconstructed, some Ghanian batik, American quilts, denim, old jeans.
A lot of the textiles are Japanese shop aprons, I don't know Kanji, but I needed to check they didn't say anything too daft, so my amazingly helpful friend in Tokyo translated all of them for me.
There is a beauty and a quiet majesty in Japanese textiles. I love the whole economy of making a kimono for instance, in that the width of the ream of fabric defines the width of the kimono, and a sleeve is simply half. My next show will show my kimonos, which I've been developing this year.

The use of bleach is quite interesting, because it's inherently destructive as opposed to more traditional artistic mediums. The works must emerge somewhat reductively. How does working in this way differ from other forms of painting or drawing?
Well the bleach takes away the dye, so it is like painting in reverse, taking away pigment rather than adding it. Also with bleach, there is a danger of rotting the fabric, so you can only leave it on the cloth for a couple of hours maximum before it needs to be rinsed off, so it gets rinsed, washed, dried and ironed. So it's a lot of extra work around just making a mark. I've used bleach in other ways too, there's a process called shibori in Japan, where you tie cloth and dip it into indigo dye. I do reverse-shibori, where you tie up dark denim and dip it into bleach, for a number of works. Also I splatter bleach on denim which looks like the night sky.
Bleach works really well in the summer as it reacts well to dry warm conditions, as soon as a studio becomes cold and damp then bleach doesn't work so well, there really is a reason why not many artists use it!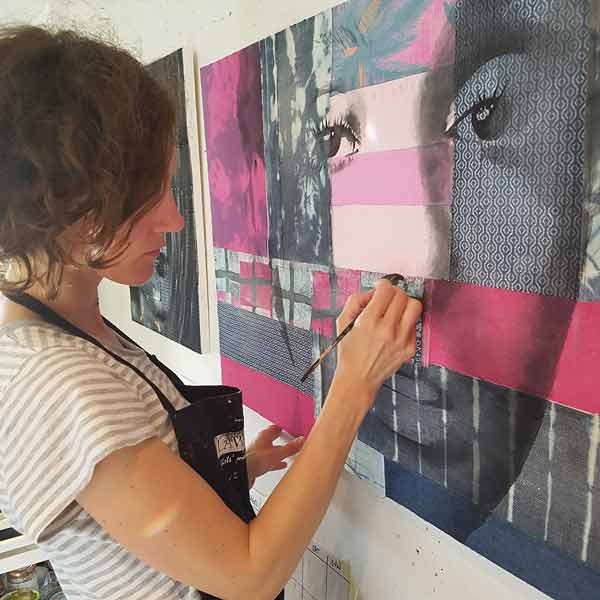 What are you working on at the moment, and do you have any more shows coming up in the near future?
I've just opened 'The Dreamers' my solo show at Westbank Gallery, which is a series of portraits of Millennials sleeping, dreaming or zoning out, I see them as perhaps contemplating an alternative reality away from current global turmoil. 'The Dreamers -solo show is on at Westbank Gallery 4-16 October.
The next exhibition is called 'Nocturne', which will show my new kimono series. It's a natural step for me to start making work that is more 3D, I find the crossover of Art and Fashion constantly inspiring and in this show I can put together a lot of my current interests; zero waste, boro textiles and my current theme of dreaming and sleep.
Nocturne is at The Exhibitionist Hotel from 8 December 2017 – 15 February 2018.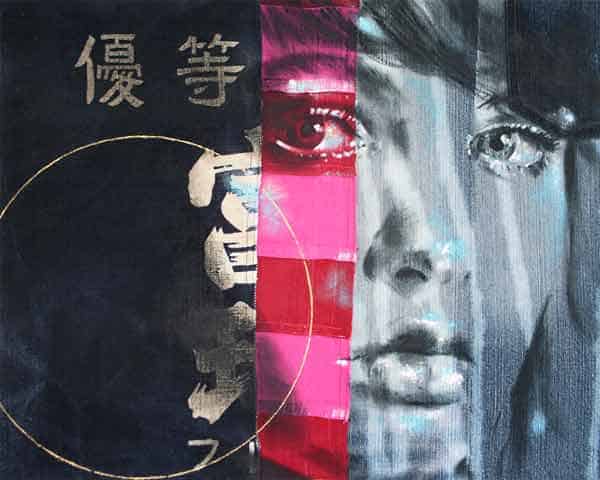 Where can we find out more about your work?
My website www.pamglew.co.uk
To Swap prints with Pam Glew, join our new print-swap club NOW