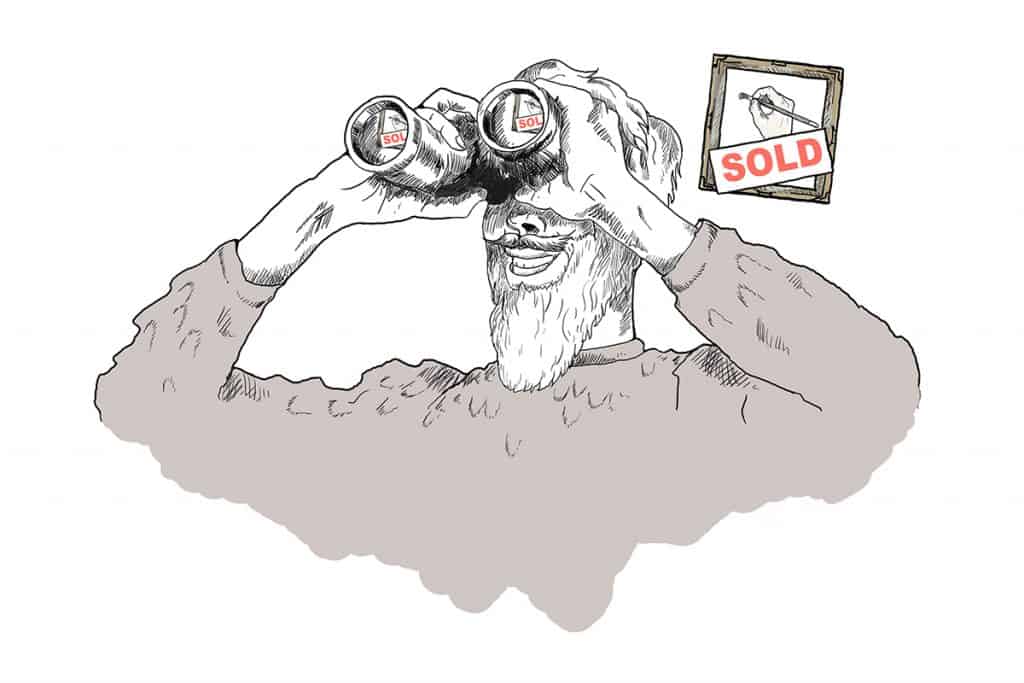 So you've learnt out how to generate traffic from out previous blog post, but here's the kicker…it has to be the right kind of traffic, it has to convert. In other words, how many of the people looking at your site buy something from you? This is measured using the conversion rate, which is the percentage of people who visit your site that buy something, and with selling online it is one of the key statistics you need to track. Here are some factors that have a positive effect on conversion rates:
Trust in the seller
Art is a purchase mostly born out of discovery rather than search. Once a new artist or piece of art has been discovered, then the buyer needs to establish trust with the artist or seller of the artist's work before taking the plunge and buying it. This is harder online where it is easier to mis- represent something as real that isn't, so here are some steps to establish trust and therefore boost your conversion rates:
Photos of the artist/seller. Include these pictures on prominent pages on your store as well as a detailed 'about' section. Seeing that there is a real person on the other side of an online transaction builds trust fast.
Reviews. At theprintspace we use Trustpilot so that customers can independently review us and we currently have over 4,500 reviews on our site, with a 97% positive rating. This really helps photographers and artists to trust us with printing their artwork.
Easy contact. Show your customer service contact details very clearly on your site. A good way to do this is to have a live chat function on the site using Facebook Messenger although be aware that people expect a fast response on live chat.
State returns policy. This will give a buyer confidence that they can easily return the work with no argument should they decide they don't want it. We can say categorically that our 100% no quibble full refund policy at theprintspace for artists and their printing has been one of the biggest drivers of growth of our business and so we would advise you to be generous with your returns policy.
Accept Paypal. Offering users the ability to pay with Paypal or Amazon Pay gives them additional buyer protections, and is vital to give them the confidence to go through with their purchase. It also makes it quicker as they don't have to find their credit card to make the purchase.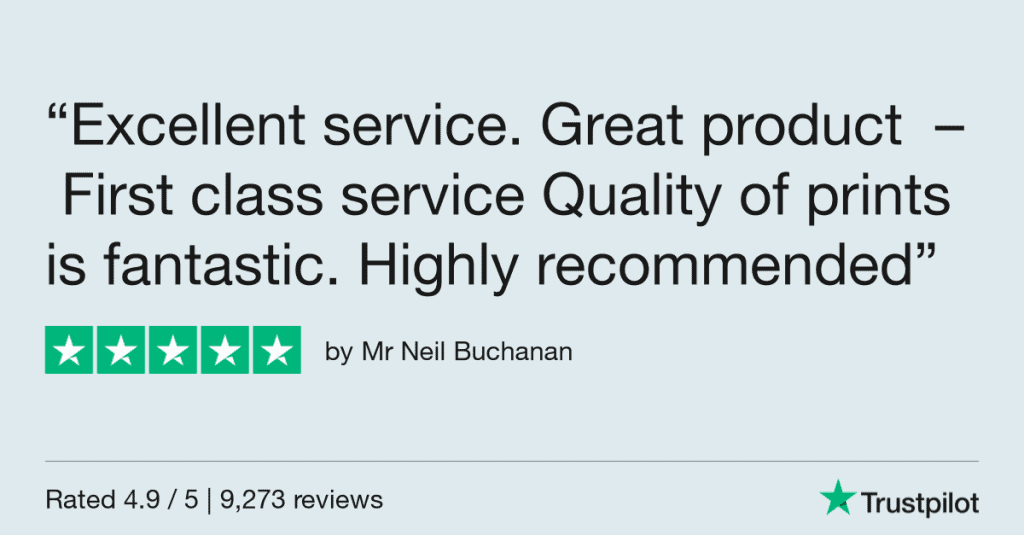 Provide context for the work
Trust gives buyers the confidence to complete a purchase once they already have the impulse to buy. Taking a step back, context is the biggest driver of that impulse to buy. This can mean the following:
(1) Name of the piece
(2) Date and location of production
(3) Details on the printing and production process
(4) A detailed description of the work and the project
(5) Independent writing about the project
(6) Background on the artist
An online store with good user experience
There are some factors about your online store itself that are crucial to encourage online buyers. Here are some key considerations:
Mobile responsiveness. Every site these days should as standard have mobile friendly pages and be quick to load for mobile users.
Nice clean design. A site needs to look good and load quickly. Use video and visual elements to show you, your process and your products. Pricing should be clear and the checkout process as simple as possible making it fast to complete a purchase.
State the target delivery times. Faster is better in terms of delivery times. Ideally, you should incorporate your delivery prices into the price of the item and offer free shipping as research has shown that this drives higher conversion rates online.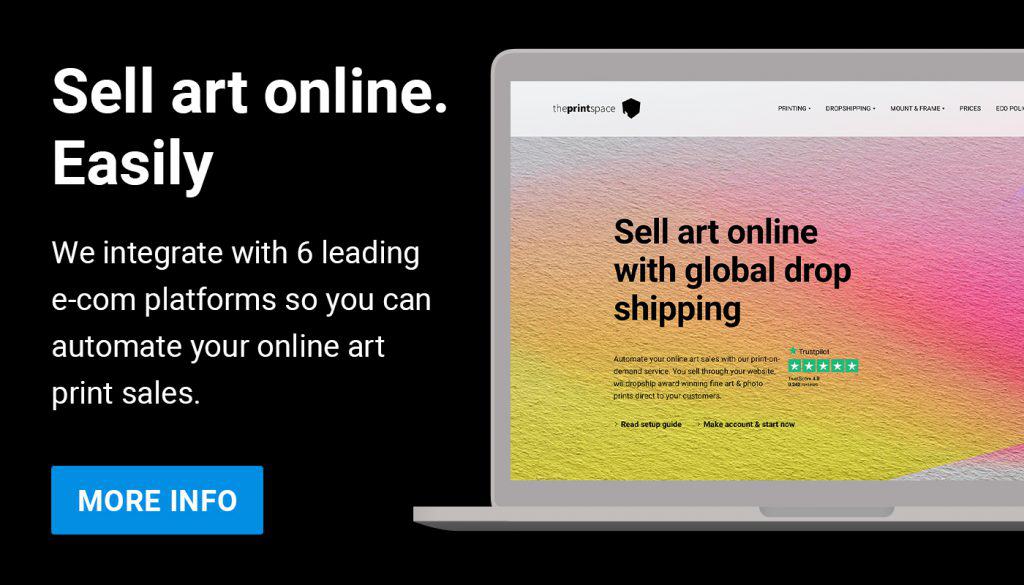 Create Urgency
Creating urgency with online purchases, especially something as discretionary as art is a proven ecommerce tactic. Here are a few ways you can create a sense of urgency:
Flash sales. Flash sales are a great way to encourage a large number of purchases over a short period of time. By doing this you are offering customers some form of discount/ incentive with a fixed expiration deadline, thus creating genuine urgency to purchase. Keys to a successful flash sale are; (1) Short sales of 1-3 days. (2) Promote it extensively via social media and/or your email marketing channels. (3) Don't oversaturate your sales – if they become too frequent you lose your 'urgency bargaining chip'.
Limited editions. Limited edition print runs and their importance with regard to urgency are crucial. As a rule of thumb, as editions sell out interested buyers are more likely to purchase as to not 'miss out'. There are two ways to translate this as a seller;
(1) Artwork in an edition of 50 is naturally going to create urgency over artwork in an edition of 500, so offer smaller editions.
(2) On your store, clearly state what the edition sizes are and the number currently sold are, otherwise no urgency is created.
Read more on limited editions in our help guide.
Promotions. There are lots you can do with promotions and this is where some creative 'marketing know-how' can come in handy. But like many things in life, there's no harm in a bit of trial and error to help find out what works for you. Amongst the options are a call out on social media; 'First 5 followers to tag themselves in this post get 10% on a print', perhaps your work is part of a set or series, in which case offer a buy 2 get 1 free promotion, or something more traditional like a free shipping discount code to all previous buyers for a limited time. Each option has its benefits, just keep in mind your goal here to drive a spike in sales.
Seasonal/Events. Christmas should always be taken into consideration, whether that entails creating additional work to sell during this period or a seasonal promotion to tie in, people are ready to buy so offer an incentive to buy from you. Another idea is to offer new work which is timely in its release. For example, if you are an illustrator who creates work around cinema/film, offer a new print to tie in with a big film release – you can ride this trend wave through your social presence and use of SEO.
Other factors
All of the above is based on our understanding of the most important factors from years of selling online and our survey, where we asked people what factors swayed their decision when deciding to buy art online: