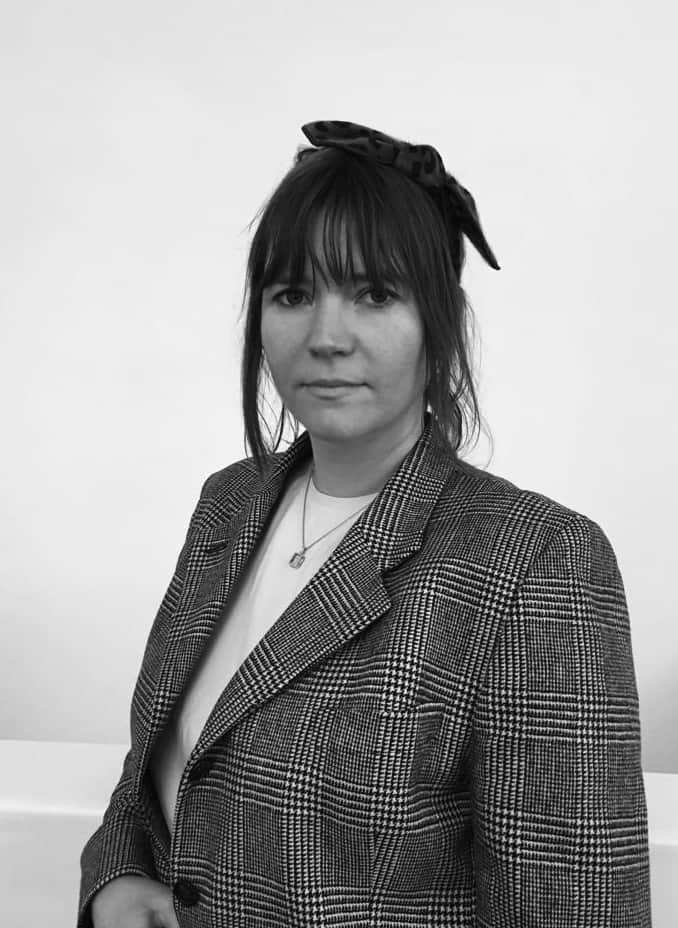 Hannah Watson is the co-founder of TJ Boulting and director of independent art publisher Trolley Books. Since opening in Fitzrovia in 2011, TJ Boulting has developed a diverse and dynamic exhibition programme and represents artists including Maisie Cousins and Juno Calypso.
What tips can you give for exhibition layout?
The first stage is to decide what size prints you are going to offer, because you have to stick to that. For example, Juno Calypso, she has two sizes each in an edition of 5, a 150cm wide and then a 1m wide. Then you have say Maisie Cousins, she has three different sizes, each an edition of 5, but the size ranges from A0 to A5. This means when we come to do the exhibition, we have a fixed selection of the images that we can work with. Then we start laying them out. I actually have a maquette of the gallery, like a 3D model which I give to the artists just to take it away because this space always looks different in photographs. It is important that the artists get a sense of the physical space.
Then it's kind of organic. Nothing is set in stone. You work out which are the key images you want to have, what size they are, then you start working out what goes around them. So Maisie, she likes to juxtapose something really big with something really tiny. Other artists think that this works in pairs or are diptychs. Juno's work mainly has stand-alone images, large, each holding their own space. So yeah it depends, but I would say that the key thing is to work out what size you want to sell your prints and stick to that.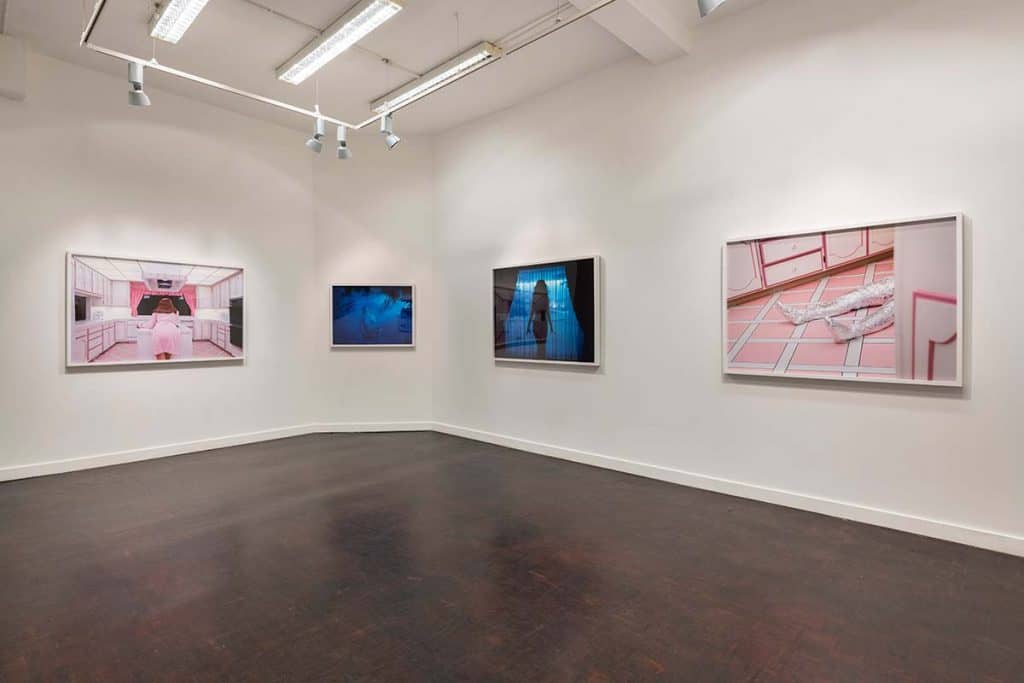 How do you curate work for a pop-up or fair?
You have to think quite hard when you curate a booth or a fair. You have a lot less space, in which you need to do a lot more and within a shorter space of time. The real estate on the wall has higher value, so you don't waste space, but then again you don't want to crowd it. It's about striking that balance between getting people's attention in a very short space of time that will make them want to buy and not overhanging it and making it look like a car boot sale.
In terms of what work to show, it is usually what I feel is the most popular. This will create a space that grabs attention. Personally, I try to tie in an exhibition that opens here at the gallery to coincide with a fair like Photo London. I use the booth as a taster of what is the main event at the gallery.
The other year, for example, I had this very small booth which I wanted to make a feature of, so I put in this silver mirrored floor in so when people came by it was 100% reflective and everyone was like "woah!" It felt like an installation. So I didn't have a really big booth, but I had a talked-about booth. And then I had Juno's show here and that kind of builds up some momentum.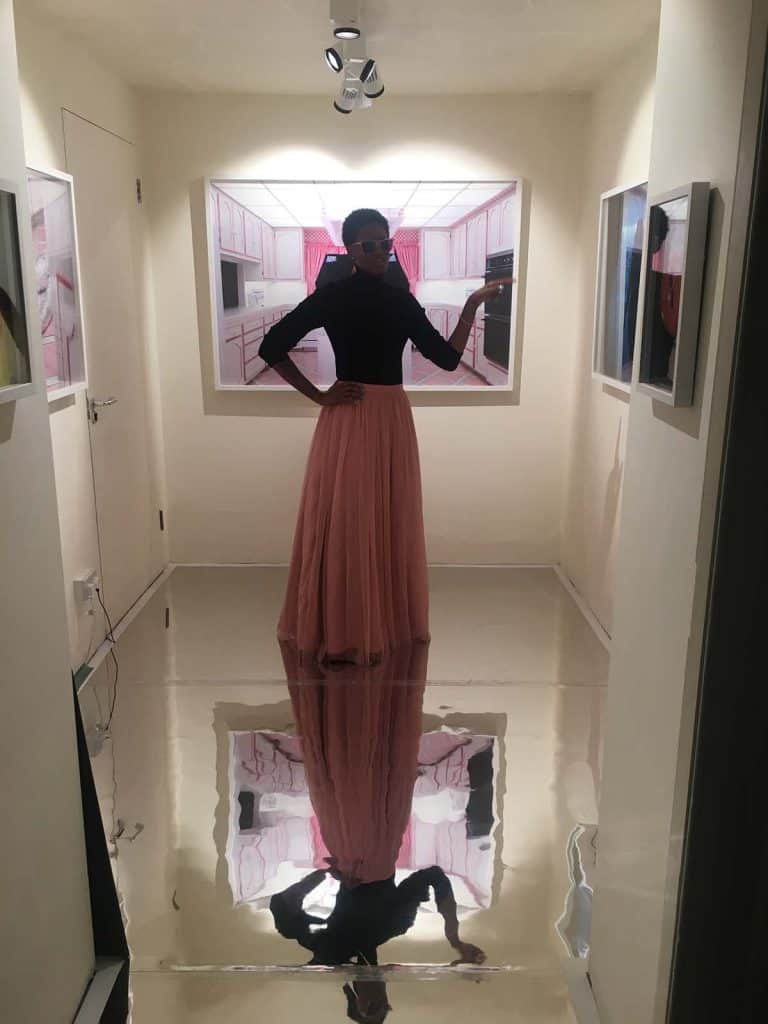 What tips can you give for producing exhibitions economically?
There are a few things you can do. For example, you have your fine art prints, the core of what you are showing and what you are selling. In addition to those, I quite often say that if you want to play with scale, you can do that quite cheap whilst visually creating something special. You can blow images up really big, digitally, mount them on foam board and the quality is great, just not fine art quality. You can re-use them too.
Another cost-effective idea is to change the space rather than the work. Sometimes painting one wall a different colour can have a huge impact on the exhibition, and that is cheap, you are looking at the cost of the paint plus a bit of elbow grease. That's the economical way of changing the outlook of a room and tying in the colours with the work or the mood. You can paint the room black for something quite dramatic and dark. Even just a slightly different kind of white, like a really pale grey can work really well with your prints.
How long in advance do you start to publicise an upcoming show?
It used to be that you had to get the press out there over a month in advance, but I have found recently, because everyone's turnover is so much quicker and maybe people's attention spans are so much shorter, you can get away with 3 to 4 weeks before a show for the press. With social media this may only be a couple of weeks before. You don't want to bore people, so stagger it.
You want to build up a nice amount of momentum. Then when the show is up, drip feed different things throughout. Maybe there is a talk that you can push, so stagger things so that there is always something to look forward to that is different. Not everything happens at the private view. Keep giving reasons for people to come back.
It's a cumulative thing, you want to have the buzz of the private view, get a 5 star review, link to social media, have the artist on social media posting about it. Building it from all angles.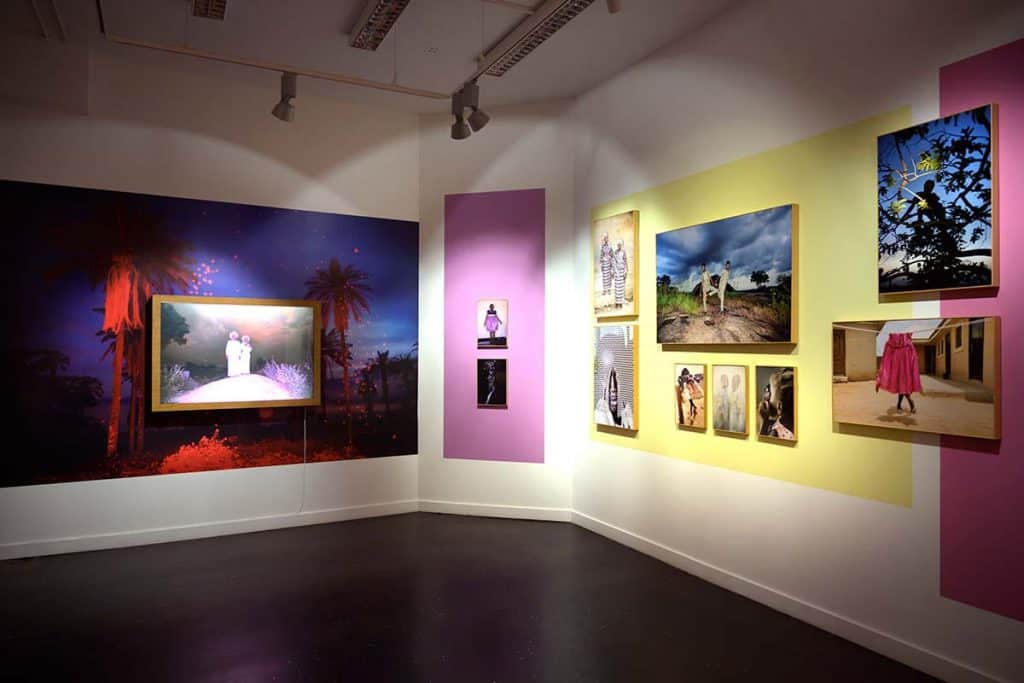 Which days of the week see the highest footfall and why do you think that is?
Fridays are really busy. I don't know if it is kind of that end of the week feeling. Saturdays are always busy, people often use it as a 'gallery day'. If I were to put on a pop up then I would open on Wednesday and stay open until Saturday.
For the private view, Thursday used to be the main day but now I haven't done a Thursday in ages. I like to do Tuesdays or Wednesdays because there is slightly less competition than doing something on a Thursday. I also try, during things like Frieze and Photo London, to do it on the same night as the galleries nearby. Trying to get that sense of, you know bringing people to an area where there is more than one thing to do. More of a collective sort of buzz. So for me, a successful private view is a lot of buzz, a lot of people, people excited about the work, people talking about it.
What 3 pieces of advice can you give for putting on your first show?
Be mindful of your production and how you want it to look but be cautious not to spend thousands on it because you don't need to. Work out how you're going to make it look really good without going bankrupt.
Second of all, don't be afraid to keep telling people that it is happening. Keep inviting people, send emails, social media, just be like "ok I know you've had enough of me, but come to my show". Be genuinely enthusiastic about it because that is infectious.
Try to think of everything, don't take things for granted and don't go into it thinking you're going to sell everything. Use it as a learning experience, because you will learn a lot from it. Use it as a stepping stone for the next thing. Be positive and remember that it is your first show, so do something that you're proud of.
Learn more about how you can promote your exhibition here.